Feb. 28, 2020
Issue Spotlight
New resource will help physicians integrate record sharing into daily operations
Best practices for efficiently providing patients with electronic access to medical records are combined into an authoritative resource – the new Patient Records Electronic Access Playbook.

The AMA has created a new online resource to direct physician practices through the legal complexities and operational challenges of providing patients with access to their digital health information. The Patient Records Electronic Access Playbook makes it easy and efficient for medical practices to integrate record-sharing fulfillment with day-to-day operations.

The four-part playbook compiles an extensive catalogue of educational information and reference resources with practical tips, case scenarios and best practices for protecting patient privacy while empowering patients and their caregivers with convenient electronic access to their complete medical record.

"As technology plays an increasingly important role in collecting and exchanging health data, the AMA believes that providing patients with improved information access and better information privacy are not mutually exclusive goals," said AMA Board Chair Jesse M. Ehrenfeld, MD, MPH. "Patients deserve both, and the new playbook is an important example of the AMA's commitment to ensuring patients can easily access their personal health information that has been entrusted to physicians."

Patients have the right to access their medical information. The AMA playbook dispels the myths and misconceptions from an array of complex federal and state laws. Navigating this puzzle of legal requirements has been a source of significant confusion among patients, third parties and especially medical practices focused first and foremost on delivering patient care. Access also improves the overall efficiency of the medical care team. The playbook offers authoritative information to help medical practices better understand the pertinent laws and how they govern key topics for patient record sharing. These topics include:
Amounts and types of information
Forms and formats for sharing records
Patient requests and involvement of third parties
Timing for record request fulfillment
Denial of record request access
Permissible charges
Confidentiality of substance use disorder records
To help medical practices integrate legal compliance with patient care operations, the playbook offers a set of steps to make the fulfillment of patient record requests clearer and more efficient. The steps are designed to help medical practices understand the capabilities of their electronic health record (EHR) systems and promote greater use of EHRs among patients.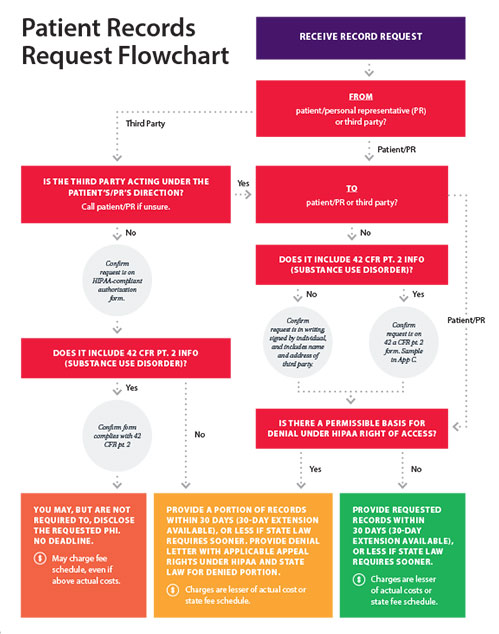 An excerpt from
The Patient Records Electronic Access Playbook
The Patient Records Electronic Access Playbook adds to a growing list of AMA resources designed to help physicians navigate and succeed in a continually evolving health care environment. In 2018, the AMA launched its first playbook offering guidance to medical practices on the most efficient path for applying and adopting digital health solutions.
Back to Top
National Update
Public charge final rule now in effect  
On Feb. 24, the "Inadmissibility on Public Charge Grounds" final rule became effective nationwide. The final rule gives the administration broad authority to consider non-cash benefits such as Medicaid (with some exceptions) and the Supplemental Nutrition Assistance Program (SNAP) in making public charge inadmissibility determinations for green card applicants. The AMA strongly opposed this rule in written comments arguing that, "including these vital medical and nutritional services as factors to be used in a public charge determination seeks to undermine the very concept of what these programs were created to do, and that is provide health care coverage and nutritional support to individuals, children and families in need."

The AMA Litigation Center has joined state medical societies and medical specialty societies in filing briefs in a number of cases challenging the controversial new public charge rule and asking for preliminary injunctions to stop the change from going into effect while the courts consider whether the rule should be struck down permanently.

Each of these briefs asks the respective court to put or keep a preliminary injunction in place to prevent further harm and damage to immigrants' health. The cases include:

Casa de Maryland Inc. v. Trump. This case was on appeal to the 4th. U.S. Circuit Court of Appeals from the U.S. District Court for the District of Maryland.

City and County of San Francisco; County of Santa Clara v. U.S. Citizenship and Immigration Services. This case is on appeal to the 9th U.S. Circuit Court of Appeals from the U.S. District Court for the Northern District of California.

State of California v. U.S. Department of Homeland Security (DHS). This case is filed in the U.S. District Court for the Northern District of California. The case was joined with the City and County of San Francisco; County of Santa Clara case.

The AMA Litigation Center also joined the Washington State Medical Association and other physician organizations in filing a brief in State of Washington v. DHS that challenges the rule and asks for a preliminary injunction in the U.S. District Court for the Eastern District of Washington.

The AMA Litigation Center partnered, too, in a brief in the case—DHS v. New York—in which the U.S. District Court in Manhattan issued a preliminary nationwide injunction that blocked the rule from being implemented.

Learn more about the AMA's advocacy efforts related to the public charge here.
Federal appeals court decision on Title X gag rule allows enforcement
A federal appeals court has ruled that the Trump administration can enforce a gag rule on physicians that will restrict them from providing complete information to patients about all of their health care options and providing appropriate referrals for care. AMA President Patrice A. Harris, MD, MA, released a statement strongly disagreeing with the ruling, saying that the AMA is disappointed by the court's decision, asserting that open conversations between patients and physicians are critical to the delivery of quality health care.

"This government overreach and interference demands that physicians violate their ethical obligations – prohibiting open, frank conversations with patients about all their health care options – if they want to continue treating patients under the Title X program," Dr. Harris said. "It is unconscionable that the government is telling physicians that they can treat this underserved population only if they promise not to discuss or make referrals for all treatment options."

The AMA will continue to monitor this case as it moves to the next stage.
Back to Top
State Update
Colorado insurance commissioner issues warning to life insurance companies on naloxone
The Colorado Division of Insurance (CDI) recently warned life insurance companies to not discriminate against those who have received a prescription for naloxone. The CDI issued a bulletin emphasizing that someone who receives a prescription for naloxone may not be discriminated against for making a decision that could save someone's life.

"It is inappropriate for any life insurer to use the existence of a naloxone prescription as justification to increase premiums, deny coverage or take other adverse actions" wrote AMA CEO and Executive Vice President James L. Madara, MD, to CDI Commissioner Michael Conway.

The AMA Opioid Task Force strongly supports increased access to naloxone when clinically appropriate.
AMA supports striking down prior authorization requirements for MAT in Maine
The AMA is putting its support behind Maine Medical Association (MMA) efforts to remove prior authorization requirements for medication-assisted treatment (MAT) for patients in MaineCare. If L.D. 1934 passes, Maine will join the more than one dozen states that have stood up to the health insurance lobby to pass similar legislation that increases access to this life-saving treatment for patients.

In his letter to the bill sponsors, AMA Executive Vice President, James L. Madara, MD, said, "All efforts must be made to remove barriers to MAT so that if and when a patient is ready to begin treatment for an opioid use disorder (OUD), there are no barriers for treatment to begin." Removing prior authorization for MAT is one of the best practices cited in the AMA-Manatt Health national opioid policy roadmap.

If your state is working on or considering legislation to remove prior authorization and other barriers to MAT, please send an email to the AMA Advocacy Resource Center with the subject line "Remove barriers to MAT."
AMA and KMA urge removing prior authorization for MAT
The AMA and Kentucky Medical Association (KMA) called on the Kentucky Legislature to quickly pass legislation that would remove health insurance company barriers to evidence-based MAT for OUD. Kentucky House Bill 389 was introduced by Kentucky Rep. Kimberly Poore Moser, chair of the House Health and Human Services Committee.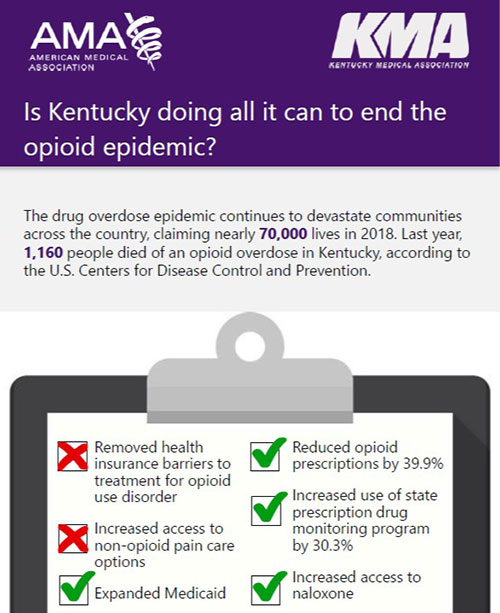 An infographic developed by AMA and KMA for use
with legislators, physicians and on social media
"Kentucky has seen too much death and despair from this epidemic," said Rep. Moser. "We have a proven treatment and an opportunity to get help to the people who need it, when they are ready for it. This will turn the tables and support evidence-based care for our loved ones, changing outcomes for families throughout our Commonwealth."

"It's unconscionable that a health insurance company can tell a patient that he or she can't have life-saving medication that has been proven to reduce cravings, sustain recovery and save lives for people with an opioid use disorder," said AMA President Patrice A. Harris, MD, MA. "The epidemic is changing, and Kentucky's patients need easier access to care."

"Kentucky physicians have taken significant actions to reduce opioid prescribing and co-prescribe naloxone to patients at risk of overdose and will continue to advocate for policies that assist patients pursuing recovery from substance use disorder," said KMA President R. Brent Wright, MD. "This legislation will remove a critical barrier to ending Kentucky's ongoing overdose and death epidemic. We support this bill because it will save lives."

A similar measure introduced last year passed the Kentucky House of Representatives unanimously but ultimately was defeated by opposition from health insurance companies. Kentucky already has expanded access to naloxone and reduced the number of opioid prescriptions by more than 30% between 2013-2018.
Georgia legislation would end inappropriate corporate pharmacy policies
The AMA joined the Medical Association of Georgia in support of a bill that would prohibit corporations that own and operate multiple pharmacies from implementing policies and procedures that interfere in the patient-physician relationship. House Bill 952 would specifically prohibit out-of-state corporations that own and operate multiple pharmacies in Georgia from implementing any policy "that places a restriction on the quantity or dosage of a prescription for a controlled substance or places a restriction on filling a prescription for a controlled substance issued by a specific prescriber." The bill does not affect a pharmacist's independent, professional judgment.

"Georgia's highly professional physicians and pharmacists are well-equipped to work together to ensure patients receive the medications they need," wrote AMA Executive Vice President and CEO James L. Madara, MD. "A corporate pharmacy chain policy has no place interfering in that relationship. We believe the medical and pharmacy boards in Georgia are the appropriate regulatory bodies to support physicians and pharmacists in their efforts to care for patients—not an out-of-state corporation that has no specific regulatory or statutory authority within the state of Georgia."
Back to Top
Judicial Update
AMA-brokered deal poised to cover residents affected by Hahnemann closure
A settlement reached with the owners of now-closed Hahnemann University Hospital would—if approved by a federal bankruptcy judge—pay for the long-tail medical liability insurance coverage for more than 1,400 residents, fellows and alumni of the hospital's training programs. The AMA is underwriting legal representation of the orphaned residents and fellows in the case.

The settlement, filed in Chapter 11 proceedings in the U.S. Bankruptcy Court for the District of Delaware, would also provide the legally required coverage for the 100 attending physicians who lost their jobs when Hahnemann closed in the summer of 2019. Legal representation on behalf of displaced residents and fellows in the case is being conducted by Jeremy Ryan and the firm of Potter Anderson & Corroon, whose work is being underwritten by the AMA. Premiums for this long-tail coverage can run into the tens of thousands of dollars per physician.

The AMA is cautiously optimistic that, with the settlement filing, relief may be just around the corner for those affected by the record-breaking Hahnemann closure. The deal would be a significant victory, not just for these physicians, but for the patients they serve.

Learn more here.
Back to Top
Upcoming Events
Register today for the Rx Drug Abuse and Heroin Summit
April 13-16: The Rx Drug Abuse & Heroin Summit is the largest and most-recognized conference committed to addressing the opioid crisis. Government officials, first responders, law enforcement personnel, clinicians, physicians, nurses, educators, public health and prevention officials and families and people in recovery are represented. The conference agenda is designed with timely and relevant information to address what is working in prevention, treatment and law enforcement. This year's summit will take place in Nashville, TN.
Bellin Health and AMA lead team-based care camp
April 20-22: Join Bellin Health and the American Medical Association at Lambeau Field for hands-on training camp on how to implement effective team-based care practices and protocols that work for physicians, staff and improve patient care.

One-of-a-kind interactive session experts will provide training on how to plan and implement team-based patient care in primary and specialty care, specifically addressing behavioral health and social determinants of health in your practice.

To register or learn more click here.
International Conference on Physician Health
Sept. 14-16: The International Conference on Physician Health (ICPH), which is being hosted by the American Medical Association, British Medical Association and the Canadian Medical Association, is being held at the IET London: Savoy Place in London, England.

Email icph2020@bma.org.uk with any questions or requests for further information.
Back to Top