Feb. 14, 2020
Issue Spotlight
Physicians are "making waves for the purpose of change"
"They'll tell you talk is cheap, but you tell them silence is unaffordable." That was the message Sekou Andrews, creator of "Poetic Voice" kicked off the 2020 National Advocacy Conference with, reminding physician advocates that "there will always be those who will only wade waist-deep in the waters of change because they are afraid to make waves...today we are going to focus on making waves for the purpose of change." This sentiment echoed through the conference as attendees listened to speakers from the administration and from Congress, getting caught up on the latest issues in health care policy before heading to the Hill to make their voices heard.

In her speech Centers for Medicare & Medicaid Services (CMS) Administrator Seema Verma touched on the health care priorities in the president's new budget, including expanding access to care and innovative treatments as well as fixing Medicare's wage index to help save rural hospitals. She also spoke about the burden of prior authorization (PA) being a primary driver of physician burnout saying, "The practice of prior authorization became indefensible years ago."
CMS Administrator Seema Verma
Rep. Suzan DelBene (D-WA) echoed a similar sentiment on the burden of prior authorization saying, "PA forms are deliberately burdensome—and should not be used as a tool to delay care." She is cosponsor of bipartisan legislation, H.R. 3107, the Improving Seniors' Timely Access to Care Act of 2019, supported by the AMA, which would reduce unnecessary delays in care by streamlining and standardizing prior authorization under the Medicare Advantage program.
Rep. Suzan DelBene (D-WA)
Efforts to ban surprise billing are under consideration in both congressional chambers, and the AMA is pressing lawmakers for a solution that protects patients but does not give insurers unreasonable negotiating power. One of the leading voices in this debate is Sen. Bill Cassidy (R-LA) who gave an update to attendees on this issue and urged them to convey how these legislative proposals would affect their local communities.
Sen. Bill Cassidy, MD (R-LA)
Rep. Andy Harris (R-MD), MD, emphasized the need for physicians to be involved in policymaking. He encouraged physicians to tell stories about their patients saying, "I didn't get into medicine to take care of me, I went into medicine to take care of patients—remember that as you go to your legislators and your patients will be behind you." He emphasized the need for more robust research into legitimate indications for medical marijuana and asked for a federal solution to needless prior authorization delays.

ADM Brett P. Giroir, MD, Assistant Secretary for Health, U.S. Department of Health & Human Services (HHS), laid out the plans behind the president's initiative to end HIV in America. The stated goal of the initiative, as modeled through the Centers for Disease Control and Prevention, is to have a 75% reduction in new HIV infections in five years and at least a 90% reduction in 10 years. Currently there are 40,000 new cases of HIV identified in the U.S. every year, despite highly effective treatment being available.

Deputy HHS Secretary Eric Hargan gave an update on the coronavirus saying, "The immediate risk to the American public at this time is low, and we are acting swiftly to keep that risk low." Hargan discussed how hearing a story from a post-surgical patient about being able to receive all their medications before leaving the hospital inspired proposed changes to the Stark law and the anti-kickback statue, part of a larger sprint towards coordinated care. He emphasized a push towards "patient-centered innovation that focuses on quality and outcomes rather than reams of paperwork and volumes of procedures."

The AMA presented its Dr. Nathan Davis Awards for Outstanding Government Service to six honorees, including physicians who have served their patients by working in state houses, governors' mansions, the U.S. House of Representatives, and the National Institutes of Health (NIH), working to move medicine forward on issues like surprise medical bills, malaria research, environmental health, gaps in mental health care and research on addiction.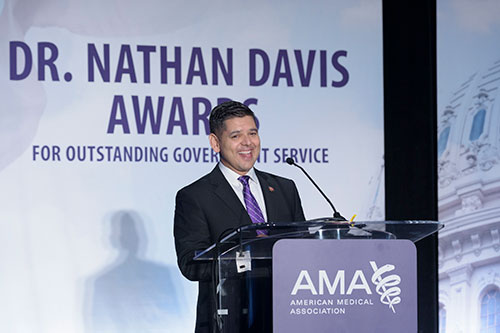 Rep. Raul Ruiz, MD, a leader in Congress on issues ranging from graduate medical education to prior authorization reform, received the Dr. Nathan Davis Award for Outstanding Government Service
Echoing the sentiment of many of the physician advocates in the room and speaking to the power of organized medicine, Sen. John Barrasso (R-WY) said: "When I talk to the medical students, they say, 'Would you still go into medicine today?' I said, 'Yes.' Would I join the American Medical Association again? Proudly."

Save the date to attend next year: The 2021 National Advocacy Conference will take place in Washington, D.C., Feb. 22-24.

To learn where the AMA stands on the most pressing issues of 2020 click here.
Back to Top
National Update
AMA provides comment to FTC on non-compete agreements
On Feb. 7, the AMA submitted comments to the Federal Trade Commission (FTC) on the utility of non-compete agreements included in employment contracts. The comments follow a recent FTC workshop examining non-competes and their impact on employees. In the comments, the AMA raised concerns about the sometimes-negative impact of non-compete agreements on employed physicians and their patients, as well as perspectives of physician practices with legitimate interests in the use of non-compete agreements with the physicians they employ. The AMA urged the FTC to not take further action on non-compete agreements at this time, instead encouraging the commission to defer to the many states which either have already or are currently taking action on non-compete agreements.
Administration proposes new rules for Medicare Advantage networks
Last fall, the AMA asked Centers for Medicare & Medicaid Services (CMS) Administrator Seema Verma to adopt a suite of policy proposals to enhance Medicare Advantage (MA) physician network adequacy and directory accuracy. In response, Administrator Verma said that the agency will take the AMA's recommendations into account in future policy development on these issues. She also said that if there is a significant change in an MA plan's network due to no-cause terminations, CMS may review the network to ensure it complies with network adequacy requirements and ask for a detailed description of the steps the plan will take to ensure that affected enrollees are able to locate new physicians and maintain continuity of care.

In a new proposed rule, CMS is seeking input on a number of provisions affecting network adequacy. For example, CMS proposes to codify minimum standards that MA plan networks must meet for their enrollees' maximum time and distance to access physicians and other health professionals in each of 30 specialties and certain types of facilities, with variation in the standards for metropolitan, rural and other types of counties. The agency also proposes to require minimum ratios per 1,000 Medicare beneficiaries of physicians and other health professionals in most of these specialties. In addition, the rule acknowledges concerns previously expressed by the AMA and other physician organizations that CMS should not allow MA plans to replace in-person health care delivery with telehealth services. Based on these concerns, CMS emphasizes the importance of MA plans maintaining an in-person network and states it is not proposing any changes to how it currently calculates minimum requirements in each specialty.

CMS does propose to allow MA plans to supplement their in-person networks by contracting with telehealth providers, and it proposes to give plans a telehealth credit if they contract with physicians in five specialty areas and offer telehealth services (dermatology, psychiatry, neurology, otolaryngology and cardiology). The AMA welcomes this opportunity to provide input into future MA network regulations. Comments are due on April 6.
Back to Top
State Update
OptumRx EPCS home delivery requirement grace period
OptumRx announced this week that it will offer a grace period for its electronic prescribing of controlled substances (EPCS) requirement that all home-delivery prescriptions for controlled substances be electronically prescribed. In its bulletin, OptumRx said that it will continue to fill hard copy, faxed or phone-in prescriptions for home-delivery controlled substances until Feb. 29. Beginning March 1, OptumRx said it will no longer fill home-delivery prescriptions received by hard copy, fax or phone for controlled substances.

The AMA continues to oppose the policy, which may supersede or conflict with state laws as well as cause significant disruption to patient care. OptumRx said that its EPCS requirement has several exceptions, including that it does not apply to prescribers who are exempt from state EPCS requirements, or for OptumRx members in Alaska, Guam, Puerto Rico or the U.S. Virgin Islands. OptumRx said that physicians who have questions about the policy should send an email to EPCSquestions@optum.com.

Physicians who experience problems also are encouraged to send a description of the problem to the AMA Advocacy Resource Center at ARC@ama-assn.org
Back to Top
Judicial Update
Court should overturn ruling that burdens physicians' defense
If a Maryland Court of Special Appeals decision isn't overturned, it will be more burdensome and more expensive for the state's physicians to defend themselves against medical negligence claims if they want to present potential alternative reasons for a plaintiff's injuries.

The court created a higher standard for defendants by ruling that physicians who want to present the idea that other physicians not named in the lawsuit could have been responsible for the injury at issue must meet certain evidentiary standards to establish liability against those physicians. Those would include breach of a standard of care, causation and expert testimony.

It's a ruling that needs to be reversed because "a physician must be able to point to evidence at trial of potential alternative causes to an injury …without engaging in the burden and expense of mini-trials with respect to each potential alternative cause," the Litigation Center of the American Medical Association and State Medical Societies and Maryland State Medical Society (MedChi) tell the Court of Appeals of Maryland in an amicus brief they jointly filed in the case that those judges are now considering, American Radiology Service LLC et al. v. Martin Reiss.

"The goal of Maryland's civil justice system in these cases is to subject the physicians at trial to liability only when they have wrongfully caused the plaintiff's injuries. Here, only two of the potential five physician defendants were at trial. For the trial to be fair, these physicians must be able to present the jury with a full-throated defense that includes other explanations for the alleged misdiagnosis," the brief states.

Find out more about the cases in which the AMA Litigation Center is providing assistance and learn about the Litigation Center's case-selection criteria.

Read more about this case here.
Back to Top
Other News
JAMA viewpoint calls for reasonable reforms in medication prior authorization
Immediate-past Chair of the AMA Board of Trustees, Jack Resneck, MD, recently published a viewpoint in the Journal of the American Medical Association (JAMA) urging reform in medication prior authorization (PA). The op-ed details the out-of-control growth in the number of medications that require PA and how what was once a process targeted at newer, unproven therapies is now regularly applied to generic drugs with well-established efficacy. In this viewpoint and the accompanying audio interview with JAMA Editor-in-Chief Howard Bauchner, MD, Dr. Resneck offers three reasonable changes to improve the PA process:
Focus PAs on just those medications with unwarranted variation in utilization and "outlier" physicians whose prescribing habits are significantly and consistently different from same-specialty peers
Establish protections for continuity of care when patients change health plans, or when plans change PA requirements
Promote process transparency and efficiency by providing accurate formulary data (including PA requirements) at the point of care in electronic health records (EHR) and supporting standardized electronic PA processes that are integrated within physicians' EHR workflow
These concepts are all included in the Consensus Statement on Improving the Prior Authorization Process, which was released in early 2018 by the AMA and organizations representing professional health care and insurer organizations. Unfortunately, as Dr. Resneck notes, health plans have yet to widely implement these agreed-upon changes. Legislative reforms may be required to drive the needed improvements in PA programs. In addition to the many important PA reform state legislative efforts underway this year, H.R.3107, the "Improving Seniors' Timely Access to Care Act of 2019," offers a path to streamlining the PA process at the federal level and would require Medicare Advantage plans to make key changes to improve the transparency and efficiency of their PA programs.

Visit FixPriorAuth.org to learn more about the AMA's PA grassroots advocacy efforts and watch a video urging support for H.R. 3107.
Physicians: Time to claim alternative payment model incentive payments
CMS has published a list of nearly 3,000 physicians who are eligible to receive alternative payment model (APM) incentive payments based on their APM participation in 2017, but whom CMS has been unable to find in order to make the payments to them. Physicians whose practices participated in APMs during 2017 but who have not yet received their lump-sum incentive payment should review the list and follow the instructions for providing contact and banking information to CMS to claim these payments. Even physicians who are no longer with the practice or whose group no longer participates in the APM may be entitled to payments based on their 2017 participation. The deadline to respond with the needed information is Feb. 28. Additional information on the incentive payments is available in this brief CMS fact sheet.
Digital health tools gain momentum among physicians
Adoption of digital health tools has grown significantly among all physicians since 2016 when the AMA first benchmarked the integration of emerging health technology into clinical practice. New AMA research released last week shows more physicians than ever recognize digital health tools as an advantage for driving improved efficiency and safety in health care.

The survey found that use of all seven digital health tools measured has increased and the average number of those tools used per physician has also increased. The largest increases were in tele-visits (usage doubled from 14% in 2016 to 28% in 2019) and remote monitoring for improved care.

Drivers of adoption have remained consistent since 2016; however, two elements that attract physicians to digital health tools have shifted in importance: "Allows me to provide care remotely" has moved from a niche need to a secondary driver. "Helps reduce stress/burn-out" has moved from a low priority to being on a key motivator and secondary driver.

Read the complete findings here.
New research on metrics for assessing physician activity using EHRs
An AMA-led research commentary, "Metrics for Assessing Physician Activity Using EHR Log Data," published last week in the Journal of American Medical Informatics proposes seven core EHR-use measures, identifies potential use cases for these measures across multiple stakeholders, highlights unresolved methodologic considerations and addresses future directions for research and use. The seven core measures of EHR-use proposed in the article reflect multiple dimensions of practice efficiency: total EHR time, work outside of work, time on documentation, time on prescriptions, inbox time, teamwork for orders and undivided attention—a measure for the amount of undivided attention patients receive from their physicians during a clinical visit. EHR log data analysis can be used as a tool to further understand the clinical environment and to optimize operational, technological and policy decisions. The researchers' intent is that the measures provide insight and facilitate research regarding the efficiency of using EHRs in the practice environment, the effectiveness of teams, the impact of policies and regulations, and practice characteristics that contribute to physician distress or well-being.
Back to Top
Upcoming Events
Register today for the Rx Drug Abuse and Heroin Summit
April 13-16: The Rx Drug Abuse & Heroin Summit is the largest and most-recognized conference committed to addressing the opioid crisis. Government officials, first responders, law enforcement personnel, clinicians, physicians, nurses, educators, public health and prevention officials and families and people in recovery are represented. The conference agenda is designed with timely and relevant information to address what is working in prevention, treatment and law enforcement. This year's summit will take place in Nashville, TN.

Register today and save an additional $50 with code ALUM.
Bellin Health and AMA lead team-based care camp
April 20-22: Join Bellin Health and the American Medical Association at Lambeau Field for hands-on training camp on how to implement effective team-based care practices and protocols that work for you and your staff–while improving patient care.

One-of-a-kind interactive session experts will provide training on how to plan and implement team-based patient care in primary and specialty care, specifically addressing behavioral health and social determinants of health in your practice.

To register or learn more click here.
International Conference on Physician Health
Sept. 14-16: The International Conference on Physician Health, which is being hosted by the American Medical Association, British Medical Association and the Canadian Medical Association, is being held at the IET London: Savoy Place in London, England.

Email icph2020@bma.org.uk with any questions or requests for further information.
Back to Top