Oct. 31, 2019
Issue Spotlight
Health at the border: Federal court protects rights of immigrant kids
A federal court has stopped the government from abandoning protections that children crossing the U.S. border have been guaranteed for more than a decade and it permanently blocked the government from applying, implementing or enforcing new regulations that physicians told the court would have made "barely tolerable" conditions at the Southern border "much worse."

The Litigation Center of the American Medical Association and State Medical Societies joined more than 20 other organizations in an amicus brief in Flores v. Barr that urged the U.S. District Court for the Central District of California to do exactly what it did. The brief told the court that the Trump administration's new rule was "contrary to the best interests of children." It also said that the rule is "fundamentally inconsistent" with the Flores Settlement Agreement (FSA) in place since 1997, as well as "common concepts of basic humanity."

The federal court said "the evidentiary record … overwhelmingly shows that throughout several presidential administrations, the agreement has been necessary, relevant and critical to the public interest in maintaining standards for the detention and release of minors arriving at the United States' borders." It further said that "defendants willingly negotiated and bound themselves to these standards for all minors in its custody, and no final regulation or changed circumstances yet merit termination of the [FSA]."

The FSA, a binding contract and consent decree, was put in place to protect immigrant children from harm. It states that the government must treat "all [children] in its custody with dignity, respect and special concern for their particular vulnerability as [children]." It also says detained children must be:
Put "in the least restrictive setting appropriate to the [child's] age and special needs"
Released without unreasonable delay
Placed in a "licensed program" that is non-secure and "licensed by an appropriate state agency to provide residential, group or foster care services for dependent children"
Cared for in a licensed program that meets all enumerated standards, including that children are provided with appropriate medical care, educational services and living accommodations such as appropriate food, clothing and grooming items
The Department of Homeland Security (DHS) and Department of Health and Human Services' (HHS) regulation would have stripped those rights and implemented rules that, as the AMA Litigation Center brief tells the court, would harm children physically and mentally in the long-term and short-term by:
Eliminating the government's duty to release accompanied children to family members in the community, resulting in children who would have otherwise been released being held in detention
Increasing the odds that a child would be indefinitely detained, or be released and separated from his or her accompanying parent who is still held in detention
Creating materially worse conditions for the children because the facilities would be self-licensed and accountable only to the government
Depriving immigrant children of their due process rights
"Overwhelmingly, medical research shows that even a short amount of time in detention is seriously harmful to children, particularly those who have already experienced trauma in their home countries or during their journey to the United States," the AMA Litigation Center brief tells the court. "Studies of detained immigrants have found negative physical and emotional symptoms among detained children, including anxiety, depression and post-traumatic stress disorder."
Back to Top
National Update
Advocacy efforts on e-cigarette regulation continue
The AMA continues its strong advocacy on tighter regulation of e-cigarettes, particularly with respect to banning flavors, which are popular with youth. The AMA publicly supported the administration's plan, announced on Sept. 11, to clear the market of all non-tobacco-flavored e-cigarettes, including mint and menthol flavors, until they can be reviewed by the Food and Drug Administration (FDA). Given recent press reports that the administration was reconsidering the inclusion of mint and menthol flavors, due to pressure from the vaping industry, the AMA signed on to two letters circulated by the Campaign for Tobacco-Free Kids, one to HHS Secretary Alex Azar and the second to First Lady Melania Trump. The letters argue that there is no public health reason to exempt mint and menthol flavors and urge the administration to stay the course and implement their previously stated plan of banning all non-tobacco-flavored e-cigarettes. Also related to e-cigarettes, AMA President Patrice A. Harris, MD, MA joined the Presidents-elect of the American Academy of Pediatrics (AAP) and the American College of Physicians (ACP) in calling for tighter regulation of e-cigarettes at a National Press Club Headliners Newsmaker event on Oct. 30.
Executive Order raises concerns about scope of practice laws
An Executive Order issued by President Trump entitled "Protecting and Improving Medicare for our Nation's Seniors," intended to make Medicare Advantage plans more attractive to seniors, raised a number of policy issues. One notable area where the executive order is unclear and concerning involves state scope of practice laws. The AMA along with 102 state medical societies and national specialty organizations wrote a letter to Health and Human Services Secretary Alex Azar on Oct. 28, expressing concerns about broad language related to the supervision, licensing and reimbursement of nonphysician health professionals, noting safety concerns and skillsets that do not make these health care professionals interchangeable with fully trained physicians.
Three House Committees approve H.R. 3, Democratic drug price negotiation bill
All three House committees of jurisdiction, the House Ways and Means Committee, House Education and Labor Committee and House Energy and Commerce Committee, have approved H.R. 3, the Lower Drug Costs Now Act of 2019, backed by House Speaker Nancy Pelosi (D-CA), along party-line votes. The three different marked-up versions of the bill will be merged and voted on by the House in mid-November.

This legislation would give HHS the power to negotiate prices for prescription drugs without generic or biosimilar competition. Negotiated prices would be available to all payers, including the commercial market. The maximum negotiated price would be set at no more than 120% of an international price index, called the "Average International Market" price. The bill would also create a $2,000 out-of-pocket spending cap for Medicare beneficiaries.

H.R. 3 is expected to pass the House on a party-line vote. It is not expected to pass the Senate. House and Senate Republicans remained unified in opposing H.R. 3. While they support portions of the bill, they strongly oppose the drug negotiation and maximum price provisions, arguing they would hurt the development of new medicines in the future.
Improvements made to Primary Care First model as applications become available
CMS has now released a Request for Applications for Primary Care First, the new patient-centered primary care medical home model that will be available in 26 localities around the country. The newly released details include key improvements to the model advocated by the AMA and primary care specialty societies.

Previously the participating practices were to be grouped into five categories based on their patient population's average risk score. Monthly primary care payments would have been $24 per patient for the group with the lowest risk scores and $28 per patient for the next group. Now there will be four categories instead of five and the group with the lowest average risk score will receive $28 per patient per month. This change was critical to making sure that payments under the model will be enough to support the care changes that practices will have to make, and allow participating physicians to make as much or more as they would by staying in the fee-for-service system.

Another concern had been that certain performance-based payments were only to be available to those in the top 50% of performance on a measure of acute hospital utilization. Now these performance-based payments will be tied to a benchmark so that everyone with good performance relative to the benchmark has access to the additional payments.

Primary Care First also offers a special track for physicians managing patients with serious illness. The model defines seriously ill patients as those who have significant chronic or other serious illnesses with a Medicare risk score of 3.0 or greater, or have high hospital utilization, or those who show signs of frailty as evidenced by claims for durable medical equipment.

Physicians who want to learn more about Primary Care First can find additional information and resources at: https://innovation.cms.gov/initiatives/primary-care-first-model-options/
Back to Top
State Update
Cancer, hospice and palliative care resources on AMA opioid microsite
As part of the AMA's work in support of promoting clinical practice guidelines specific to cancer treatment, palliative care, and end of life (as opposed to arbitrary thresholds), the AMA opioid microsite includes resources from the American Society of Clinical Oncology (ASCO) and American Academy of Hospice and Palliative Medicine (AAHPM). These resources include educational offerings on pain management, protecting access to treatment for patients with cancer, pain management in the hospice setting, tools to address opioid prescribing and more.

View the ASCO resources here. https://www.end-opioid-epidemic.org/societies/american-society-of-clinical-oncology/

View the AAHPM resources here. https://www.end-opioid-epidemic.org/societies/aahpm/

If your medical society would like to add additional resources to the microsite, please send an email to the AMA Opioid Task Force- opioidtaskforce@ama-assn.org.
AMA urges Walmart to rescind inappropriate "refusal to fill" policy
In light of harms to patients, inappropriate actions against physicians, and guidance from the U.S. Centers for Disease Control and Prevention (CDC) against using CDC recommendations as justification for arbitrary opioid prescribing policies, the AMA recently urged Walmart to rescind its "refusal to fill" opioid dispensing policy. 

"We remind you that the CDC advised recently that 'some policies and practices purportedly derived from the guideline have in fact been inconsistent with, and often go beyond, its recommendations.' The Walmart 'refusal to fill' policy is a prime example," wrote AMA Executive Vice President and CEO James L. Madara, MD. "We have every confidence in physicians and their pharmacist colleagues carrying out their legal responsibilities under state law and the [Controlled Substances Act]. Health care professionals are well-equipped to protect their patients without an inappropriate 'refusal to fill' policy based on arbitrary thresholds intruding on the physician-pharmacist-patient triad."

The AMA and medical societies also continue to object to Walmart sending physicians "blacklist" letters that state Walmart and its corporate pharmacy partners will no longer fill any controlled substance from the physician.

"We are not aware of any state law or regulation that gives a corporate entity the authority to take action against a licensed health care professional," wrote Dr. Madara. "If a state legislature has enacted an opioid prescribing restriction or other law, then the health care professionals in that state are required to follow the law as a matter of professional licensure. We are not aware of any medical or pharmacy board abrogating its licensing oversight in favor of a national corporate entity using an unknown algorithm, and we therefore urge you to rescind your policy. Simply put, this policy is interfering in the practice of medicine and pharmacy."

If you have a story to share about a patient being denied medication by Walmart please contact us at opioidtaskforce@ama-assn.org.
Emergency physician and LGBTQ advocate leading innovations to help end opioid epidemic
The way patients in the Transgender Surgery Center are cared for at Mount Sinai Beth Israel in New York City has led to some innovative revelations to help end the nation's opioid epidemic.

"Gender affirmation surgery is a significant and invasive surgery and the last thing we want is to treat the gender dysphoria but have the patient end up physically dependent on opioid analgesics post-surgery," said Erick Eiting, MD, Vice Chair of Operations for Emergency Medicine at Mount Sinai Downtown.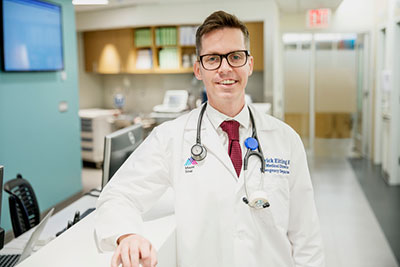 Erick Eiting, MD
Similar to other surgical settings, Dr. Eiting and his colleagues work to limit the amount of prescriptions administered during a patient's hospital stay through non-opioid pain management strategies. These efforts continue post-operatively to address the potential risk of chronic pain and subsequently the risk of developing an OUD.

While Dr. Eiting says they still are collecting data, the outcomes appear positive.

"We saw that this was working for our transgender patients and thought why not expand this more broadly to see if these clinical pathways would help other surgical patients?"

In addition to the work of reducing opioid exposure, Dr. Eiting also explained efforts to overcome other barriers faced by the LGTBQ community.

Many of the LGBTQ patients that Dr. Eiting sees have experienced housing instability, for example.

"Many of my patients are estranged from their families and have lived or are living on the street, they're uninsured or underinsured, and so finding treatment options that work for them is a complicated equation," he said. "We have to find the right destination where patients can actually get access to treatment—the same treatments exist for everyone in theory, but often my patients can't do 28-day programs without risking loss of employment and if they end up on a six-month waiting list for a program, that means going untreated for that time which can be a death sentence."

Dr. Eiting, an emergency medicine physician, also highlighted the increase in the number of physicians in the emergency department now trained to start a patient on buprenorphine—and that half of the physicians now have a DATA-2000 waiver.

"There's a lot of institutional policy in place before anyone writes a prescription for opioids, but the stigma still exists. There is a judgment about SUD being a moral failing that we need to overcome, and how we get there is having everyone trained to understand that addiction is a medical condition for which there is substantial treatment."

Part of that treatment also includes having all patients entering the ED screened for a potential SUD, distributing naloxone and starting a universal hepatitis C monitoring program last June which helped them to discover that about 30% of patients who test positive for Hepatitis C do not identify any markers "These people usually have an undiagnosed opioid use disorder and so we have revaluated how we handle that."

Ultimately the success of programs like the ones being run out of the emergency department at Mount Sinai are about having a multi-pronged approach and understanding that everyone who walks in your door is coming from different circumstances and requires a plan of treatment that acknowledges that. "This applies to LGTBQ patients, African American and Hispanic communities, Asian communities and all others in our community. "We try to do everything we can think of to meet patients where they are at."

To read more about what the AMA is doing to end the opioid epidemic please visit https://www.end-opioid-epidemic.org/

Have you experienced any barriers to care? Do you have a story to tell? We want to hear from you: opioidtaskforce@ama-assn.org
AMA provides national perspective on nurse practitioner scope of practice
Dr. William E. Kobler, Member, Board of Trustees, testified before an Indiana Interim Study Committee on legislative trends of Nurse Practitioner scope of practice, explaining that most of the changes over the past few years have modified current practice or prescriptive authority within the collaborative or supervisory relationship. In the past five years no states have moved to allow Nurse Practitioners full, immediate independent practice. In his testimony Dr. Kobler emphasized the importance of physician-led team-based care, "team leaders should be the ones with the most education and experience in health care delivery teams." "Based on their education and training, physicians are best suited to practice independently and lead other members of the health care team."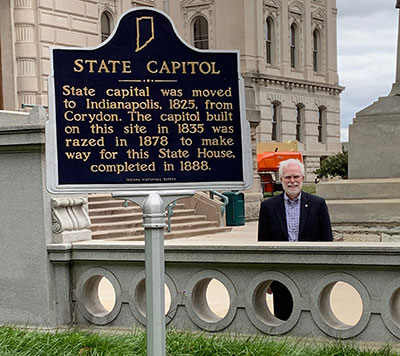 Dr. William E. Kobler, Member, Board of Trustees
Using the AMA's geomaps, Dr. Kobler also illustrated that regardless of the autonomy allowed by state law, "there is a strong correlation between where physicians and nurse practitioners choose to practice. Both tend to practice in the same large urban areas."
Back to Top
Other News
New NAM report reinforces AMA work on physician burnout and burden reduction
The National Academies of Medicine released a new report titled "Taking Action on Clinician Burnout" which highlights six goals/recommendations that the AMA is currently moving the needle on.
Create positive work environments. Health care executives should commit to, and be accountable for, creating a work environment that promotes high-quality care, job satisfaction and social support. Health care organizations should create and maintain an executive leadership role dedicated to clinician well-being. Health care organizations should also assess how business and management decisions — for example, whether to deploy new technologies — may affect clinicians' job demands and levels of burnout, as well as patient care quality and safety. They should continuously monitor and evaluate the extent of burnout in their organization, using validated tools, and report on this at least annually to leaders, managers and clinicians within the organization.


Address burnout in training and at the early career stage. Clinicians often experience burnout early in their professional career. The report recommends that schools of health professions alleviate major sources of stress by monitoring workload (including preparation for licensure examinations and required training activities), implementing pass-fail grading, improving access to scholarships and affordable loans and building new loan repayment systems.


Reduce tasks that do not improve patient care. Federal agencies, state legislatures and other standard-setting entities should identify and address the sources of clinician burnout related to laws, regulations and policies, eliminating those that contribute little or no value to patient care. They should specifically evaluate regulations and standards related to payment, health information technology, quality measurement and reporting, and professional and legal requirements for licensure.


Improve usability and relevance of health IT. Health information technology (IT), including electronic health records, should be as user-friendly and easy to operate as possible to reduce burnout, the report says. Health IT vendors and health care organizations should deploy technologies to reduce documentation demands and automate non-essential tasks. In addition, federal policymakers and private sector health IT companies should collaborate to develop the infrastructure and processes that enable shared decision-making between clinicians and patients.


Reduce stigma and improve burnout recovery services. Many clinicians do not report burnout because they fear the potential consequences, including loss of licensure. In order to eliminate the stigma of getting help and to promote recovery and well-being, the report recommends that state legislative bodies facilitate access to employee assistance programs, peer support programs, and mental health providers without the information being admissible in malpractice litigation. Applications for medical licensure or renewal should focus only on current impairment due to any health condition, rather than past diagnoses for a mental health condition.


Create a national research agenda on clinician well-being. By the end of 2020, federal agencies — including the Agency for Healthcare Research and Quality, the National Institute for Occupational Safety and Health, the Health Resources and Services Administration and the U.S. Department of Veterans Affairs — should develop a coordinated research agenda on clinician burnout, says the report. Research priorities should include identifying the drivers of burnout across career and life stages for different types of clinicians; burnout's implications for the workforce as well as patient safety outcomes; and potential systems-level interventions to improve clinician and learner well-being.
To see what resources AMA has on combating physician burnout check out STEPS Forward, Institutional Assessments and EHRSeeWhatWeMean.org.
Back to Top
Upcoming Events
AMPAC presents an insiders "How to" guide to running and winning a campaign at I-19
Nov. 17: Ever wondered how doctors get elected to public office? Ever considered a run for office yourself? Attend an in-depth preview of the AMPAC's annual "Candidate Workshop" political education program at this year's Interim Meeting in San Diego. Led by Eva Pusateri, lead consultant and trainer for the AMPAC Candidate Workshop, this session will preview the intensive two-day Candidate Workshop which provides the tools needed to run a winning political campaign. The program is designed to help bridge the gap from the exam room to campaign trail and provide the strategic advantage you will need to make your run for public office. Nov. 17, 3 – 4 pm PT in the Cortez Hill A/B Meeting Rooms.
Register now for 2020 AMA advocacy conferences and save 20%
The 2020 AMA State Advocacy Summit will be held in Bonita Springs, Florida, at the Hyatt Regency Coconut Point Resort and Spa, Jan. 9-11. The 2020 AMA National Advocacy Conference will be held in Washington, D.C., at the Grand Hyatt, Feb. 10-12. Register now for both meetings and use the code "SASNAC20" to save 20% on dual registration.
Register today for the Rx Drug Abuse and Heroin Summit
April 13-16: The Rx Drug Abuse & Heroin Summit is the largest and most-recognized conference committed to addressing the opioid crisis. Government officials, first responders, law enforcement personnel, clinicians, physicians, nurses, educators, public health and prevention officials, and families and people in recovery are represented. The conference agenda is designed with timely and relevant information to address what is working in prevention, treatment and law enforcement. This year's summit will take place in Nashville, TN, April 13-16.

Register today and save an additional $50 with code ALUM.
Back to Top