Sept. 20, 2019
Issue Spotlight
10 states with the least competitive health insurance markets
The AMA has released a new study of competition in health insurance markets. It shows that in 2018, state and local markets generally became even more concentrated than they were in 2014

Seventy-five percent of 382 metropolitan statistical areas (MSAs) studied by the AMA were found to be highly concentrated in 2018, as measured by the Herfindahl-Hirschman Index (HHI)—a measure of market concentration used by the Federal Trade Commission and the Justice Department in their evaluation of mergers. The 75% figure in 2018 is up four percentage points compared with 2014.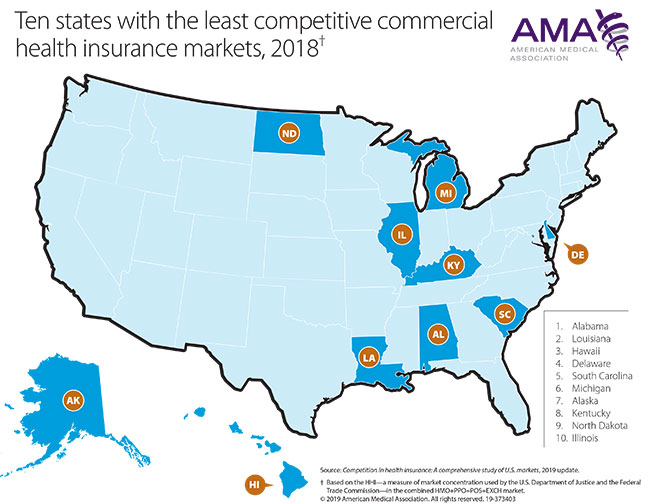 "Americans in three-quarters of commercial health insurance markets have a limited number of health insurers from which to choose," said AMA President Patrice A. Harris, MD, MA. "In almost half of metropolitan areas, a single health insurer has 50 percent or more of the market, and patients are not benefitting from this degree of market power. While health insurers grow corporate profits, networks are too narrow, premiums are too high, and benefits are too watered down."

This and other compelling data were captured by the AMA's 2019 update of "Competition in Health Insurance: A Comprehensive Study of U.S. Markets." It is the 18th edition of the AMA's ongoing documentation and analysis of health insurance market concentration and is based on 2018 data. The study and analysis come from the AMA Division of Economic and Health Policy Research.

Read the report.

10 states with biggest insurer edge

The report presents combined and separate data on four commercial insurance product lines, including preferred provider organizations (PPOs), health maintenance organization (HMOs), point-of-service (POS) and public health exchanges.

Highly concentrated markets are defined as having an HHI above 2,500—which was the case with 63% of state-level markets.

Here are the 10 least competitive states, with the market share of the largest health insurer and the HHI:
Alabama—86% (HHI: 7,443).
Louisiana —72% (HHI: 5,384).
Hawaii—67% (HHI: 4,953).
Delaware—66% (HHI: 4,906).
South Carolina 67% (HHI: 4,832).
Michigan—67% (HHI: 4,648).
Alaska—62% (HHI: 4,612).
Kentucky—61% (HHI: 4,121).
North Dakota—56% (HHI: 3,928).
Illinois—58% (HHI: 3,850).
Three of the least competitive states—Louisiana, Alabama and Alaska—also appear on the list of 10 states with the greatest decline in competition between 2017 and 2018. Utah leads that list, which also includes Florida, New Hampshire, Iowa, Tennessee, Massachusetts and Wyoming.

The list of least competitive states and other report data point to a fundamental problem with market concentration—it is not only pervasive, but also persistent. Eight states on the top-10 list appeared in both 2014 and 2018, with Alaska and Kentucky being the latest entrants. Indiana and Rhode Island slid off the list, but both still had HHIs of more than 3,000, above the highly concentrated threshold.

"The majority of U.S. commercial health insurance markets are highly concentrated," and on average these "markets are becoming even more concentrated over time," concludes the report. "These markets are ripe for the exercise of health insurer market power, which harms consumers and providers of care."

In practical terms, as other empirical evidence suggests, expect insurance premiums to be higher and payments to physicians and others to be lower.

Read more.
Back to Top
National Update
National opioid policy roadmap highlights state efforts on epidemic
The AMA and Manatt Health released a national opioid policy roadmap to provide best practices and evidence on how policymakers can help end the nation's opioid epidemic. That national roadmap was developed as part of an 18-month effort, including an in-depth analysis of the response to the opioid epidemic in four states: Colorado, Mississippi, North Carolina and Pennsylvania.
The analysis focuses on state efforts in six key areas to identify best practices and provide a plan for all states to follow in order to increase access to high-quality, evidence-based treatment for persons with a substance use disorder (SUD) or who need comprehensive, multidisciplinary, multimodal pain care, and to increase access to naloxone to save lives from overdose.
Four key themes emerged:

States must be willing to use their oversight and enforcement authority. State regulators have differing degrees of authority to pursue policies and changes that can have a significant impact on reducing barriers and improving patient care, but the extent to which they use these tools to increase access to evidence-based treatment or hold payers and others accountable for impeded access varies considerably.

Medicaid is leading the way. Medicaid is on the front lines and often provides more comprehensive care for substance use disorders than the commercial insurance market does; there may be opportunities to extend Medicaid successes to commercial coverage. Expanding Medicaid would help even more patients. states that have expanded Medicaid coverage to low-income adults are, at baseline level, far ahead of those that have not expanded in terms of addressing this epidemic. All states should expand their Medicaid programs as allowed under the Affordable Care Act (ACA) as a key step in addressing the epidemic.

Grants are helpful, but long-term implementation needs long-term, sustainable funding. Many best practices that are helping save lives are grant-funded and need long-term, sustainable funding to continue benefiting patients. Without reliable funding streams, programs that help save lives will simply go away. "We have a huge population of uninsured that can receive treatment from these funds, but how are they going to continue to receive treatment?" said Susan Kansagara, Chronic Diseases Section Chief at the North Carolina Department of Health and Human Services, during a media call. "We know [opioid abuse] is a condition that requires many years, if not a lifetime, of treatment and recovery support. It's hard to tell a practice to hire two more physicians if I don't know if funding is going to continue to come in after two years."

The process of evaluating what works is just starting. Some states have undertaken efforts to evaluate current policies and programs to determine what is actually working; most of these evaluations are just beginning. Comprehensive analysis is essential in order to focus resources on successful interventions—and to revise or rescind policies that are having unintended consequences.

The report also identifies six key areas where regulators, policymakers and other key stakeholders can take action.

Access to evidence-based treatment for opioid use disorder. Remove prior authorization and other barriers to medication-assisted treatment (MAT) for opioid use disorder—and ensure MAT is affordable.

Parity enforcement. Increase oversight and enforcement of mental health and substance use disorder parity laws.

Network adequacy/workforce enhancement. Ensure adequate networks that allow for timely access to addiction medicine physicians and other health care professionals; this includes payment reforms, collaborative care models and other efforts to bolster and support the nation's opioid use disorder treatment workforce.

Pain management. Enhance access to comprehensive, multidisciplinary, multimodal pain care, including non-opioid and non-pharmacologic pain care options.

Access to naloxone. Reduce harm by expanding access to naloxone and coordinating care for patients in crisis.

Evaluation. Evaluate policies and outcomes to identify what is working, so as to build on the most successful efforts, and also to identify policies and programs that may need to be revised or rescinded.

The AMA stands ready to work with all stakeholders to implement the recommendations in this national roadmap.

Visit end-opioid-epidemic.org to learn more about what the AMA is doing to end the opioid epidemic.
Legislation would address nation's high maternal mortality rate
AMA President Dr. Patrice Harris testified before the House Energy and Commerce Subcommittee on Health on Sept. 10, regarding legislation to address the nation's high maternal mortality rate. At the hearing, Dr. Harris highlighted the following factors as contributing to rising maternal mortality rates in the United States, including the disproportionately high maternal mortality rates for Black women and Native American/Alaska Native women:
Lack of insurance or inadequate coverage prior to, during and after pregnancy
Increased closures of maternity units in rural and urban communities
Lack of inter-professional teams trained in best practices
Structural determinants of health, such as public policies, laws and racism that produce inequities in the social determinants of health, such as education, employment, housing and transportation
Stress exacerbated by discrimination that can result in hypertension, heart disease and gestational diabetes during pregnancy
Clinicians not listening to black women, resulting in missed warning signs and delayed diagnosis
She expressed the AMA's support for H.R. 1897/S. 916, the "Mothers and Offspring Mortality and Morbidity Awareness (MOMMA's) Act", which would improve data collection, disseminate information on effective interventions, and expand access to health care and social services for postpartum women. The bill would enhance federal efforts to support states in collecting, standardizing, and sharing maternal mortality and morbidity data, and authorizes and expands existing federal grant programs dedicated to scaling best practices to improve maternity care. The MOMMA's Act would also authorize states to expand coverage under Medicaid, CHIP, and the Special Supplemental Nutrition Program for Women, Infants, and Children (WIC) for 12 months postpartum, and it would ensure improved access to culturally-competent care training and workforce practices throughout the care delivery system.
Dr. Harris spoke about the AMA's new Center for Health Equity and the organization's commitment to champion health equity and promote greater diversity within the medical workforce. She also expressed the AMA's continued support for legislation signed into law last year, H.R. 1318 (P.L. 115-344), the "Preventing Maternal Deaths Act," which strengthened federal support for state maternal mortality review committees that review individual maternal deaths and recommended specific ways to prevent them in the future.
Congressional committee examines prior authorization issue
Last week, the House Committee on Small Business held a hearing on step therapy and prior authorization. Chairwoman Nydia Velázquez (D-NY) and Rep. John Joyce, MD (R-PA), were especially strong in their message that physicians are trying to provide the "highest quality clinical care" and that prior authorization and step therapy are leading to delays in care. When doctors spend hours dealing with paperwork or cannot treat a patient because a health insurance company will not approve a treatment, patients suffer.

Dr. Joyce and the witnesses offered clear-cut examples, including stories of physicians having to seek prior authorization during the middle of surgery and often being denied. There was consensus that prior authorization processes must be streamlined and that greater clarity is needed regarding which services are subject to it. The witnesses made compelling arguments that the health insurance representatives providing prior authorization should be physician peers who understand the underlying medical conditions and the appropriate standard of care.

Earlier this week, the AMA and 369 other patient, physician and health care professional organizations sent a letter to members of Congress asking them to cosponsor H.R. 3107, the "Improving Seniors' Timely Access to Care Act," which was introduced this summer by Reps. Suzan DelBene (D-WA), Mike Kelly (R-PA), Roger Marshall, MD (R-KS), and Ami Bera, MD (D-CA). The legislation is based on the Consensus Statement on the Improving Prior Authorization Process adopted by leading national organizations, including the AMA, representing physicians, medical groups, hospitals, pharmacists and health plans.
Administration reverses course on medically deferred action policy
The AMA weighed in on the U.S. Citizenship and Immigration Services' (USCIS) previously announced revocation of the nation's medically deferred deportation policy for critically ill individuals. About 1,000 undocumented immigrants, many of whom are seriously ill children with conditions like cancer, muscular dystrophy and rare genetic disorders, apply for deferred action on their immigration status in order to continue their treatment. In August, the USCIS informed hundreds of patients they had 33 days to leave the country or be deported. After public outcry, U.S. immigration officials subsequently announced they would pause those deportations and reconsider the policy change.

This change in policy would have needlessly endangered immigrant children with serious illnesses and their families and, accordingly, sent a letter to USCIS on Sept. 6 strongly urging the agency to reverse the policy change. The AMA subsequently shared its letter with the House Oversight and Reform Committee in advance of a subcommittee oversight hearing on the new policy.

On Sept. 19, in response to the outrage expressed by the AMA and other health care groups, the USCIS announced it will process deferred action bids again. Meaning the Administration will immediately resume processing requests for deportation relief from immigrants without legal status, including those with serious medical conditions receiving life-saving treatments in the U.S. The AMA will continue to monitor the situation closely to ensure that this policy is properly reversed and seriously ill children and families receive the medical care they need.
AMA warns of impact of not providing vaccines to asylum-seekers
Last week, in accordance with policy adopted during the 2019 AMA Annual meeting, the AMA strongly urged the U.S. Department of Health and Human Services (HHS) and the U.S. Department of Homeland Security (DHS) to allow asylum-seekers to receive all medically-appropriate care, including vaccinations, in a patient-centered, language- and culturally-appropriate way upon presentation for asylum regardless of country of origin.

"Asylum-seekers are a vulnerable group that often face circumstances in which their health and well-being may have been compromised during their journey to seek safety. It is our understanding that the U.S. Customs and Border Protection (CBP) will not provide influenza vaccinations to migrants in its custody, even though flu outbreaks have been reported in CBP facilities. We believe that the current living conditions facing many children and families detained in CBP custody may aggravate the spread of infectious diseases such as the flu. The flu season will begin shortly, and we believe that it is in the best interest of public health for vaccinations to be given as soon as possible," wrote AMA CEO and EVP James L. Madara, MD.

According to the U.S. Centers for Disease Control and Prevention (CDC) the burden of illness during the 2017–2018 season was high with an estimated 48.8 million people in the U.S. getting sick with influenza, 22.7 million people going to a health care provider, 959,000 hospitalizations, and 79,400 deaths from influenza. The number of cases of influenza-associated illness that occurred last season was the highest since the 2009 H1N1 pandemic, when an estimated 60 million people were sick with influenza.
Congress addresses immigrant family detention issues
The House passed the "Humanitarian Standards at the Border Act" (H.R. 3932) on July 25 by a majority party-line vote, 233-195. All democrats and one republican voted for the measure. The AMA has weighed in extensively on this issue; the AMA called on the U.S. Department of Homeland Security (DHS) and U.S. Customs and Border Protection (CBP) to address the condition of their facilities at the southern border, which are inconsistent with evidence-based recommendations for appropriate care and treatment of children and pregnant women. The AMA also issued a letter to the House Committee on Oversight and Reform in advance of the upcoming hearings entitled, "Kids in Cages: Inhumane Treatment at the Border," and "The Trump Administration's Child Separation Policy: Substantiated Allegations of Mistreatment." In addition the AMA issued a letter of support to the House Judiciary Committee in advance of its mark-up of the legislation.

"Conditions in CBP facilities, including open toilets, constant light exposure, insufficient food and water, extreme temperatures, and forcing pregnant women and children to sleep on cement floors, are traumatizing. These facilities are simply not appropriate places for children or for pregnant women. We strongly urge the administration and Congress to work with the medical community to develop policies that ensure the health of children and families is protected throughout the immigration process," wrote AMA CEO and EVP James L. Madara, MD. The bill has been referred to the Senate Judiciary Committee where it awaits action.

In September the administration released a proposed rule expanding the long-term detention of migrating families. Consistent with policy adopted during the 2018 AMA Annual Meeting, the AMA submitted a comment letter opposing the proposed rule and its impact on the health and well-being of migrating families. The AMA has been, and will continue to be, aggressive in demanding oversight of these detention facilities and will continue to voice its concern and advocate for the health and safety of migrating children and families.
House Judiciary Committee marks up gun violence prevention bills
Three bills were marked up by the House Judiciary Committee in response to the latest mass shootings. H.R. 1186: the "Keep Americans Safe Act" (Rep. Deutch (D-FL)), would ban high capacity ammunition magazines; H.R. 1236, the "Extreme Risk Protection Order Act of 2019" (Rep. Carbajal (D-TX)) would authorize grants to incentivize states to establish red-flag laws to allow family members or law enforcement to petition a judge to temporarily remove guns from a person considered a threat to themselves or others while also creating a federal pathway for red flag cases to be brought; and H.R. 2708 (Rep. Cicilline (D-RI)) would prohibit people convicted of a misdemeanor hate crime from possessing a firearm. The bills await consideration before the full House.

Of the three bills, H.R. 1236, the "Extreme Risk Protection Order Act of 2019," aka "Red Flags," is the only issue the Senate has considered on gun violence prevention. Chairman Lindsey Graham (R-SC) of the Senate Judiciary Committee held a hearing on this issue this past March, and the AMA submitted a letter of support for the concept of providing grants to states to establish red flags law to the Committee in advance of that hearing. The House previously passed on Feb. 28, H.R. 8, the "Bipartisan Background Checks Act of 2019" and H.R. 1112, the "Enhanced Background Checks Act of 2019." The AMA sent a letter of support for H.R. 8 to bill sponsors and it is currently awaiting consideration in the Senate.

What doctors must know about the vaping crisis
New research shows that 40.5% of high-school seniors have tried nicotine vaping, adding urgency to President Trump's announcement that the Food and Drug Administration (FDA) will take action to ban the e-cigarette flavorings that have proved so attractive to teens and young adults. Meanwhile, federal health agencies are encouraging physicians to report detailed information on cases of vaping-associated lung illnesses. Here's what doctors need to know.
Vaping is taking off among kids. A national survey of 42,531 eighth–12th graders finds that 25.4% of high-school seniors have vaped nicotine in the last month, while 20.2% of 10th graders and 9% of eighth-graders have done so.
It's way past time to eliminate e-cigarette flavorings. The AMA has long called on the FDA "to regulate e-cigarettes, particularly banning flavors and marketing practices that enhance the appeal of e-cigarette products to youth," said Patrice A. Harris, MD, MA, the Association's president. The AMA House of Delegates has declared the skyrocketing use of e-cigarettes to be an "urgent public health epidemic" and urged the FDA to take action to address it. Dr. Harris also lauded recent actions by Michigan and New York to ban e-cigarette flavorings.
Vaping-related lung illnesses have struck hundreds, killing seven. The CDC has reported 530 cases of lung injury in 38 states and one U.S. territory. The CDC has confirmed seven deaths in six states: California, Illinois, Indiana, Kansas, Minnesota and Oregon. While most of the patients affected used e-cigarette products with tetrahydrocannabinol (THC), some of the patients reported vaping only nicotine. The CDC is regularly providing updates on the outbreak.
The CDC and FDA are telling physicians: Report what you see. The CDC says physicians and other clinicians should "report cases of severe pulmonary disease of unclear etiology and a history of e-cigarette product use within the past 90 days to your state or local health department." Learn more by reading the CDC's health advisory, "Severe Pulmonary Disease Associated with Using E-Cigarette Products." The FDA, meanwhile, has developed a portal to report safety problems with tobacco products. The agency says it wants reports from health professionals about tobacco products that are damaged, defective, contaminated, smell or taste wrong. The FDA reviews the reports to identify concerning trends.
Back to Top
State Update
Mississippi governor denies CRNA opt-out of federal supervision requirement
Mississippi's Governor Phil Bryant recently announced his decision to deny a request to opt-out of the federal supervision requirement for anesthesia services provided by certified registered nurse anesthetists (CRNA). In explaining his decision, Governor Bryant noted he received more than 1,000 pieces of correspondence regarding the opt-out, including letters from the Mississippi State Board of Medical Licensure, Mississippi Osteopathic Medical Association (MOMA), American Osteopathic Association (AOA), American Medical Association, Mississippi State Medical Association, Mississippi Society of Anesthesiologists, American Society of Anesthesiologists, American Psychiatric Association, Mississippi Academy of Family Physicians and Mississippi Academy of Eye Physicians and Surgeons. The fact that so many state and national specialty societies weighed in, including those societies not directly impacted by the opt-out, underscores the collective concern with maintaining patient safety. This advocacy clearly had a significant impact on the governor's decision.

Ultimately Governor Bryant determined the opt-out would not protect patient safety and was not in the best interest of the citizens of Mississippi, specifically quoting the letter submitted by the AMA stating, "Maintaining physician supervision or collaboration of nurse anesthetists is critical in maintaining patient safety." Governor Bryant also quoted the AOA and MOMA letter, which urged the governor "to protect the safety of Mississippi's patients and not 'opt-out' of the physician supervision requirements of CRNAs."

The AMA applauds the governor's choosing to protect the health and safety of patients in Mississippi and ensure anesthesia services continue to be performed only with appropriate physician oversight. This victory is yet another example of the power of medical associations working together on these important issues.
Back to Top
Judicial Update
Title X gag rule: What's on the line in upcoming oral arguments
The AMA will have its say in upcoming oral arguments in the 9th U.S. Circuit Court of Appeals in an effort to block a Trump administration rule that would gag physicians and decimate the Title X program. The new rule limits the medical advice physicians can give their Title X patients and compels physicians to act as government mouthpieces, violating the AMA Code of Medical Ethics.

The Title X family planning program ensures that every person has access to basic, preventive reproductive health care such as birth control, cancer screenings, and sexually transmitted-infection testing and treatment regardless of economic or insurance status. Roughly 4,000 clinics have served 4 million family-planning patients annually in the Title X program.

The oral arguments will be heard Sept. 23 in the lawsuit that was filed by the AMA, the Oregon Medical Association and others in March. The case was later consolidated on appeal with other lawsuits that include 20 states, the District of Columbia and individual health professionals.

The AMA and its co-plaintiffs are seeking to enjoin implementation of the new federal rule while the courts determine whether it passes legal muster. U.S. District Judge Michael McShane in April issued a nationwide injunction blocking the rule's implementation.

"The gag rule prevents doctors from behaving like informed professionals," McShane wrote. "At the heart of this rule is the arrogant assumption that government is better suited to direct the health care of women than their medical providers."

A three-judge panel of the 9th U.S. Circuit Court of Appeals stayed that district court ruling in June, allowing the rule to take effect. Now attorneys for the AMA and the other co-plaintiffs will argue before an 11-judge panel of the appeals court to reverse course.

Read more.
Court blocks law that would force physicians to mislead patients
A federal district court in North Dakota has sided with the AMA and others and issued a preliminary injunction to block enforcement of a state law that would force physicians to violate the AMA Code of Medical Ethics and act as mouthpieces for a politically motivated message that is misleading and could harm patients.

The provision would have forced North Dakota physicians to tell women "that it may be possible to reverse the effect of an abortion-inducing drug if she changes her mind, but time is of the essence, and information and assistance with reversing the effects of an abortion-inducing drug are available" in government-printed materials to be given to the patients.

"State legislatures should not be mandating unproven medical treatments, or requiring physicians to provide patients with misleading and inaccurate information," says Chief Judge Daniel Hovland's decision. "The provisions of [this law] violate a physician's right not to speak and go far beyond any informed consent laws addressed by the United States Supreme Court, the 8th Circuit Court of Appeals, or other courts to date."

The lawsuit was filed by the AMA in in the U.S. District Court for the District of North Dakota, in Bismarck, on behalf of the Red River Women's Clinic, and the clinic's medical director, AMA member Kathryn Eggleston, MD, as co-plaintiffs.

"Open, honest conversations between patients and physicians are the cornerstone of medicine, so we are pleased that the federal district court of North Dakota has blocked enforcement of the newest compelled speech law while this case advances in the courts," said AMA President Dr. Patrice Harris. "With this ruling, physicians in North Dakota will not be forced by law to provide patients with false, misleading, nonmedical information about reproductive health that contradicts reality and science."

Read the full story here.
Back to Top
Other News
Census report shows uptick in uninsured rate
New data from the U.S. Census Bureau shows an increase in the both the rate and number of the uninsured—from 7.9%, or 25.6 million, in 2017 to 8.5%, or 27.5 million, in 2018. In addition, it shows that the percentage of Americans who are uninsured is continuing to climb in 2019. While uninsured rates are still near historic lows thanks to the Affordable Care Act, analysts are assessing whether recent legislative and regulatory developments on the federal and state levels are contributing to the uptick in the uninsured rate. Potential contributing factors that have been cited include the zeroing out of the federal individual mandate penalty, cuts to outreach funding, Medicaid work requirements and immigration regulations impacting Medicaid use.

What can be done to not only stop this trend, but turn it around and cover more people? Learn about the AMA's plan here.
A majority of physicians now take part in an ACO
Physician participation in accountable care organizations (ACO) reached a milestone in 2018. More than half of physicians reported their practice was part of an ACO, less than a decade after the payment model debuted as part of the Affordable Care Act enacted in 2010.

"Overall, 53.8% of physicians reported participation in at least one ACO type in 2018, up from 44.0% in 2016," according to a recently released AMA research paper. By ACO type, 38.2% of physicians belonged to a Medicare ACO, 26.3% to a Medicaid ACO and 39.0% to a commercial ACO. Data was also collected on medical home participation, with 31.9% of physicians reported working in a practice that belonged to one.

This and other related data and analysis was presented in the AMA Policy Research Perspective report, "Payment and Delivery in 2018: Participation in Medical Homes and Accountable Care Organizations on the Rise While Fee-for-Service Revenue Remains Stable."

Results were based on data from the ongoing Physician Practice Benchmark Survey, conducted by the AMA Division of Economic and Health Policy Research. The division conducts independent research to support AMA federal, state and private sector advocacy.

Read more.
CMS provides exemptions for clinicians affected by tropical storm/hurricane Barry
In response to the Federal Emergency Management Agency's (FEMA) disaster designation of tropical storm/hurricane Barry, CMS has determined that the automatic extreme and uncontrollable circumstance policy will apply to Merit-based Incentive Payment System (MIPS)-eligible clinicians in FEMA-identified Louisiana parishes.

MIPS-eligible clinicians in these areas will be automatically identified and receive a neutral payment adjustment for the 2021 MIPS payment year. During the data submission period for the 2019 performance period (Jan. 2, 2020, to March 31, 2020), all four performance categories for these clinicians will be weighted at 0%, resulting in a score equal to the performance threshold.

If automatically identified MIPS-eligible clinicians choose to submit data on two or more MIPS performance categories (quality, improvement activities and/or promoting interoperability) as an individual, or if they are part of a group or virtual group that submits data on behalf of its clinicians, they will be scored on those performance categories and their 2021 payment adjustment will be based on their 2019 MIPS final score.

The automatic extreme and uncontrollable circumstance policy will not apply to MIPS-eligible clinicians in MIPS APMs in 2019.

At this time, there are no FEMA-designated disaster areas resulting from Hurricane Dorian, though FEMA updates the information on their website every 24 hours. The AMA will continue to monitor CMS action and policy.

For more information, reference the "Extreme and Uncontrollable Circumstances Overview" section on the MIPS > About Exception Applications page. Physicians can also contact the Quality Payment Program Service Center at (866) 288-8292/TTY (877) 715-6222, Monday through Friday, 8:00 a.m. ‒ 8:00 p.m. Eastern time or by email at qpp@cms.hhs.gov.
Proposed rule includes payment models for radiation oncologists and nephrologists
In July 2019, at the same time that it announced new voluntary alternative payment models (APMs) for nephrologists managing the care of patients with kidney disease, the Centers for Medicare & Medicaid Services (CMS) also issued a proposed rule describing two APMs with mandatory participation requirements, one for radiation oncology and one for end stage renal disease (ESRD). Recent AMA comments on the proposed APMs indicate support for a bundled episode payment model for radiation oncology and for creation of a payment adjustment to enable increased use of home dialysis for ESRD patients, but also recommend a number of improvements in both models.

In the radiation oncology model, the AMA recommends that bundled payments be stratified based on patient clinical characteristics that affect the type and frequency of needed treatments, and that initial payment amounts be based on the cost of delivering services. The significant reductions from current payment amounts in the proposal could have unintended consequences for practices and patients. The AMA is also urging CMS to conduct a voluntary test of a modified model instead of mandating participation of 40% of Medicare's radiation oncology episodes in an untested model.

The ESRD Treatment Choices model is intended to increase both the proportion of ESRD patients who get home instead of in-center dialysis and the proportion who get kidney transplants. The current Medicare payment system penalizes nephrologists financially when more of their patients are on home dialysis, because it costs physicians more for them to do home visits and is less efficient for them than in-center visits, yet Medicare pays nephrologists 19% more for in-center than home dialysis patients. The AMA's comments express concern that a temporary reduction of 5% to 15% in the gap between home and in-center dialysis, as proposed, is not sufficient to improve the proportion of patients getting home dialysis. The AMA also suggests that the home dialysis rate measure be better targeted at ESRD patients who are appropriate candidates for home dialysis by excluding, for example, patients who do not have a caregiver at home to assist them. Similarly, the measure related to kidney transplants should focus on whether patients are on a transplant waiting list, not whether they actually receive a transplant, since the primary barriers to more transplants are beyond physicians' control. Finally, as with the radiation oncology model, the AMA recommends a voluntary test of the ESRD Treatment Choices model instead of mandating participation.
Back to Top
Upcoming Events
Virtual panel discussion: Innovative approaches to decreasing administrative burden in practice
Sept. 23-27: Research shows that physicians most enjoy time with their patients, but administrative tasks can get in the way of that doctor-patient time. To ensure that physicians are spending more time with their patients and less time on their computers, change at an organizational level must occur. Join this virtual panel discussion from Sept. 23-27 to learn about innovative approaches to reducing administrative burdens, to share your best practices on reducing administrative burden, and to discuss how this burden has impacted you and your organization.
Register now for 2020 AMA advocacy conferences and save 20%
The 2020 AMA State Advocacy Summit will be held in Bonita Springs, Florida, at the Hyatt Regency Coconut Point Resort and Spa, Jan. 9-11. The 2020 AMA National Advocacy Conference will be held in Washington, D.C., at the Grand Hyatt, Feb. 10-12. Register now for both meetings and use the code "SASNAC20" to save 20% on dual registration.  
Back to Top