Sept. 6, 2019
Issue Spotlight
The latest on the fight to fix prior authorization
Prior authorization (PA) continues to be a major barrier to patient care and a contributing factor in physician burnout. Physician practices complete an average of 31 prior authorizations a week per physician, with this workload consuming roughly 14.9 hours (almost two full business days) of physician and staff time. This is to say nothing of the impact on care for patients whose lives can be endangered by the unnecessary delay of treatment. Simply put, prior authorization is the overstepping of insurers into the clinical decision-making process, and the AMA is committed to fixing the problem by working with state legislators and medical societies to remove insurance company interference in the timely delivery of patient care.

The AMA released its 2018 Prior Authorization Physician Survey results earlier this year, and of the 1,000 practicing physicians surveyed:
65% report waiting at least one business day for a prior authorization decision, and 26% reported waiting at least three business days
91% report care delays associated with prior authorization
75% report that prior authorization can lead to treatment abandonment
91% report that prior authorization can have a negative impact on patient clinical outcomes
86% of physicians say that prior authorization burdens are high or extremely high
88% of physicians report that prior authorization burdens have increased over the last five years
But perhaps most concerning is that 28% of respondents reported prior authorization has led to a serious adverse event (e.g., death, hospitalization, disability) for a patient in their care.

Therefore, it is no surprise that there were nearly 85 bills in the state legislatures this year addressing utilization management, and in several states (e.g., CO, KY, MD, ME, MO, NM, TX, VA, WV), legislation was enacted despite strong opposition from insurers. The AMA has long supported these state legislative efforts with resources, including model legislation that addresses response times, automation, transparency, qualifications of reviewers and continuity of care, among other important reforms.

The opioid epidemic has made the need to fix prior authorization especially urgent, as patients with substance use disorders are often subjected to senseless denials and delays in care when prescribed medication-assisted treatment (MAT). These denials or delays often come at a critical moment when a patient who cannot quickly access MAT risks overdose and death. Thus far in 2019, at least 15 states have introduced bills to prevent prior authorization for MAT based on AMA model legislation.

Before 2019, only four states had legislation or other initiatives that removed prior authorization for MAT: MD, IL, AZ and PA. Thus, while the 2019 activity has been positive, payers in more than half the nation continue policies that delay and deny care to those seeking treatment for an opioid use disorder.

There has also been growing interest in prior authorization reform at the federal level. The Centers for Medicare & Medicaid Services (CMS) recently announced plans to address prior authorization under its Patients Over Paperwork initiative and have conducted listening sessions with the AMA, state medical associations and national medical specialty societies to gather information about prior authorization's impact on care delivery and practice resources.

In these discussions, the AMA and other organizations have stressed the lack of meaningful changes observed in prior authorization programs across commercial insurers, despite the release in early 2018 of the Consensus Statement on Improving the Prior Authorization Process, an important agreement between health care professional associations and national insurer trade organizations on the need for prior authorization reform. The AMA's Industry Checkup illustrates the lack of progress on this issue. Given this stagnation, the AMA urges CMS to serve as a leader and model meaningful prior authorization reforms for commercial insurers—both to protect patients' health and reduce practice burdens—by developing a comprehensive strategy that addresses all areas of the Consensus Statement:
Selective application of prior authorization to only "outliers" (vs. bluntly across all physicians)
Review/adjustment of prior authorization lists to remove services/drugs that represent low-value prior authorizations
Transparency of prior authorization requirements and their clinical basis to patients and physicians
Protections of patient continuity of care
Automation to improve prior authorization transparency and process efficiency
The AMA is dedicated to stemming the tide of prior authorization and eliminating senseless delays to necessary patient care. Join the fight to fix prior authorization by visiting fixpriorauth.org and engaging with the AMA's grassroots campaign that unites physician and patient voices in a common call for change.
Back to Top
National Update
Surgeon general issues advisory on marijuana use during pregnancy and adolescence
U.S. Surgeon General Jerome Adams, MD, has released an advisory on marijuana use and its impact on the developing brain. The advisory is in response to high rates of marijuana use among pregnant women and young people, widespread and growing access to increasingly potent marijuana, and a mounting body of evidence of harms.

The advisory notes that, for pregnant women, marijuana is the most commonly used illicit drug. Between 2002 and 2017, marijuana use among pregnant women doubled. Marijuana is also the third most commonly used illicit substance in adolescents, behind alcohol and e-cigarettes. While among young people the perceived harm of marijuana is decreasing, the advisory states that the potential for harm is actually increasing. The advisory underscores that science shows young people who regularly use marijuana are more likely to show a decline in IQ and school performance, are more apt to miss classes and drop out, and are more likely to attempt suicide. The science also shows that marijuana use during pregnancy can affect the baby's brain and also result in lower birth weight, a marker for early death and disability.

In response to the advisory, the AMA issued a press release, which commends the surgeon general for his warning about the harmful health effects of cannabis use by pregnant women and youth and expresses the AMA's strong support for this effort. The AMA has long discouraged cannabis use by youth, pregnant women and women who are breastfeeding. The AMA has also called for research to determine the consequences of long-term cannabis use in these populations and commends the surgeon general's call for more research.
Proposal would roll back LGBTQ protections
The AMA is strongly criticizing a proposed Department of Health and Human Services (HHS) rule that would do away with Affordable Care Act (ACA) protections for LGBTQ people, women, immigrants, minorities and other patients.

"This proposal marks the rare occasion in which a federal agency seeks to remove civil rights protections," AMA Executive Vice President and CEO James L. Madara, MD, wrote in a sharply worded letter to HHS Secretary Alex Azar. "It legitimizes unequal treatment of patients by not only providers, health care organizations, and insurers, but also by the government itself—and it will harm patients. Such policy should not be permitted by the U.S. government, let alone proposed by it."

The proposal perverts the nondiscrimination provisions included in the ACA by drastically limiting nondiscrimination protections despite decades of case law recognizing these protections.

The rule concerns the ACA's section 1557, which was designed to help people experiencing barriers to care, including LGBTQ people, minorities, patients who speak limited English, and patients seeking reproductive health care.

The administration proposal "is contrary to the intent and the plain language of the law," Dr. Madara wrote. "It will negatively affect patients by drastically limiting the scope of health plans to which the nondiscrimination provisions apply, thereby eliminating coverage protections for certain individuals, such as transgender people, women, LGBTQ people, and individuals living with HIV."

Read more.
Back to Top
State Update
Court decides to allow CVS-Aetna merger
Judge Richard Leon of the United States District Court for the District of Columbia has decided to allow the merger between CVS and Aetna. The AMA and other stakeholders (the "amici") had opposed the merger after coming to the conclusion that it would likely substantially lessen competition in many health care markets, to the detriment of patients. Ultimately, however, the court concluded that "although the amici raised substantial concerns that warranted serious consideration" the harms raised "were not sufficiently established to undermine the Government's conclusion to the contrary."

"Despite an unprecedented review that dragged many details of this merger into the light, today's decision ultimately fails patients, will likely raise prices, lower quality, reduce choice, and stifle innovation," AMA President Patrice A. Harris, MD, MA, stated. "The American people and our health system will not be served well by allowing a merger that combines health insurance giant Aetna Inc. with CVS Health Corporation – the nation's largest retail pharmacy chain, specialty pharmacy, pharmacy benefit management (PBM) and Medicare Part D Stand-Alone Prescription Drug Plan (PDP) insurer."

Despite the outcome, Judge Leon's extensive review of the government's proposed settlement signals an important change in how health care mergers will be reviewed moving forward with the judge specifically stating that evidence provided by third parties (like AMA) that persuasively demonstrates actual or likely harm to the public interest will overcome the government's presumption of accuracy when the government contends that a proposed final antitrust judgment is in the public interest. Per Judge Leon, under such circumstances, settlements allowing such mergers will be denied.
AMA urges the passage of NY bills that would increase access to MAT
The AMA and the Medical Society of the State of New York are urging New York Governor Andrew Cuomo to sign legislation that would help ensure patients with opioid use disorder receive lifesaving MAT without delay or administrative denial. The AMA sent a letter to Governor Cuomo in support of assembly bills (A.) 2904 and 7246.

Earlier this year, New York enacted a law to eliminate prior authorization requirements for the MAT covered by an insurance plan formulary, but that law also meant that a patient stabilized on one form of MAT may face hassles if they change insurance plan coverage.

When a patient seeking care for an opioid use disorder is forced to delay or interrupt ongoing treatment due to a health plan utilization management coverage restriction, such as prior authorization, there often is a negative impact on their care and health. With respect to opioid use disorders, that could mean relapse or death from overdose. For physicians the very manual, time-consuming processes required in these prior authorization policies interrupt care and cause providers to divert valuable resources away from direct patient care. It is clear that a growing number of states are removing prior authorization for MAT. A. 2904 and A. 7246 are vital steps to further support patients' long-term recovery.

For more information on repealing prior authorization requirements, contact the AMA's Daniel Blaney-Koen. To learn more about what the AMA is doing to fight the opioid epidemic visit end-opioid-epidemic.org.
One resident's commitment to advocating for pregnant patients with opioid use disorder
Even though maternal and fetal medicine fellow Tani Malhotra, MD, knows that the stigma of substance use disorder runs deep, she knows that it's her professional responsibility to not only have difficult conversations with her patients—but also to speak up for her patients to policymakers.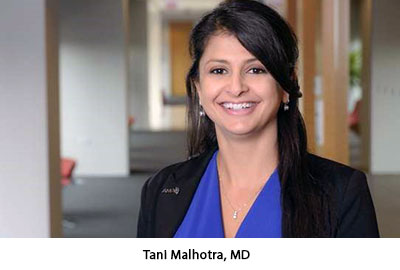 "Many of my patients feel like their medical disease is a moral failing," she said. "They're often very scared because they don't know what will happen to them or their baby."

In her work on the Pennsylvania Opioid Task Force and a leader in the AMA Resident and Fellow Section, Dr. Malhotra said that her policy research has made her more committed to advocacy. She pointed to how many states have criminally charged pregnant women for opioid use, the fear of having a child removed from the mother if he or she is born with neonatal abstinence syndrome, and the challenges new mothers face after giving birth when public benefits are stopped post-delivery.

The AMA Opioid Task Force issued a new recommendation this year to directly address maternal and fetal health. The Task Force believes it is essential to specifically highlight the important roles of physicians and policymakers in ensuring the unique needs of pregnant, postpartum and parenting women and children are met. Opioid use disorder among women of reproductive age and pregnant, postpartum and parenting women has increased over recent years, mirroring the epidemic seen in the general population. Yet, threats of incarceration, immediate loss of child custody, and other potential punishments drive pregnant, postpartum and parenting women away from vital prenatal care and treatment. The Task Force noted that research has found that non-punitive public health approaches to treatment result in better outcomes for both moms and babies.

"There are so many challenges, and we need to change a lot of state law, but there also are really great, evidence-based programs helping pregnant women and their babies," Dr. Malhotra said, pointing to a grant program operated by Metro Health in Cleveland, the Maternal Opiate Medical Support Project (MOMS) as well as ongoing efforts at Metro Health. Promoting the positive effects of treatment, she said, is an essential part of her advocacy.

"It takes time to build trust in the community for women who are pregnant to trust us," said Dr. Malhotra. "If a state has policies that will put them in jail or take away their baby, outcomes are going to be worse. That's why in addition to my work as a physician, I take my responsibility as an advocate just as seriously."

Learn more about what physicians across the country are doing to combat the opioid epidemic.
Back to Top
Judicial Update
Court again blocks Medicaid work requirements, this time in New Hampshire
New Hampshire becomes the third state—joining Kentucky and Arkansas—that a federal court in Washington, D.C., has blocked from mandating that residents work a minimum number of hours a month to qualify for the state's expanded Medicaid program.

The ruling from the U.S. District Court for the District of Columbia is a win for patients and physicians. The AMA filed an amicus brief in the case, Philbrick v. Azar, arguing that pinning eligibility for New Hampshire's Granite Advantage plan to work requirements would cause thousands to be disenrolled from the state's recently expanded Medicaid program, leading to worse health outcomes for them and their families. The state argued that the requirement would incentivize people to work.

"The New Hampshire system will not meaningfully 'encourage' beneficiaries to 'attain or retain financial independence.' Thinly veiled threats, or 'incentives,' will not help beneficiaries enter the workforce or obtain steadier employment," the AMA brief told the court. "Thousands of Medicaid beneficiaries cannot work as a medical matter, face serious difficulties in finding employment or work too inconsistently to meet the work requirement. Holding health care coverage hostage will only exacerbate these problems."

Read more.
Striking caps on liability damages will fuel medical cost growth
If the Supreme Court of Tennessee eliminates caps state legislators placed on noneconomic damages, doctors say patients and physicians in the Volunteer State will face a future in which health care costs are even higher and physicians are likelier to leave the state or avoid high-risk procedures.

The state's highest court is considering a case, McClay v. Airport Management Services LLC, that will determine whether limiting noneconomic damages in personal injury cases is constitutional. The Litigation Center of the American Medical Association joined the Tennessee Medical Association and several other organizations in filing an amicus brief urging the court to keep limits in place because they are "effective" and "critical" in the medical liability arena.

"They lead to lower insurance premiums, higher physician supply, improved patient access to care, lower defensive medicine and health care costs and lower claim severity and frequency," the AMA Litigation Center brief tells the court. "Placing reasonable constraints on the subjective portion of awards is critical for ensuring that adequate, affordable health care is available to the public at large, particularly in states such as Tennessee that have significant rural areas where health care can be scarce."

Read more.
Back to Top
Other News
ACOs: How to perform due diligence and evaluate contractual agreements
Accountable care organizations (ACO) can be an attractive option for physicians looking to retain their independence while benefiting from collaboration with others delivering patient care. Finding success in ACOs requires careful planning and substantial knowledge about current realities of ACOs, which have rapidly matured since their debut less than 10 years ago.

Three important topics physicians should consider when evaluating an ACO include risk, data access and physician obligations under the agreement. These topics and other considerations are covered in the AMA's new guide, "Accountable Care Organizations: How to Perform Due Diligence and Evaluate Contractual Agreements." The guide includes model contract language that physicians can use to strategically evaluate opportunities and negotiate important contract terms.

In addition to the guide, the AMA has developed a snapshot on accountable care organizations that covers topline issues and a model checklist that identifies top issues for physicians to consider early in the due diligence and negotiation process.

Venture capital and private equity: Key insights and considerations
Venture capital (VC) and private equity (PE) firms represent ready cash for physicians open to selling a practice or seeking outside investors. At a high level, private equity firms are more likely to buy and build value in hopes of profiting from a relatively quick sale, and venture capital firms are more likely to invest for a longer time horizon.

The AMA's guide, "Venture capital and private equity investments: How to evaluate contractual agreements," highlights key insights and considerations into the functioning of a VC or PE firm. Among the points raised in the resource, three particularly stand out in terms of assessing a deal—change in physician income, day-to-day practice management, and retaining professional independence.

A two-page snapshot from the AMA provides a basic orientation for physicians unfamiliar with VC and PE investment. The AMA has also created a three-page model checklist that takes a point-by-point look at key topics, such as terms of sale for the practice, standardization techniques and economies of scale.
Back to Top
Upcoming Events
Register now for 2020 AMA advocacy conferences and save 20%
The 2020 AMA State Advocacy Summit will be held in Bonita Springs, Florida, at the Hyatt Regency Coconut Point Resort and Spa, Jan. 9-11. The 2020 AMA National Advocacy Conference will be held in Washington, D.C., at the Grand Hyatt, Feb. 10-12. Register now for both meetings and save 20%.
Back to Top