June 14, 2019
Issue Spotlight
CVS-Aetna merger: Not yet a final deal—AMA outlines competitive harm
In an unprecedented hearing that began on June 4, Judge Richard Leon of the U.S. District Court for the District of Columbia heard from six witnesses about the $70 billion merger of pharmacy giant CVS Corp. and mega-insurer Aetna Inc. The U.S. Department of Justice (DOJ) decided in October 2018 to allow the merger after requiring a divestiture of Aetna's Medicare Part D business.

Judge Leon's decision to hold a hearing that included live witnesses as part of a Tunney Act review of the DOJ action is a first, antitrust experts say. If the CVS-Aetna merger is approved, it will be the biggest health care merger in history. The AMA believes this will hurt patients and physicians by significantly reducing competition. This unprecedented federal court hearing speaks to the power of the AMA and the voice of physicians as trusted advocates in health care.

The AMA's expert—Neeraj Sood, PhD—was the lead witness to discuss how the Justice Department's divestiture remedy may affect certain insurance markets for pharmaceuticals. Sood is professor and vice dean for research at the University of Southern California Sol Price School of Public Policy and director of research at the Leonard D. Schaeffer Center for Health Policy & Economics.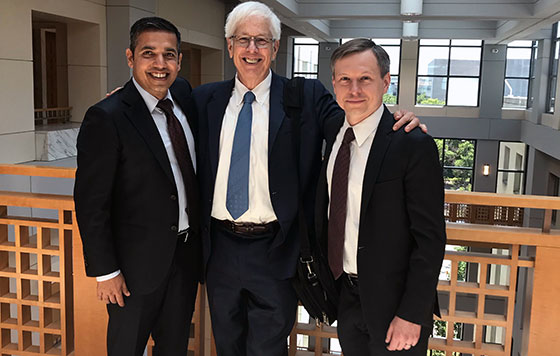 Neeraj Sood, PhD (left) and AMA legal counsel at the courthouse during the hearing.
In an amicus brief to Judge Leon, the AMA explained why Aetna's proposed divestiture will not come close to restoring competition in the prescription drug plan market to premerger levels.

"The CVS-Aetna deal is popularly described as a vertical merger involving two large companies that don't operate in the same markets. But in fact, CVS and Aetna do compete as formidable rivals in some of the same markets, raising substantial concerns that are specific to a horizontal merger," said AMA Immediate Past President Barbara L. McAneny, MD, in a statement. "It is these competitive concerns that are the catalyst for today's unprecedented evidentiary hearing."

Last year, the AMA outlined in a 141-page analysis why the proposed CVS-Aetna merger would run afoul of federal antitrust law, noting how it would likely harm patients. CVS is one of the two largest players in the retail pharmacy market and operates one of the two largest PBMs.

The merger also would reduce competition in certain pharmaceutical benefit markets, leading to higher premiums and lower-quality insurance products. The merger faces enormous implementation challenges and is unlikely to realize efficiencies that benefit patients.

Judge Leon's decision on whether to uphold or dissolve the DOJ settlement on the merger is expected later this summer.
Back to Top
National Update
AMA, medical societies ask Congress to refine MACRA
The AMA along with 120 state medical and national specialty societies sent a letter to congressional leaders calling for refinements to the Medicare Access and CHIP Reauthorization Act of 2015 (MACRA). MACRA remains an improvement over the sustainable growth rate formula it replaced, but the joint letter urges Congress to build on the lessons learned during the initial years of implementation to help physicians succeed and patients thrive.

Specifically, the AMA and medical societies urged Congress to replace the scheduled physician payment freeze from 2020 through 2025 under MACRA with positive payment updates to reflect increases in practice costs and preserve patient access. In addition, to provide physicians with a longer on-ramp to move to alternative payment models (APM), Congress should extend the APM incentive payments for an additional six years. Finally, the letter advocates that Congress work with the medical community to make technical improvements to MACRA, such as providing the Centers for Medicare & Medicaid Services (CMS) with greater flexibility to streamline reporting under the Merit-based Incentive Payment System (MIPS) and adjust APM participation thresholds.

AMA Immediate Past President Barbara L. McAneny, MD, recommended these improvements and other refinements to MACRA during her testimony at a U.S. Senate Finance Committee hearing on May 8.
Physicians respond to proposed health information exchange rules
The AMA has submitted comprehensive comments to the Office of the National Coordinator for Health Information Technology (ONC) in response to its sweeping proposed changes to health information technology (health IT) certification and implementation of the 21st Century Cures Act, and to CMS in response to its proposal on patient access and interoperability. The AMA supports several of the proposed changes, especially around health IT vendor practices, technology development and electronic health record (EHR) performance. However, the AMA has also identified proposals that could prove problematic and run counter to the goals of improving patient care.

ONC's proposed rule updates technical standards and vendor requirements that will help improve interoperability and EHR performance. Consistent with AMA's recommendations, ONC is promoting greater access to medical information, requiring the widespread use of application programing interfaces, and limiting excessive fees and contractual limitations that prevent interoperability. Yet, the AMA is expressing concern that ONC and CMS' proposals will hurt patient privacy and impact physician autonomy.

The AMA strongly supports patients having access to their own health information. At the same time, the proposed rules are complicated, intertwined, and may result in a patient's information being shared or sold. ONC's proposals give software applications and their developers equal protections and benefits with those of patients. The AMA cautions that smartphone apps share sensitive health information with third parties, often without an individual's knowledge. Much of this information can end up in the hands of data brokers or be used for advertising and marketing. These practices jeopardize patient privacy, commoditize an individual's most sensitive information and threaten patient willingness to utilize technology to manage their health. The AMA is requesting that ONC include mechanisms to strengthen patients' control over their data.

The AMA also outlines how the rules conflate a payer's desire for data with a clinician's need to access, exchange and use health information. The rules could empower payers to demand more information than is needed, whether for compliance with CMS' rule or for other purposes. Physicians who deny payer requests for this information may be accused of information blocking—regardless of whether the request is fully warranted. Further, payers could use CMS and ONC's proposals to request direct access into a physician's EHR. This raises significant concerns about payer overreach, increased prior authorization and patient profiling—potentially limiting coverage and access to care and intruding on physician medical decision-making. The AMA is requesting that CMS prohibit payers from using these proposals to place additional contractual demands on physicians and that it impose meaningful penalties for payer noncompliance with this new prohibition.

The AMA press release and links to both comment letters can be found here.
Final federal pain task force report released
The AMA strongly backs the comprehensive, common-sense proposals put forth by the U.S. Department of Health and Human Services Interagency Pain Task Force, sending a clear signal to the physician community that policymakers understand the treatment required for patients in pain.

The recommendations balance the need to effectively manage patients' pain while also advancing policies to end the epidemic of opioid-related deaths. "These recommendations are a lifeline to pain patients who have been caught in the middle of policy efforts that have produced harmful unintended consequences," said AMA President Patrice A. Harris, MD, MA, chair of the AMA Opioid Task Force. "This is a road map to help physicians and policy makers take sustainable steps to end the epidemic and improve pain care."
New VA Community Care Program rolls out
The AMA has supported the Veterans Choice Program and other Department of Veterans Affairs (VA) initiatives that give veterans who meet certain eligibility criteria the option to see community-based physicians and other health care professionals. The recent passage of the MISSION Act built on these efforts by consolidating all of the VA's purchased care authorities into the Community Care Program beginning June 6. Unlike the Choice Program, the Community Care Program signifies a long-term commitment by the VA to partner with private practitioners, hospitals and other community-based providers to deliver care to veterans. There will be one contracting process, one set of rules, one set of eligibility criteria, a new claims processing system that should reduce payment delays and, significantly, there is no sunset date for the Community Care Program.

In the Community Care Program Proposed Rule, the VA specifically acknowledged that many community-based providers will be small businesses and that the impact on such entities will be considered in subsequent rulemaking. The Community Care Network administrators have yet to be finalized in most regions and the VA has yet to publish rules on claims processing and payments, so the program will be rolled out with some unanswered questions. The Triwest provider network will be a critical bridge during this transitional period and payment rates will be carried over from the Veterans Choice Program until the VA issues rulemaking that is expected to align VA payment rates with Medicare. The ability of the VA to coordinate care with community-based physicians is the biggest question mark, given the reliance on untested information technology that allows community-based physicians to interface with the VA.
USP finalizes chapters for sterile compounding
On June 3, the United States Pharmacopoeia (USP) released several new chapters outlining standards for safe compounding practices. New final chapters include USP Chapter 797 for sterile compounding, Chapter 795 for non-sterile compounding and Chapter 825 for compounding, preparing and handling of radiopharmaceuticals. The new chapters are the result of the USP revision cycle intended to update compounding standards and will be effective starting December 2019. The AMA has been working closely with USP on the revision process, as earlier proposed changes would have severely limited the ability of physicians to prepare sterile drug products in their offices for administration to their patients.

The new Chapter 797 includes significant changes from the initial proposed chapter, including a new provision applicable to physicians for "Immediate Use Compounding Sterile Preparations." Under the immediate use provision, physicians will be able to prepare sterile drug products in office settings without complying with the remainder of the chapter so long as the time from preparation to administration to the patient is no longer than four hours. In addition to the four-hour time frame, the immediate use provision requires physicians to practice proper aseptic technique, ensure chemical compatibility of the drugs being combined and ensure any single-dose vial is discarded after a single use. If preparation begins more than four hours from the time of administration, physician offices will be subject to the full requirements of Chapter 797, similar to pharmacies. The new chapter also clarifies that compounding according to manufacturer labeling or following manufacturer's instructions will not be subject to the requirements of the chapter.

Physicians preparing allergy and immunotherapy injections in an office setting will be governed by a separate section within Chapter 797. This section provides separate standards specific to those products that physicians practicing in this space should comply with if their state requires compliance with 797.

In addition to Chapters 797, 795 and 825, Chapter 800 for "Handling of Hazardous Drug Products" will become effective December 2019. For physicians with practices located in states that require compliance with Chapter 800, this chapter will apply to those that are engaged in compounding of drugs deemed hazardous by the National Institute of Occupational Safety and Health. Chapter 800 provides standards that facilities must meet to help ensure the safety of health care workers handling hazardous drugs. For those that may be subject to the requirements in Chapter 800, USP has prepared educational materials regarding the application of Chapter 800 and the requirements therein.
Back to Top
State Update
Physicians take steps against opioid epidemic, mortality rises
A new AMA report on opioids highlights the limited effects of mandates to stem an epidemic that claims about 130 people every day—underscoring the immediate need for policymakers to focus on removing barriers to evidence-based treatment.

The 2019 Opioid Progress Report found that physicians and other health care professionals are taking significant actions in the face of the epidemic, and some reports suggest that prescription opioid-related mortality may be leveling off. Yet, death from heroin and illicitly manufactured fentanyl and fentanyl analogs are at historic levels.

This is the third annual AMA report on actions physicians have taken.

"The opioid epidemic is at a crossroads," said AMA President Patrice A. Harris, MD, MA, who chairs the AMA Opioid Task Force. "While physicians must continue to demonstrate leadership by taking action, it is clear that these significant reductions in opioid prescribing, increases in prescription drug monitoring program (PDMP) use and taking more education—by themselves—will not stop people from dying."

To end the epidemic, the AMA Opioid Task Force is calling on policymakers and other stakeholders to eliminate all barriers to evidence-based treatment and to take specific steps such as removing prior authorization for medication-assisted treatment (MAT) for the treatment of opioid use disorder, enforcing state and federal laws that require insurance parity for mental health and substance use disorders, and ending health insurance company barriers to comprehensive multimodal, multidisciplinary pain care, including non-opioid alternatives.

Key findings from the report include:
Opioid prescriptions decrease. Opioid prescriptions decreased 33 percent between 2013-2018, including a 12.4 percent decrease between 2017-2018 (IQVIA)
PDMP use increases. Physicians and other health care professionals used state prescription drug monitoring programs more than 460 million times in 2018—an increase of 167 million from 2017, and 390 million more queries than in 2014 (AMA survey of the nation's state PDMP administrators)
Education increases. Physicians and other health care professionals completed continued medical education courses, reviewed education and training resources and accessed other opioid prescribing, pain management, opioid use and substance use disorder treatment and other related areas more than 700,000 times in 2018—an increase of 150,000 from 2017 (AMA survey of the nation's medical societies)
More physicians certified to treat opioid use disorder. More than 66,000 physicians (as well as a growing number of nurse practitioners and physician assistants) now are certified to treat patients in-office with buprenorphine—an increase of more than 28,000 from 2016 (SAMHSA)
Naloxone co-prescribing increases. Nearly 600,000 naloxone prescriptions were dispensed in 2018—almost a threefold increase from the 136,000 dispensed in 2016 (IQVIA)
"Progress has been made, but much more work remains. It is time for states to end prior authorization and other barriers to medication-assisted treatment for opioid use disorder; and time for payers, PBMs and pharmacy chains to re-evaluate all policies restricting access evidence-based care for pain and substance use disorders," Dr. Harris said. "If it weren't for naloxone, it is likely that tens of thousands more Americans would be dead. The report shows that to save many more lives, policymakers, payers, PBMs and pharmacy chains must remove all barriers to evidence-based care."

Additional information on the AMA Opioid Task Force is available here.
Vermont removes prior authorization requirements for MAT
On May 3 the Vermont legislature passed S. 43, which put an end to prior authorization for medication-assisted treatment, by a unanimous vote, and on May 30 the bill was signed by Gov. Phil Scott. The AMA supported efforts by the Vermont Medical Society (VMS) to end health insurer policies of prior authorization for MAT. AMA agreed with VMS that this was an essential step in helping patients with opioid use disorder when they are ready to take the first steps towards recovery.

"Removing barriers like time-consuming prior authorizations and unaffordable cost-sharing for medication-assisted-treatment (MAT) prevents costly delays when patients with opioid use disorder (OUD) are ready to take that critical, first step to recovery," said Jill Sudhoff-Guerin, VMS Communications and Policy Manager.
Back to Top
Other News
News and views from the 2019 AMA Annual Meeting
The 2019 AMA Annual Meeting was full of discussion on the big topics facing the medical community and the country. Here are the top stories to come out of this year's meeting:
Rx Drug Abuse & Heroin Summit now accepting submissions
The Rx Drug Abuse & Heroin Summit is now accepting submissions for the 2020 meeting, taking place April 13-16 in Nashville, TN. The Rx Drug Abuse & Heroin Summit is the largest national collaboration of professionals from local, state and federal agencies, business, academia, clinicians, treatment providers, counselors, educators, state and national leaders, law enforcement/public safety, and advocates impacted by the opioid crisis. The summit will be accepting presentation proposals that accommodate the following formats:
Breakout Sessions (75 minutes, including a question and answer segment)
Posters (which will be featured in the exhibit hall and have designated poster presentation times where presenters will be required to stand by their posters)
The presentations should be tailored to provide stakeholders timely and relevant information for their particular fields. Submissions will be reviewed by the Rx Summit's National Advisory Board members, who represent multi-disciplinary interests. Submissions are due Aug. 23 11:59 p.m. Eastern time. For more information visit the submission site.
New educational module for physicians on assessing suicide risk factors
The AMA launched an evidence-based online module to help educate physicians, residents and medical students on assessing risk factors and warning signs for suicidal ideation or behavior. Physicians may not have received training on the best ways to recognize warning signs that a colleague or patient is in distress and/or may be considering suicide, or may not know what steps to take if they do recognize signs of distress. Certain populations are at an elevated risk of suicide, but may demonstrate signs or symptoms of suicidal ideation in different ways that physicians can recognize if they know what to look for. It is important for physicians to be able to recognize warning signs and risk factors, as well as know the right steps to take to prevent self-harm by their physician colleagues, patients and other members of the care team. This activity has been approved for AMA PRA Category 1 Credit™.
ASA releases interactive opioid education program
The American Society of Anesthesiologists released a new opioid education program designed to promote best practices for managing pain and safe and appropriate opioid prescribing. The interactive program is designed to convey core concepts from the FDA's "Opioid Analgesic REMS Education Blueprint for Health Care Providers Involved in the Treatment and Monitoring of Patients with Pain." Areas covered in the new resource include how to:
Summarize key concepts and practices in managing pain and preventing opioid misuse, abuse and addiction
Assess patients with pain to inform treatment planning, monitor treatment response, ensure safe use when opioid analgesics are appropriate and detect opioid abuse or addiction
Develop individualized pain treatment plans, including nonpharmacologic and/or pharmacologic (non-opioid and opioid analgesics) as appropriate
Identify strategies to safely and effectively initiate, modify and discontinue use of opioid analgesics
The program is available on the ASA website, and it also is one of several ASA resources on the AMA opioid microsite. The ASA is a member of the AMA Opioid Task Force.
What to know about Medicaid value-based care contracting
The AMA has created the "Evaluating Medicaid Value-Based Care Models" resource to help physicians make sense of the new Medicaid landscape and think about how changes in their delivery and payment system can affect their individual practices and payment for their services. Any physician currently enrolled in the Medicaid program, or a physician interested in serving Medicaid beneficiaries, should review this resource to identify the proper delivery system and payment model for their practice.
MIPS 2019: What physicians must do to avoid future penalties
Eligible physicians who fail to report data under Medicare's 2019 Quality Payment Program (QPP) will be subject to a 7% penalty in 2021. To avoid the penalty, physicians need to score a minimum of 30 points in this year's iteration of the QPP's MIPS. The AMA's resources outline what is new this year under MIPS and how physicians can avoid potential future pay cuts. New resources include the MIPS Action Plan: 10 Key Steps for 2019, 2019 MIPS Strategic Scoring Guide and the 2019 MIPS Cost FAQ.
New podcast episodes: Why does the U.S. spend so much on health care?
In part one of a two-part podcast of his keynote address at the 2019 AMA State Advocacy Summit, Ashish K. Jha, MD, MPH, director of Harvard Global Health Institute, discusses why the U.S. spends so much more on health care than other countries and reviews data on potential sources for this high spend. Listen and subscribe at iTunes or Google Play. In part two of the podcast, Dr. Jha talks about the tradeoff of positive and negative outcomes stemming from high prices in America's health care sector. Listen and subscribe at iTunes or Google Play.
NHSC Rural Community Loan Repayment Program is open
A new National Health Service Corps Program, the Rural Community Loan Repayment Program, will expand and improve access to quality opioid and substance use disorder (SUD) treatment in rural, underserved areas nationwide. Health care clinicians qualified to provide SUD treatment may be eligible for this loan repayment in return for service at an NHSC-approved SUD treatment facility. For more information and to apply, visit the Rural Community LRP website. The application cycle closes July 18, at 7:30 p.m. Eastern time.
Back to Top
Upcoming Events
Online discussion on the impact of EHR end-user experience
June 17: JAMA recently published an article titled, "The complex case of EHRs: examining the factors impacting the EHR user experience," which provides a look at the many factors that impact clinician experiences with EHRs. Join the online discussion to learn more about this multi-factorial issue and explore what various stakeholders across the industry can do to improve the experience physicians and care team members have when using their EHRs.
Webinar: "A Commitment to Advance Health Equity: Understanding what creates health and produces inequities"
June 19: Aletha Maybank, MD, MPH, pediatrician, preventive medicine and public health physician, will lead the AMA's new Center for Health Equity as the AMA's first chief health equity officer. In this webinar, Dr. Maybank will share the emerging framework the AMA is developing around social determinants of health and health inequities, how those affect the practice of medicine, and what work is being developed to address health disparities and to operationalize equity.
The campaign trail starts here: Register for AMA Campaign School by June 21
Open to AMA members, their spouses, medical students, residents and state medical association staff who want to become more involved in campaigning process, the 2019 AMPAC Campaign School will be held Sept. 26-29 at the AMA offices in Washington, D.C. The Campaign School is designed to provide participants with the skills and strategic approach they need to run a successful political campaign.

During the two-and-a-half day in-person portion of the program, under the direction of AMA political experts, participants will be broken into campaign staff teams to run a simulated congressional campaign using what they have learned during group sessions on strategy, vote targeting, social media, advertising and more. Faculty, materials and all meals during the meeting are covered by the AMA. Participants are responsible for the registration fee and hotel accommodations at the Hyatt Regency Washington on Capitol Hill.

The deadline to register is June 21. For more information or to apply visit: www.ampaconline.org/apply or contact politicaleducation@ama-assn.org.
Webinar on social determinants of health and solutions to improve women's health
June 26: In this webinar, Diana Ramos, MD, MPH, of the Los Angeles County Public Health Department, will be discussing case studies addressing maternal health, Hispanic women's health and Los Angeles county maternal/fetal social determinants of health. Participants will have the opportunity to review women's health data and understand opportunities to integrate and apply social determinants of health into practice.
Register now for 2020 AMA advocacy conferences and save 20%
The 2020 AMA State Advocacy Summit will be held in Bonita Springs, Florida, at the Hyatt Regency Coconut Point Resort and Spa, Jan. 9-11. The 2020 AMA National Advocacy Conference will be held in Washington, D.C., at the Grand Hyatt, Feb. 10-12. Register now for both meetings and save 20%.
Back to Top