March 21, 2019
Issue Spotlight
Insurers' progress on fixing prior authorization is disappointingly slow
A year ago, health insurance trade organizations agreed on the need for plans to reduce unnecessary burdens and promote timely access to care by revising their prior authorization (PA) processes to be more data-driven and transparent, but new physician survey results show that insurers have not widely implemented these changes and the process has instead become more burdensome and time consuming than ever.

"Physicians follow required insurance protocols for prior authorization that involve recurring paperwork, multiple phone calls and hours spent on hold," said AMA President Barbara L. McAneny, MD. "At the same time, patients' lives can hang in the balance until health plans decide if needed care will qualify for insurance coverage."

Physicians are reporting an increase in PA volume that includes requirements for drugs and services that are neither new nor costly. This includes long-available generic drugs and prescriptions for patients on an established medication regimen to manage a chronic condition.
The AMA has worked across several fronts to reform PA, including submitting an op-ed, producing videos on how PA harms patients and burdens physicians, advocating with state legislatures and collaborating with health plans.

The AMA worked with payer trade organizations America's Health Insurance Plans (AHIP) and Blue Cross Blue Shield Association (BCBSA) and national associations representing hospitals, pharmacists and medical groups to develop a PA reform consensus statement that was released in January 2018.

The statement identified five opportunities to right-size PA, and it included agreements to take specific actions on each of them. But little to no progress has been made and, in some areas, the situation is getting worse, according to 1,000 practicing physicians surveyed in December 2018.

Under the consensus statement, AHIP and BCBSA agreed to encourage their member health plans to:

Selectively apply PA and exclude physicians who have high rates of PA approval, prescribe according to evidence-based guidelines or participate in risk-based payment contractual agreements. Yet only eight percent of physicians surveyed reported contracting with health plans that offer programs exempting them from PA.

Adjust the volume of PA requirements to reflect drugs and services with low variation in utilization or low PA denial rates. However, instead of experiencing a reduction in the number of drugs requiring PA, 88 percent of physicians said the number has gone up. Similarly, 86 percent of physicians reported that the number of services requiring PA has gone up, too.

Improve transparency and clearly articulate PA criteria, rationale and program changes. But 69 percent of physicians reported it was difficult to determine which medications or services required PA.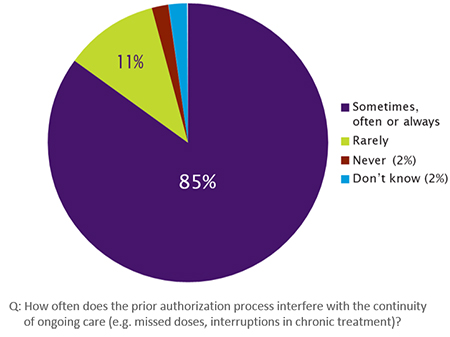 Protect continuity of patient care by ensuring continued access to effective treatment during health plan or coverage changes and eliminating repetitive PA requirements. Surveyed physicians indicated that this is not happening, as 85 percent report that PA interferes with continuity of care.

Accelerate use of automation in PA processing. Despite health plan commitment to utilization of standard electronic transactions for PA, physicians report that phone and fax are still the most common methods for completing PAs. Additionally, only 21 percent of physicians report that their electronic health record system offers electronic PA for prescription medications, despite an existing standard process.

A rare example of progress involves removing delays in treating opioid-use disorder (OUD). In Pennsylvania, for example, insurance companies agreed to remove PA requirements for medication-assisted treatment to help people with OUD. Bills mandating similar action have been introduced in the Kentucky and Vermont legislatures. The AMA is working to get other states to remove PA barriers to treatment.

"There is no reason for insurers to use prior authorization for medications to treat opioid-use disorders when patients' lives hang in the balance," said Dr. McAneny.

Larger PA reform legislation is also being considered by state legislatures this year. States such as Kentucky, Colorado, Maine and Virginia are among those with bills to reduce delays in care as a result of PA and to increase the transparency of PA programs.

The AMA has also advocated extensively with federal regulators to oppose increased use of PA and other utilization management programs in Medicare programs. In September 2018, the AMA and over 90 other state medical associations and national medical specialty societies wrote the Centers for Medicare and Medicaid Services (CMS) objecting to a policy change that permits the use of step therapy for drugs covered under Part B in Medicare Advantage plans. The AMA also submitted comments objecting to a planned expansion of PA and step therapy use in Medicare Part D and Medicare Advantage plans. Finally, the AMA recently partnered with state and specialty medical organization in a sign-on letter urging CMS to provide strong guidance on use of PA in MA plans in its 2020 Call Letter.

The AMA invites patients to share their experiences with PA and to sign a petition urging reform at FixPriorAuth.org.
Back to Top
National Update
CMS urged to adopt better cost measures in MIPS
The AMA urged CMS to evaluate physicians in the Merit-based Incentive Payment System (MIPS) on episode-based cost measures that have a stronger correlation with costs that are within physicians' control and to remove the Total Per Capita Cost (TPCC) measure from MIPS, at least until significant issues with the measure are resolved. Necessary improvements include further validity testing, improved attribution methodology, increased reliability and the ability for physicians to review their data in a timely manner and make changes based on the data received.

In response to concerns about TPCC, CMS recently undertook revisions to the measure. The AMA appreciates CMS' willingness to refine cost measures as problems are identified. However, the revised TPCC measure does not address underlying concerns about the measure's validity and raises new problems with the attribution methodology. The multi-stakeholder Measures Applications Partnership (MAP), which provides input to CMS on measures for use in performance-based payment programs, gave a recommendation of "do not support the revised TPCC measure with the potential for mitigation" for use in MIPS. It would be a bad precedent to move forward despite the MAP's recommendation or before the key issues identified with the TPCC measures are resolved.
Proposed interoperability rules deserve more time
In a letter dated March 6, the AMA urged the Office of the National Coordinator for Health Information Technology (ONC) and CMS to extend the comment period for two proposed rules on information blocking and health information exchange. Provisions in these rules will significantly impact interoperability and the way data is exchanged between patients, health providers, payers, technology developers and other health care stakeholders. Given the complex and interwoven nature of these rules, it is necessary for adequate time to provide comprehensive, thoughtful and detailed comments. The AMA is seeking at least an additional 30 days to comment.
Research funding should be allocated toward studying gun violence
In response to a hearing in the House on "Addressing the Public Health Emergency of Gun Violence," the AMA sent a letter asking that the Centers for Disease Control and Prevention (CDC) be granted $50 million to conduct epidemiological research on gun violence as part of the Fiscal Year 2020 appropriations process.

The AMA agrees that gun violence in the U.S., which accounts for 40,000 deaths annually, is a public health crisis, and research on this issue should be funded accordingly. Public health is focused on preventing disease and injury in communities and populations on a larger scale promoting public safety. However, the lack of federally supported research on the epidemiology of gun violence severely limits the ability of communities to implement effective interventions that would help stem the tide of gun violence. Determining the root causes of the problem through federally funded research is critical to developing solutions that could help stem the tide of gun violence.
Back to Top
State Update
NCOIL needs to increase efforts to address drug price transparency
As the National Council of Insurance Legislators (NCOIL) considered a new model bill to increase drug price transparency, the AMA urged NCOIL to increase efforts and require drug manufacturers, pharmacy benefit management companies (PBM) and health insurance companies to provide adequate information to help legislators and consumers better understand why drug costs continue to rise.

In highlighting that opposition to this type of legislation by manufacturers, PBMs and health insurers has typically meant defeat for state legislation, AMA Executive Vice President and CEO James L. Madara, MD,  wrote: "Mere finger pointing between stakeholders does not help legislators or the public understand the root causes of rising drug prices and their effects on patients."

In other health-related items considered by NCOIL, the AMA provided comments to further improve a resolution encouraging greater availability of naloxone as well support for the resolution's focus on ensuring life insurance companies do not base their decisions on whether a person has a prescription for naloxone. The AMA also provided its concerns that a proposed model workers' compensation drug formulary act was too broadly drafted, did not support individual patient-physician decisions and could lead to patient harm.
Expanding access to pain and addiction treatment in rural Missouri

As a resident at Bronx Lebanon Hospital in New York City, Kurt Bravata, MD (pictured left), frequently treated drug and alcohol-addicted patients and thought he understood the harsh realities these patients faced. Then he moved to a small town in rural Missouri. "The area code for Bolivar, MO, where I practice is 417, which is also the street name for meth." Dr. Bravata said. "The region I practice in is the capitol for meth production in the state. I was not entirely prepared for the extent of the substance abuse problem I now face."

The patient population he encountered in middle America suffered from the same problems as his inner-city patients, but lacked the resources to deal with it, even when it came to the basics. "Missouri is one of the few states that doesn't have a PDMP [prescription drug monitoring program], so when patients are coming to me asking for medications I have no way to check and see what they've already been prescribed."

There was one pain management physician in the area that Dr. Bravata tried to refer patients to, but he quickly discovered that this physician was not interested in managing opioid abuse disorders or even prescribing guidance. Other physicians he approached were cutting back on their prescribing due to recently passed prescribing regulations from the U.S. Food and Drug Administration, and so the closest addiction provider he could find to refer patients to was 45 minutes away. "I kept being told by other doctors that they didn't want the hassle of dealing with opioid abuse patients in their practice, but I wanted to find people help. I probably took on more pain management patients than I should have because I thought, someone should help them. If you're a doctor and you see an emergency, you have to run towards it."

Running towards the emergency for Dr. Bravata meant building out the infrastructure and programs that his community was missing. "After months of this struggle, I realized that I needed a program that would allow me to draw these patients out of the shadows and into treatment and I resolved to develop a comprehensive, integrated program."

He began pushing for his local hospital to adopt an addiction recovery program as a standalone service. Compiling population data and the success of addiction programs and matching that with info on the potential long-term effects of crime reduction and the financial savings of treating the problem rather than ignoring it, he presented to the local hospital CEO and clinic directors to see if they would help tackle the problem. In the meantime, Dr. Bravata continued to take on pain management patients in his own practice and got his suboxone waiver. He self-educated, taking CME credits, and became a member of the American Society of Addiction Medicine (ASAM). Eventually the hospital agreed to create a clinic which now employs two psychologists, three licensed clinical social workers and a nurse practitioner who is seeing patients three days a week. "We are about to max out our prescribing limits for suboxone. We can increase to 100 per prescriber and I think we will, the need is there," Dr. Bravata said. "The patients and referrals keep coming and we've not done any advertising."

While establishing a clinic goes a long way to serving an underserved community, there is work that needs to be done everywhere to turn the tide against this epidemic. "I think there is a need for a new specialty, and definitely a new model for screening and identifying patients who are high-risk pain patients and teaching doctors and medical students to differentiate between that and addiction." Dr. Bravata says that efforts to curb prescribing can sometimes punish physicians for trying to help: "We have to find a way to treat patients and not come down on prescribers for trying to manage a complex problem."

But perhaps the biggest problem is one of stigma. "Addiction isn't a moral failing, a patient escalating their pain medication use isn't a moral failing, they have a physiological need, Complex patients need complex solutions and we aren't doing a great job. We can do better. We have to do better."

Visit the AMA's End-Opioid-Epidemic.org website to share your story and to access educational resources.
Back to Top
Judicial Update
Docs tell court Medicaid work requirement would harm patient care
Kentucky wants to require its Medicaid recipients to work a certain number of hours—and report that they are working the hours—to keep receiving the essential health care coverage.

Despite estimates that the new requirements would mean that well over 100,000 people would experience short-term gaps in coverage, the Department of Health and Human Services (HHS) signed off on what is being called the Kentucky HEALTH program. And HHS granted approval even though the court invalidated HHS' approval of an earlier version of Kentucky HEALTH, opining that the federal agency didn't consider whether the program "would help provide health coverage for Medicaid beneficiaries."

A group of Medicaid enrollees challenged the re-approved Kentucky HEALTH that is nearly identical to the first one in a lawsuit filed in the U.S. District Court for the District of Columbia.

Noting the "severe harms that it will inflict on Kentucky Medicaid beneficiaries," the Litigation Center of the American Medical Association and State Medical Societies joined with the American Academy of Pediatrics, the American College of Physicians, the American Psychiatric Association and others in a friend-of-the-court brief in Stewart v. Azar that urges justices to stop the planned changes.

"The work requirements, the premiums, the lockout period, the elimination of non-emergency medical transportation benefits and the elimination of retroactive eligibility will simply increase the numbers of the short- and long-term uninsured," the brief tells the court. "HHS and Kentucky never accounted for how this loss of coverage will produce dramatically worse health outcomes."

The AMA works to improve Medicaid programs, expand coverage options and make it easier for physicians to see Medicaid patients. The AMA has policy stating that, if invited to do so by the state medical society, it will work with state and specialty medical societies to expand Medicaid eligibility.

Read more here.

To protect against sham peer review, court must uphold verdict
Physicians are urging a Pennsylvania appellate court to guard against peer review abuse and uphold a verdict in which jurors found that a hospital employing a gynecologist did not give him proper due process before he was fired.

After two decades in the court system—and hospital actions that made it very difficult for the doctor to find a new job—a Pennsylvania jury awarded Terrence E. Babb, MD, $5.5 million. The jury and trial court concluded that Dr. Babb proved he had an employment contract with Geisinger Clinic, that the hospital breached the contract, and that Dr. Babb suffered economic injury as a result.

The decision is an important one to uphold because a hospital must comply with "procedures mandated by statutes, both for the benefit of the physician as well as for the benefit of the public at large," the Litigation Center of the American Medical Association and State Medical Societies and Pennsylvania Medical Society said in a friend-of-the-court brief filed on behalf of Dr. Babb in the Superior Court of Pennsylvania Middle District. The Superior Court, Pennsylvania's intermediate court of appeals, is considering the case after the hospital appealed the verdict.

Read more here.
Back to Top
Other News
MIPS deadline: Submit 2018 data by April 2
The last day to submit 2018 data for credit in MIPS is less than two weeks away. Physicians and practice administrators have until 8:00 p.m. Eastern time April 2 to finalize their MIPS data submission. MIPS participants must submit data and receive a minimum of 15 points to avoid a negative payment adjustment in 2020. This short CMS video describes how to review your preliminary data to ensure it is accurate before the April 2 deadline. To get started, log in or register on the QPP website.
Solution to health plan quandary lies with improved ACA
By Barbara A. McAneny, MD

Any discussion or debate about what's best for the U.S. health care system must begin by asking what is best for patients: Do they have access to the care they need, when they need it? Given the high stakes of health reform, the subject will again be a major focus on the campaign trail. Voters will hear multiple similar-sounding proposals, including "Medicare for All," "Medicare for America" and Medicare buy-ins as a means to achieve coverage for every American.

The AMA strongly believes that all Americans should have access to affordable, quality health insurance coverage. We also believe that the best way to achieve this is to build on the model of private and public coverage already in place, which has successfully increased access to health insurance for millions of Americans previously unable to obtain it.

Though it is not perfect, the Affordable Care Act (ACA) ushered in gains that most of us now consider essential—guaranteeing coverage for pre-existing conditions; creating options for affordable, quality individual coverage; and ensuring a safety net is available for our patients most in need. We need to build on those gains by enhancing the existing framework of the ACA.

Read the full story here.
Stopping the scourge of social media misinformation on vaccines
It is common that patient searches for information and products related to the word "vaccine" yield top results pointing to harmfully inaccurate information about immunization safety. This place of prominence given to medical disinformation is deeply troubling to America's physicians, especially amid alarming new reports regarding measles, tetanus and other vaccine-preventable conditions.

The AMA sent a letter to top executives at Amazon, Facebook, Google, Pinterest, Twitter and YouTube urging them to do even more to stem the "proliferation" of "health-related misinformation" that has helped vaccine-preventable diseases to reemerge.

"We applaud companies that have already taken action but encourage you to continue evaluating the impact of these policies and take further steps to address the issue as needed," Dr. Madara, wrote in the letter to the social media and digital technology executives. "The overwhelming scientific evidence shows that vaccines are among the most effective and safest interventions to both prevent individual illness and protect public health."

Dr. Madara noted that, when immunization rates are high, children who are too young to be vaccinated and others whose health conditions prevent them from being vaccinated, are protected from disease because exposure is so limited. These conditions include allergies to vaccine components, HIV infection and having a compromised immune system as a result of receiving chemotherapy cancer treatment.

Read more here.
New resource shows how to counsel patients about firearm safety
What You Can Do, an initiative from the UC Davis Violence Prevention Research Program to reduce firearm injury and death, has released an educational video to equip health care providers with clinical strategies for counseling patients about firearm safety.

Physicians and other health care providers can play an important role in preventing firearm injury and death, but too few routinely assess risk and talk with at-risk patients about their access to firearms and firearm safety. This educational video, Preventing Firearm Injury and Death: A Targeted Intervention, details steps for identifying risk and discussing risk and safety with patients when clinically appropriate. The video has three primary sections: an introduction to the epidemiology of firearm injury and death in the U.S., a detailed discussion on risk identification and counseling and an overview of firearm policies relevant to health care providers.

Additional resources are available on the What You Can Do website.
Back to Top
Upcoming Events
Ending the opioid epidemic: How to change policy in your state
March 27: Join AMA president-elect Patrice A. Harris, MD, MA, for a webinar on March 27 at 1 p.m. Eastern time to hear how you can advocate in your state for policies to help end the opioid epidemic. Dr. Harris will be joined by state regulators to discuss specific state-focused strategies that are helping reduce the epidemic and improving patient care. By attending this webinar, you will get an insider's look at policymaking and how your experiences can impact the advocacy of your state medical society, regulators and the AMA. Stories like these have already been shared with the AMA and are being used to effect change:
"When someone decides they are ready for treatment, time is critical. Time spent waiting for a service authorization makes it more difficult for the individual who initiates treatment to remain engaged in treatment." – John Gallagher, MD, Pennsylvania
"Until you can give me a policy by which physical therapy, occupational therapy, massage therapy, acupuncture, biofeedback and behavioral health are as cheap as a five-dollar prescription for [an opioid] each month, I'm going to have problems." – Rachel Franklin, MD, Oklahoma
"Ninety-nine percent of the time prior authorization requests are approved, so the delay is a senseless bureaucratic hurdle that can be the difference between continued recovery and relapse for vulnerable patient populations." – Yngvild Olsen, MD, MPH, Maryland


2019 Rx Drug Abuse and Heroin Summit


Apr. 22-25: The Rx Drug Abuse & Heroin Summit is the largest and most-recognized conference committed to addressing the opioid crisis. Government officials, first responders, law enforcement personnel, clinicians, physicians, nurses, educators, public health and prevention officials, and families and people in recovery are represented. The conference agenda is designed with timely and relevant information to address what is working in prevention, treatment and law enforcement. AMA Trustee S. Bobby Mukkamala, MD, will be representing the AMA, giving a presentation April 24, "Moving slowly to treatment: policymaker, payer and physician leadership to end the epidemic."

The 2019 Summit returns to the Hyatt Regency in Atlanta.

Visit www.rx-summit.com to explore the agenda and register.
Webinar on a follow-up study about payment models
April 24: Learn how findings from a new RAND Corp./AMA study, "Effects of Health Care Payment Models on Physician Practice in the U.S." can help guide practices' efforts to successfully adapt to changes required by complex alternative payment models (APM) in a new webinar. Register now for the webinar at 1:00 p.m. Eastern time.
Thriving in practice webinar: A physician's APM journey
May 22: A long-time physician will share her practice's journey through the phases of transformation and how both the struggles and the triumphs have prepared the practice team for operating and succeeding in an APM. Register now for the webinar at 1:00 p.m. Eastern time.
Back to Top