Feb. 22, 2019
Issue Spotlight
Highlights from the 2019 National Advocacy Conference

From AMA President Barbara L. McAneny, MD

Thank you to those who joined us at this year's National Advocacy Conference (NAC). NAC is the centerpiece of our federal advocacy calendar each year and an important event that helps convene physicians and legislators around important health care policy challenges.

Attendees got to hear from influential government officials like the Honorable Alex M. Azar II, secretary of the Department of Health and Human Services (HHS), Sen. Lamar Alexander (R-TN) and Admiral Brett P. Giroir, MD, assistant secretary for health, HHS, as well as private sector entrepreneurs like Indu Subaiya, the co-founder and co-CEO of Health 2.0.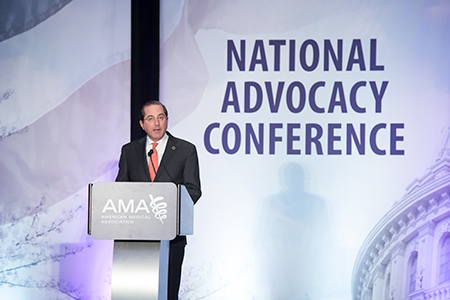 The Honorable Alex M. Azar II, secretary of the Department of Health and Human Services
Secretary Azar discussed ways in which his efforts to reform the American health care system align with AMA policy, touching on the strategies employed to combat the opioid epidemic, advance delivery reform and bring greater transparency to the drug pricing process.

"The first principle of our vision for value-based health care is about empowering patients—but we are fully aware this cannot be done without empowering physicians, too." Azar said. "So, I want you all to imagine a system where patients are finally in the driver's seat, free to work with physicians who have been empowered as navigators of the best options for their patient, rather than navigators of a sea of paperwork."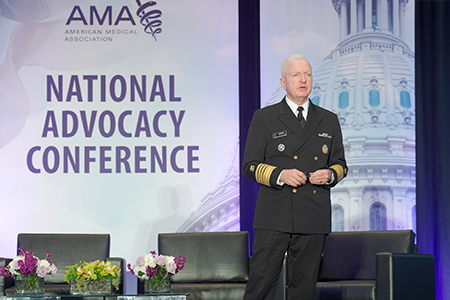 Admiral Brett P. Giroir, MD, assistant secretary for health, HHS
Adm. Giroir highlighted the progress made in combating the opioid epidemic, citing that between 2015 and 2017 the number of individuals who misused pain relievers decreased from 12.5 million to 11.1 million and the number of individuals with pain reliever use disorder dropped from 2 million to 1.7 million, while acknowledging that more work needs to be done. He also called for renewed vigor in the fight to end AIDS in America and highlighted states that have achieved success on these important public health challenges.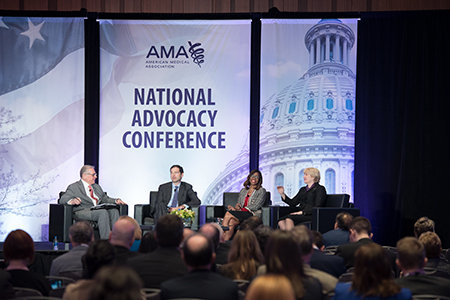 From left: AMA Executive Vice President and CEO James L. Madara, MD; Chair of the Board of Trustees Jack Resneck, MD;
President-elect Patrice Harris, MD, MA; and AMA President Barbara L. McAneny, MD
Health care remains a top priority for legislators on both sides of the aisle and we physicians have a professional responsibility to fight to change laws that are limiting access to care or affecting patient outcomes. AMA Executive Vice President and CEO James L. Madara, MD, moderated a panel of AMA leaders featuring President-elect Patrice Harris, MD, MA, Chair of the Board of Trustees Jack Resneck, MD, and me, asking us to share perspectives on how to speak to legislators about the AMA's advocacy priorities in the year ahead.

As part of the NAC, the AMA also presented its Dr. Nathan Davis Awards for Outstanding Government Service to eight honorees, including a pioneer in cancer immunotherapy and public health champions who have been battling the opioid crisis on the federal, state and municipal levels.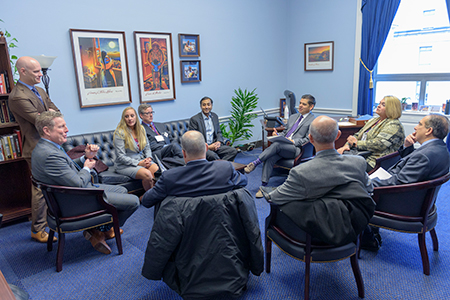 Capitol Hill visits
Outside the convention hall, the focus of this conference every year is the hundreds of hill visits that allow physicians to meet with lawmakers and share our personal stories about how existing laws are affecting our patients and our practices. It's critical that members of Congress hear from those of us on the front lines about key issues impacting our patient and the health care system, including the rise of gun violence, surprise billing, the opioid epidemic, and rising drug prices. And we appreciate the physicians who take time away from their practices to make their voices heard.

I hope that you will join us next year for the 2020 National Advocacy Conference, Feb. 10-12, again at the Grand Hyatt in Washington, DC.

All the resources from the meeting, including the slide presentation from the capitol hill briefing, Adm. Giroir's presentation on opioids and the speech given by secretary Azar can be found on the NAC website.
Back to Top
National Update
HHS releases proposed rule on drug rebates
On Jan. 31, HHS released its long-awaited proposed rule on prescription drug rebates. The proposal would make sweeping changes to the way drugs are priced and contracted for by manufacturers, pharmacy benefit managers (PBM) and health plans. In the proposed rule HHS calls for changes to the anti-kickback statute safe harbors for discounts and rebates given by pharmaceutical manufacturers to health plans and PBMs. The changes would eliminate the safe harbor protections for such discount arrangements, while creating a new safe harbor for discounts provided to beneficiaries at the point of sale. If finalized rebates would be passed on to patients directly, instead of to the health plan or PBM. The proposal also calls for increased transparency around flat fee arrangements between pharmaceutical manufacturers and PBMs.

The AMA agrees that patients should see the benefit of discounts, rebates and other price concessions on prescription drugs and is very supportive of the administration's calls for increased transparency of arrangements between pharmaceutical manufacturers and PBMs/health plans. However, there are many outstanding questions about the ultimate impact of the administration's proposal, and the AMA is carefully considering the potential effect on items such as Part D plan premiums, drug list prices and the availability and size of future discounts and rebates.
Legislation to address gun violence advances in the House
On Feb. 13, the House Judiciary Committee favorably reported HR 8, the Bipartisan Background Checks Act, by a vote of 23-15. The AMA-supported bill would implement near-universal background checks for the purchase of firearms, effectively closing loopholes that allow sales at gun shows or through online sales to evade the current requirement that applies to federally licensed firearms dealers.

Polling shows overwhelming public support for this requirement, including among gun owners. It is one step that can help keep firearms out of the hands of those who are not legally entitled to possess them. The bill is expected to be considered on the House floor in the coming weeks along with another measure, HR 1112, which would extend the time the Federal Bureau of Investigation (FBI) has to complete a background check before a dealer may deliver the firearm to the purchaser. While HR 8 is expected to pass in the House, its fate in the Senate is less certain.
Physician organizations weigh in on surprise billing
On Feb. 7, the AMA and 103 national medical specialty organizations and state medical societies sent a letter to the House Committees on Ways and Means, Energy and Commerce, and Education and Labor, as well as the Senate Health, Education, Labor and Pensions Committee and Finance Committee, on policies that should be considered as Congress develops legislation designed to provide relief to patients experiencing health care costs not covered by insurance.

Patients, physicians and policymakers are increasingly concerned about the impact that unanticipated out-of-network medical bills are having on patient out-of-pocket costs and the patient-physician relationship. The physician organizations urged Congress to consider:
The impact of insurer practices such as narrow networks, inaccurate provider directories and non-adherence to the prudent layperson standard for determining coverage for emergency care
The need for transparency in anticipated charges by out-of-network providers for scheduled care
The importance of preserving insurers' incentive to negotiate network participation contracts in good faith
The need to pair any guidelines for out-of-network payments for providers not chosen by the patient with a payment process that is keyed to the market value of physician services
Providing for mediation or an alternative dispute resolution process for circumstances where any minimum benefit standard is insufficient due to factors such as the complexity of the patient's medical condition and other extraordinary factors
Both chambers of Congress and the Trump administration have expressed interest in pursuing policies to address this issue.
New payment model for emergency services
The Center for Medicare and Medicaid Innovation (CMMI) has announced a new alternative payment model called Emergency Triage, Treat and Transport, or ET3. Based on action by the AMA House of Delegates, the AMA has been urging Medicare to pay emergency medical service providers for the evaluation and transport of patients to the most appropriate site of care based on the onsite evaluation of the patient's needs, rather than limit payment for transportation to the nearest hospital. The ET3 model will allow ambulance providers to partner with health professionals to treat patients on the scene or through telehealth and to transport them to alternative facilities for care, including their physician's office or an urgent care center, instead of all Medicare patients who call for emergency help being transported to hospital emergency departments. ET3 will start in 2020 and run for five years.

More information about the model is available here.
Proposed rules released on interoperability and patient access
The Office of the National Coordinator for Health IT (ONC) has released a proposed rule implementing provisions of the 21st Century Cures Act related to electronic health information blocking, interoperability and the ONC Health IT Certification Program. Concurrently, the Centers for Medicare & Medicaid Services (CMS) issued a proposed rule on patient access to data and interoperability. Provisions in these rules regarding information blocking and application program interfaces (API) will impact interoperability and the way data is exchanged between patients, health providers, payers, technology developers and other health care stakeholders. The proposed rules also promote patient access and price transparency.

ONC and CMS will accept comments until mid-April (the exact date will be updated upon posting on the Federal Register website). The AMA will be drafting comprehensive comments.
Back to Top
State Update
New York governor proposes removing prior authorization for MAT
In his proposed Fiscal Year 2020 New York State Executive Budget, New York Governor Andrew Cuomo included provisions that would help put an end to health insurer policies of prior authorization for medication-assisted treatment (MAT) for opioid use disorder.

"As an addiction and psychiatric medicine physician, I can tell you firsthand that prior authorization for medication-assisted treatment is harmful to patients because it delays care," said Frank Dowling, MD, the Medical Society of the State of New York physician representative to the AMA Opioid Task Force. "Immediate availability of medication when a patient is willing to accept treatment is critical to improve chances of success. If a patient with an opioid use disorder is told to wait a few days by the health insurance company, that could be the difference between life and death. It's got to stop."

In a letter, Dr. Madara urged the New York Legislature to support the governor's MAT provisions.

For more information, please contact Moe Auster from the Medical Society of the State of New York.
California attorney general calls on insurers to help patients struggling with substance use disorders
California attorney general Xavier Bacerra recently called for health insurance companies to immediately stop delaying or denying care to patients who need treatment for a substance use disorder. These practices include requiring patients to obtain prior authorization for medication-assisted treatment (MAT). The AMA and California Medical Association (CMA) applaud Becerra for his support of patients with a substance use disorder. According to the U.S. Surgeon General, MAT is the gold standard for treatment for those with a substance use disorder.
"There is no reason for health insurance companies to require patients to jump through hoops when they are seeking care for a substance use disorder," said AMA President-elect Patrice A. Harris, MD, MA, who chairs the AMA Opioid Task Force. "Tens of thousands of patients are dying in our nation each year in this epidemic, and it will not end unless our patients have increased access, without delay, to high-quality, evidence-based medical care."

The attorney general's action mirrors legislation sponsored by CMA in 2018. AB 2384 by Assemblymember Joaquin Arambula, MD, would have required health plans who offer prescription drug benefits to cover medication-assisted treatment for opioid addiction and other forms of substance abuse. That measure was vetoed by Gov. Jerry Brown amid strong opposition from health plans. Becerra's action is the latest in a series of state efforts physicians hope becomes a national movement to remove barriers to patients with a substance use disorder and end the nation's opioid epidemic.  As the attorney general notes, "Burdensome prior authorization processes affect 40% of patients with private health insurance who attempt to access MAT. Such prior authorization policies keep MAT from benefiting the widest possible range of individuals and families in serious need."

"The Attorney General's actions will ensure that those seeking treatment for opioid use disorders are able to receive it without arduous delays and waiting for health plan approval," said David H. Aizuss, MD, president of the California Medical Association.

Only a few other states have taken this type of action. The New York Attorney General's office reached agreements with Aetna, Cigna and Anthem in 2017 for those payers to stop requiring prior authorization for MAT. In Maryland, which removed prior authorization for MAT in 2017, physicians report that the law is saving lives. Pennsylvania reached an agreement with the Commonwealth's seven largest payers in 2018 to remove prior authorization for MAT. And several state legislatures are considering bills this year to prohibit prior authorization for MAT.

"It is clear to us that health insurance companies increasingly realize there's no valid reason to require prior authorization for MAT," said Dr. Harris. "We strongly urge all of California's health insurance companies to immediately comply with and agree to Attorney General Becerra's request to help end the opioid epidemic in California."
Back to Top
Judicial Update
Idaho Supreme Court rules that Medicaid expansion is legal
On Nov. 6, 2018, Idaho voters passed Proposition 2 to expand Medicaid coverage to 138 percent of the federal poverty level. On Nov. 20, 2018, it was certified into law. Shortly thereafter, Brent Regan, backed by the Idaho Freedom Foundation—the main opponents of Proposition 2—filed a lawsuit in the Idaho Supreme Court against Lawrence Denney, the Idaho secretary of state. The lawsuit claimed that the Medicaid expansion law is unconstitutional because it inappropriately delegates legislative authority to the state executive branch and to the federal government. The Idaho attorney general, representing the secretary of state, is objecting to the lawsuit on both procedural and substantive grounds.

On Dec. 18, 2018, the Idaho Medical Association (IMA), along with two patients who would receive Medicaid coverage under the new law and a physician who treats uninsured patients, obtained Supreme Court permission to intervene as additional defendants. On Feb. 5, 2019, the Idaho Supreme Court ruled in favor of the defendants, including IMA.
Back to Top
Other News
Prior authorization takes center stage at recent conferences
The AMA continues to place a high priority on prior authorization (PA) reform advocacy, as evidenced by activities at two conferences last week. At its National Advocacy Conference, the AMA unveiled "Prior Authorization Hurts Patients," a powerful new video that features patient and physician testimonials about PA heartaches and hardships. The video captures the patient harms, care disruptions and delays, and interference with clinical decision-making associated with PA and urges viewers to join the AMA's grassroots campaign by engaging through its online hub, FixPriorAuth.org. Site visitors can share their PA story, sign a petition to Congress for PA reform and access a variety of PA-related resources. To date, the FixPriorAuth campaign has gathered over 500 patient and physician stories, collected more than 89,000 petition signatures and generated over 8,100,000 social media impressions.
The AMA also shared its PA reform efforts at the 2019 Health Information and Management Systems Society (HIMSS) conference in Orlando, Florida. In a well-attended educational session titled, "Leveraging Technology to Improve Prior Authorization," the AMA presented newly released PA physician survey results that clearly establish the impact of PA on both patients and physicians, and explored how technology can support implementation and operationalization of the critical, wide-ranging PA reforms outlined in the Consensus Statement on Improving the Prior Authorization Process. The session also highlighted the AMA's efforts to inform physicians about the advantages of prescription drug electronic PA through a three-part educational video series.
Recap: Last week's HIMSS meeting
At last week's HIMSS meeting, AMA representatives attended multiple sessions by CMS and ONC that were focused on the newly released proposed rules regarding interoperability, information blocking, APIs, electronic health record (EHR) certification, conditions of participation and more. Multiple presentations and speeches focused on providing patients access to their information and stressed the importance of the information-blocking provisions. Moreover, ONC ran through multiple scenarios regarding the API Conditions of Certification Permitted Fees. These listening sessions will help inform and tailor AMA's response to these rules.

AMA staff also met with an array of health information technology stakeholders representing EHR vendors, health information exchanges, large health systems and medical professional societies. Discussions included AMA priorities to relieve physician burdens, expand awareness of data privacy concerns and improve alignment of federal policies in this area.

The conference kicked off with an in-depth session on health care augmented intelligence (AI), featuring two nationally recognized AI physician innovators discussing the ways in which machine learning can serve as an evolving tool for health care professionals. Another educational session by AMA staff examined the ethics of AI in health care and how to develop a framework for innovative clinical delivery.

Prior authorization reform efforts also took center stage, as highlighted in the above story.
Back to Top
Upcoming Events
Advocate for the future of medicine at MARC
Join fellow medical students from across the U.S. at the 2019 AMA Medical Student Advocacy and Region Conference (MARC), held March 7–9, in Washington, DC. Attend to learn how to be a successful advocate, and meet with your senators and representatives.

Read more.
Back to Top