Sept. 6, 2018
Issue Spotlight
Physicians favor less documentation, oppose Medicare E/M pay proposal
Physicians and other health professionals welcome and strongly support the Centers for Medicare & Medicaid Services' "Patients Over Paperwork" initiative, and say three of its components need to be enacted immediately to reduce "note bloat" redundancy. But they oppose a proposal to collapse payment rates for physician office visit services over concern about unintended consequences.

Those were the key messages included in a letter to CMS Administrator Seema Verma from the AMA and about 170 other organizations representing physicians, health professionals, and health care stakeholders commenting on the proposed 2019 Medicare physician fee schedule and Quality Payment Program (QPP) rule.

The AMA and other organizations called for immediate adoption of these proposals:
Changing required documentation of patient's history to focus only on the interval since the previous visit.
Eliminating requirement for physicians to redocument information that has already been documented in the patient's record by practice staff or by the patient.
Removing need to justify providing a home visit instead of an office visit.
However, the CMS proposal to "collapse" payment rates for five evaluation and management (E/M) office visit services into two has the potential to create unintended negative consequences for patients. "We oppose the implementation of this proposal because it could hurt physicians and other health care professionals in specialties that treat the sickest patients, as well as those who provide comprehensive primary care, ultimately jeopardizing patients' access to care," the letter states. The AMA and the other organizations joining the letter also oppose a proposed policy that would cut payments for multiple services delivered in the same day.

The organizations note their willingness to work with CMS to resolve issues connected with calculating the appropriate coding, payment and documentation requirements for different levels of E/M services. They also declare their support for the workgroup the AMA created of coding experts who would "arrive at concrete solutions" in time for CMS to implement in the 2020 Medicare physician fee schedule.

Read more at AMA Wire®.
Back to Top
National Update
ONC seeks input on EHR quality metrics
The Office of the National Coordinator for Health Information Technology (ONC) took its first step towards implementing a much-anticipated provision in the 21st Century Cures Act last week, by issuing a Request for Information (RFI) regarding an Electronic Health Record (EHR) Reporting Program.

This EHR Reporting Program will be part of the newly created Conditions of Certification program, meant to provide physicians and other users information on Certified EHR Technology (CEHRT) performance. The use of CEHRT is a requirement in many Medicare programs, including the Quality Payment Program.

The RFI seeks information on five categories of health IT performance, including: security, interoperability, usability and user-centered design, conformance to certification testing, and "other categories, as appropriate to measure the performance of certified EHR technology." The RFI seeks input on existing metrics related to these categories, as well as how to develop new measures.

The AMA advocated in support of the EHR Reporting Program requirement in the Cures Act. The AMA will submit comments geared at holding EHR vendors accountable for their products' performance and cost. Additionally, the AMA will leverage insight gathered from recent work on EHR usability, conducted in coordination with Pew and Medstar Health.
New bill would strengthen federal background checks for firearms
The AMA has sent a letter expressing support for the "Public Safety and Second Amendment Rights Protection Act of 2017," which acknowledges that the federal background check system is effective at preventing prohibited purchasers from accessing firearms but it should be extended to other purchase.

The bill would expand the existing background check system to cover all commercial firearm sales, including those at gun shows, over the internet or in classified ads while providing reasonable exceptions for family and friend transfers. The bill would also help to strengthen the National Instant Criminal Background Check System by incentivizing states to improve reporting of prohibited individuals and direct grant funding to states and tribal territories to improve their record-sharing systems.
AMA praises amendment on drug pricing information in DTC ads
The AMA sent a letter commending the introduction of a bipartisan amendment to Labor and Health and Human Services funding bill which clarifies that current law authorizes the Food and Drug Administration to require pharmaceutical manufacturers to provide an appropriate disclosure of pricing information for their product in direct-to-consumer advertisements.

It is predicted that this agreement would help to empower patients, promote transparency and ultimately lower prescription drug costs over time. This amendment is keeping in line with the AMA's efforts to advance transparency in the pharmaceutical supply chain.
Back to Top
State Update
Physicians voice opposition to CVS-Aetna merger in Utah
The AMA and the Utah Medical Association submitted a statement to the Utah insurance commissioner during an Aug. 17 public hearing concerning the proposed CVS-Aetna merger in Utah. The statement urged the commissioner to block the proposed merger in Utah on grounds that it is anti-competitive under Utah laws in the Medicare Part D stand-alone prescription drug plan (PDP) market.

The statement was based on an analysis given by Richard M. Scheffler PhD, a health economics professor at the University of California, Berkeley. The statement and Dr. Scheffler's expert report found that the merger's claimed efficiencies, such as expanded use of retail clinics, would not be sufficient to offset the anticompetitive effects. The AMA will continue to oppose the proposed CVS-Aetna merger before state and federal regulators.
Illinois enacts parity protections, prohibits prior auth for MAT
The Illinois State Medical Society (ISMS) and Illinois Psychiatric Society led the way for a new law that strengthens protections and transparency for mental health and substance-use disorder parity as well as prohibits all prior authorization and step-therapy requirements for treatment of substance-use disorders. The bill, Illinois Senate Bill 1707, was signed last month by Gov. Bruce Rauner.

"If a patient needs care but is forced to delay treatment, or have treatment denied, because of prior authorization or step therapy, the consequences can be fatal," the AMA emphasized in a letter to Rauner urging him to sign the bill.

The ISMS also reported that the bill:
Increases transparency by requiring health plans to submit parity compliance analyses to the Illinois Department of Insurance (DOI) and the Illinois Department of Healthcare and Family Services (HFS) for review, and share online.
Requires the DOI and HFS to conduct market examinations/parity compliance audits and to report their enforcement activities annually.
Requires the Illinois Auditor General to review implementation of the state parity law and to report back to the General Assembly.
For information about the new law, contact ISMS's Erin O'Brien at erinobrien@isms.org
Webinar updates California physicians on new PDMP requirements
Effective Oct. 2, California physicians must consult California's prescription drug monitoring database (the Controlled Substance Utilization Review and Evaluation System, or CURES) prior to prescribing Schedule II, III or IV controlled substances. All individuals practicing in California who possess both a state regulatory board license authorized to prescribe, dispense, furnish or order controlled substances and a Drug Enforcement Administration Controlled Substance Registration Certificate must be registered to use CURES.

The California Medical Association (CMA) recently co-hosted a live CURES webinar with the California Department of Justice (DOJ) and the Medical Board of California regarding this new duty-to-consult requirement. The webinar provides an overview of the new mandate and the requirements imposed by the law when checking CURES. It also includes an overview of the registration process and key features of the CURES database.

The webinar is now available for on-demand viewing—free to all interested parties. Additional California opioid-related educational resources are available on the AMA opioid microsite.
Dr. McAneny highlights economic impact of Mississippi physicians
AMA President Barbara L. McAneny, MD, made the most of a recent trip to Mississippi. Her activities included attending the Mississippi State Medical Association (MSMA) Annual Meeting in Jackson, being featured as a keynote speaker and guest of honor at the Governor's Health Care Summit, and making a guest appearance on a statewide talk radio program, "SuperTalk Mississippi."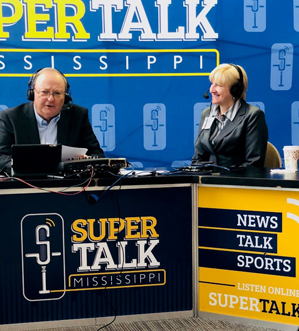 Dr. McAneny's speech at the Health Care Summit highlighted the positive economic impact that physicians have in the country at large and in Mississippi specifically. She stressed the benefits of a strong medical education system, encouraged the allocation of state funds for new residency slots and emphasized the importance of keeping physicians that train in Mississippi in the state.
The following morning, Dr. McAneny addressed the 150th MSMA House of Delegates Annual Meeting, where she highlighted efforts to address gun violence, health care reform and easing the burden of prior authorization.
Back to Top
Judicial Update
AMA to Supreme Court: Doctor participation in executions unethical
Anesthesiologist Joel Zivot, MD, says he won't give Missouri officials an opinion on which execution method might result in the lowest risk of severe pain for a prisoner on death row because he feels ethically unable to compare the consequences of alternative forms of execution allowed under state law.

Missouri officials say that because prisoner Russell Bucklew didn't offer testimony to directly compare each method of execution and show that one "significantly reduces the risk of severe pain," the man hasn't met his burden to be put to death by something other than the state's standard lethal injection protocol.

Bucklew says he will suffer unnecessarily if he is put to death by the standard lethal-injection protocol. Instead, Bucklew is asking he be put to death by lethal gas because he believes it will cause him less suffering due to his rare medical condition, cavernous hemangioma. The condition causes blood-filled tumors to grow on his body. He claims once the drugs are administered, he will choke on his own blood for four minutes.

Now the U.S. Supreme Court is considering the case, Bucklew v. Precythe, including the question of whether the Eighth Amendment requires that an inmate prove an adequate alternative method of execution when challenging the state's method based on a rare and severe medical condition.

The AMA has filed an amicus brief in the case before the high court. The brief doesn't support either party. Instead, it offers justices background on the "applicable ethical principles" that guide physicians on capital punishment. It also confirms that "testimony used to determine which method of execution would reduce physical suffering would constitute physician participation in capital punishment and would be unethical."

Read more at AMA Wire.
Back to Top
Other News
AMPAC Campaign School registration closes Sept 21
Thinking about running for office? Time to go back to school! Only a few spots remain for the 2018 AMPAC Campaign School, which will take place Dec. 6-9 at the AMA office in Washington, D.C. Deadline for registration is Sept 21. The Campaign School is open to AMA members, their spouses, medical students, residents and state medical association staff who want to become more involved in campaigning process.

The Campaign School provides participants with the skills and strategic approach they need to run a successful political campaign. During the two-and-a-half day in-person portion of the program, participants will be broken into campaign staff teams to run a simulated congressional campaign using what they have learned during group sessions on strategy, vote targeting, social media, advertising and more.

Faculty, materials and all meals during the meeting are covered by the AMA. Participants are responsible for the registration fee and hotel accommodations at the Hyatt Regency Washington on Capitol Hill. For information or to apply visit: www.ampaconline.org/apply or contact politicaleducation@ama-assn.org
Celebrating Women in Medicine Month
AMA President Barbara L. McAneny, MD, and AMA President-elect Patrice Harris, MD recently participated in an intimate discussion at AMA headquarters in Chicago, to kick off Women in Medicine Month. In their remarks they outlined the qualities that female medical leaders need to succeed as well as the progress yet to be made.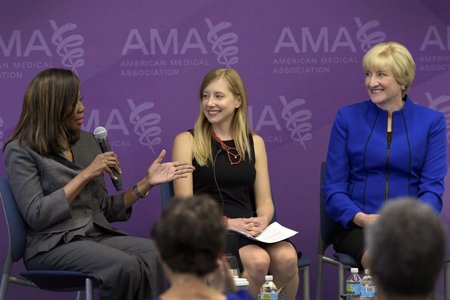 Last year, the number of women enrolled in medical school surpassed the number of men. Despite this progress, less than 20 percent of hospital CEOs, medical school deans or department heads in the U.S. are female. "Those are uncomfortable truths and people don't want to hear them," Dr. McAneny said. "They don't want to think about the other side of that particular issue, but that is key."
All month long, the AMA
Women Physicians Section
will honor physicians who have offered their time, wisdom and support to advance women with careers in medicine.
Back to Top
Upcoming Events
Sept. 15: NIH seeks ideas for genomics initiative
The National Institutes of Health's National Human Genome Research Institute has launched a new round of strategic planning—part of its Genomics 2020 initiative. The goal is to identify paradigm-shifting areas of genomics that will expand the field into new frontiers and enable novel applications to human health and disease. Physicians, scientists, health professionals, faculty and organizational leaders are invited to help inform this planning process. Take the survey.
Back to Top