Aug. 9, 2018
Issue Spotlight
AMA urges DOJ to block CVS-Aetna merger
In a letter sent to the U.S. Department of Justice (DOJ), the AMA urged the DOJ to oppose to the CVS-Aetna merger. The letter expressed "concern that market concentration is a leading cause of high costs in health care" and that a merger between CVS and Aetna would "likely substantially lessen competition in many health care markets, to the detriment of patients."

The merger was first proposed in December 2017 and in February 2018 the AMA submitted a statement to the House Judiciary Subcommittee on Regulatory Reform, Commercial and Antitrust Law in anticipation of a hearing entitled "Competition in the Pharmaceutical Supply Chain: The Proposed Merger of CVS Health and Aetna." It was here that AMA laid out the argument that this merger had the potential to decrease competition in Medicare Part D, pharmacy benefit manager services, local health insurance, and many local retail pharmacy markets, and therefore should be closely scrutinized.

Working closely with the California Medical Association (CMA), the AMA and CMA were able to secure a June 19 hearing before the California Department of Insurance on the proposed merger. There, AMA President Barbara McAneny, MD, announced that the AMA opposed the merger. A number of antitrust experts and economists testified that the merger would be anticompetitive.

"After very careful consideration over the past months, the AMA has come to the conclusion that this merger would likely substantially lessen competition in many health care markets, to the detriment of patients," Dr. McAneny said during testimony. "The AMA is now convinced that the proposed CVS-Aetna merger should be blocked."

CMA modified its position on June 22 to join the AMA in opposing the merger. In a statement delivered to the California Department of Insurance on June 29 the AMA said, "Unless blocked, this merger would likely injure consumers by raising prices, lowering quality, reducing choice and stifling innovation in five poorly performing markets in California and across the country: Medicare Part D Standalone Prescription Drug Plan, PBM services, health insurance, retail pharmacy, and specialty pharmacy."

On Aug. 1, the California Department of Insurance Commissioner Dave Jones submitted a fifteen page statement to the DOJ concluding that a merger between CVS and Aetna would be anticompetitive, and urges the DOJ to sue to block the merger. In reaching his conclusion Commissioner Jones cited testimony given by Dr. McAneny who testified that the merger raises significant quality of care and patient safety concerns.

The AMA commends Commissioner Jones for taking a strong stand against the proposed merger of CVS Health Corporation and Aetna, and is urging other state regulators and DOJ to review the evidence and take a similar position.

Visit the AMA website for more information.
Back to Top
National Update
Federation engagement regarding the 2019 PFS and QPP proposed rule
The AMA has previously sent to the Federation information on the 2019 Medicare Physician Fee Schedule (PFS) and Quality Payment Program (QPP) Notice of Proposed Rulemaking. On July 31, the Advocacy Group hosted a conference call with state and specialty medical society staff to discuss key issues in the 2019 proposed rule. As part of its standard operating process, the Advocacy Group also convened a meeting with national specialty representatives and Centers for Medicare & Medicaid Services (CMS) staff on Aug. 1.

While the AMA is pleased that in the proposed rule the administration continues to recognize the need to reduce the administrative burden for physicians, the AMA has heard concerns from a number of specialty and state medical societies about the Evaluation and Management (E&M) coding and payment proposals in the proposed rule.

As part of its standard process to respond to major policy proposals, the AMA is working with national specialty, state and other physician groups to develop recommendations that have broad support across the profession. A joint working group of Current Procedural Terminology (CPT®) and the RVS Update Committee (RUC) experts has been formed to develop recommendations for adjusting E&M coding policies. Given the complexity in this space, a coding change application may not be finalized until early November for potential adoption by the CPT Editorial Panel in early February.

While the E&M coding issues have become a major focus of the proposed rule, there also are many important issues as part of the QPP implementation that will have a significant impact on physician practices. The AMA will work with its Merit-based Incentive Payment System (MIPS) and Alternative Payment Model (APM) workgroups to develop its comments. The AMA hopes to share its comments with the Federation in advance of the Sept. 10 deadline.

Top line positive elements in the proposed rule:
Reduced documentation burden for Evaluation & Management office visit codes.



Note: At this time, the degree of actual burden reduction is uncertain. Will practices still need to document items for legal reasons and to justify medical necessity and/or eligibility for add-on codes? Further, electronic health records (EHR) may still prompt physicians to supply information designed for compliance with old requirements.


New payments for physician services that are not part of a face-to-face visit (virtual check-ins with patients, remote consults with patients using videos/photographs, online consults with other physicians).
Continuation of low-volume threshold policy to exempt small practices from MIPS.
A reduction in problematic measures in the Promoting Interoperability (PI) provisions (formerly Meaningful Use and Advancing Care Information).
Areas of concern/AMA will recommend changes:
E&M coding and related policies (add-on codes, multiple same-day service reduction).
Reducing quality measure requirements to reflect reductions in available quality measures.
Simplifying the MIPS scoring framework to make it more clinically relevant and understandable for physicians.
Keeping the cost category weight at 10 percent rather than increasing it to 15 percent.


CMS releases 2019 Hospital Inpatient Prospective Payment System final rule
On Aug. 2 CMS released the 2019 Hospital Inpatient Prospective Payment (IPPS) system final rule. In the rule, CMS finalized several changes in an effort to reduce physicians' administrative burden. Specifically, CMS finalized changes to the new PI program, which will focus the program on interoperability and improved patient access to health information as opposed to burdensome, prescriptive data-capture and measurement policies.

The AMA will continue to push CMS to develop an attestation-based approach to reporting within the PI program that will allow physicians and hospitals to attest to using technology that works for their practice and their patient care needs.

CMS also finalized policies to reduce physicians' and hospitals' reporting burden by removing many quality measures within the hospital quality reporting programs. In total, CMS finalized the removal of 18 measures and the de-duplication of 25 measures from quality reporting programs. CMS also finalized a requirement that hospitals must post a list of their standard charges online, which the AMA supported in its comment letter on the proposed rule. This requirement will take effect Jan. 1, 2019.
USP releases revised draft chapter for sterile compounding
On July 26, the United States Pharmacopeia (USP) released a revised draft of its Chapter 797, which provides standards for sterile compounding in pharmacy, hospital and office settings. The new draft Chapter makes accommodation for the preparation of sterile drug products by physicians in office settings, a departure from previous USP proposals that would have subjected physicians to the full requirements of the chapter.

The new draft chapter proposes to exempt physicians preparing sterile drug products for administration to patients when the product is administered to a patient in an office setting within one hour of its preparation. For allergy and immunotherapy products, USP has created a new, separate section of Chapter 797 that would provide standards for preparation of those products. This new section includes stringent safety standards for the preparation of allergy/immunotherapy products but is more appropriate for physician practices.

The AMA has worked closely with numerous medical specialty societies as well as USP on this draft revision. The AMA understands that while the new proposal will be workable for many physicians, it may still be burdensome on some specialties. The AMA will continue to work closely with those groups to ensure continued access to the products at issue.

The current proposal has been issued as a draft and is still open to further revision before it is finalized later this year. Public comments will be accepted until Nov. 30. USP is also holding a virtual "open microphone" session on Sept. 5 to receive comment and answer questions. The AMA strongly encourages physicians with concerns about the proposed revision to submit comment and participate in the open mic session.
Trump administration finalizes rule on short-term limited-duration insurance plans
On Aug. 1, the administration issued a final rule that would make it easier for insurers to offer short-term limited-duration insurance plans. The new rule reverses the Obama Administration's efforts to limit the duration of such plans to three months by expanding the duration of the plans to just under 12 months and allows the plans to be renewed for up to three years.

The rule requires that issuers of short-term plans display prominently in consumer materials a notice explaining that the policy they are purchasing is not required to comply with the Affordable Care Act's (ACA) federal market requirements. In response to comments, the Administration strengthened the language required in the notice.

The language in the proposed rule would have stated, in relevant part, "Be sure to check your policy carefully to make sure you understand what the policy does and doesn't cover." The required language in the final rule is, "Be sure to check your policy carefully to make sure you are aware of any exclusions or limitations regarding coverage of preexisting conditions or health benefits (such as hospitalization, emergency services, maternity care, preventive care, prescription drugs, and mental health and substance use disorder services).

Your policy might also have lifetime and/or annual dollar limits on health benefits." The final rule also requires the consumer notices to include any additional information required by state law. The final rule is effective 60 days after publication in the Federal Register.

The AMA had significant concerns with the proposed rule and had urged the U.S. Department of Health and Human Services (HHS) to withdraw it. These concerns remain. Short-term policies will be exempt from any ACA requirements but will be marketed alongside with ACA-compliant plans. Without the consumer protections and coverage required by the ACA, the short-term insurance plans will be considerably less expensive than ACA-compliant plans and hence presumably will be very attractive to healthy individuals who do not want or think they do not need comprehensive coverage.

It is predicted by health policy experts that the expansion of short-term insurance plans will undermine the individual insurance market and create an uneven playing field by luring away healthy consumers, thereby damaging the risk pool and driving up premiums for consumers left in the ACA-compliant market. Moreover, increased use of the skimpier plans could leave many patients with large medical bills or facing the prospect of going without needed treatment.
AMA urges HHS to withdraw proposed rule on Title X family planning program
On July 31 the AMA urged HHS Secretary Alex M. Azar, II, to withdraw the Administration's Notice of Proposed Rulemaking (NPRM) that proposes to significantly revise the regulations governing the federal Title X family planning program.

"We are very concerned that the proposed changes, if implemented, would undermine patients' access to high-quality medical care and information, dangerously interfere with the patient-physician relationship and conflict with physicians' ethical obligations, exclude qualified providers, and jeopardize public health," wrote AMA CEO and Executive Vice President James L. Madara, M.D. "Given our concerns, we urge HHS to withdraw this [proposal]."

Read the letter for more details.
AMA testifies on MACRA implementation before Energy and Commerce Committee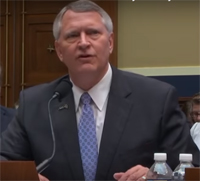 On July 26, the House Energy and Commerce Subcommittee on Health held a hearing entitled "MACRA and MIPS: An Update on the Merit-based Incentive Payment System." David Barbe, MD, Immediate Past-President, testified on behalf of the AMA. Dr. Barbe stated that it is important for all types and sizes of physician practices to have opportunities to succeed under the Medicare Access and Chip Reauthorization Act (MACRA).

He expressed the AMA's commitment to working with both Congress and CMS to ensure physicians are able to continue to make progress in the MIPS program each year and are not exposed to large penalties as CMS continues to refine the program.

Dr. Barbe also noted that while progress has been made, the AMA believes there are numerous additional improvements that can be made to further simplify MIPS. He also raised concerns that three years into the program, none of the APMs recommended by the Physician-Focused Payment Model Technical Advisory Committee (PTAC) to the Secretary of Health and Human Services have been tested or implemented, and there is currently no robust pathway to approve and implement APMs. Chairman Michael Burgess, MD (R-TX), indicated the subcommittee would hold hearings on APMs in the fall.
Back to Top
Judicial Update
California settlement a big win for medical staff independence
A July court settlement regarding California's Tulare Regional Medical Center (TRMC) marks a resounding win for medical staff self-governance. The settlement reinstates—with all of its rights, privileges and status—the organized medical staff that was fired and replaced, and the hospital has agreed to pay $300,000 for the TRMC medical staff's legal expenses.

In collaboration with the California Medical Association (CMA), the Litigation Center of the American Medical Association and State Medical Societies has provided significant legal and financial support in the California medical staff's lawsuit, Tulare Regional Medical Center Medical Staff v. Tulare Local Healthcare District et al. CMA filed pre- and post-trial amicus briefs and organized fundraising for the case.

The suit was filed after the hospital's board of directors voted Jan. 26, 2016, to terminate the medical staff organization, remove elected medical staff officers, install a slate of appointed officers and approve new medical staff bylaws and rules without staff input.

Read more at AMA Wire.
AMA fights to protect patient-safety work from legal discovery
Too often, voluntarily created and submitted reports meant to be used for analysis and prevention of adverse events are used instead as roadmaps for litigation.

That was the message delivered in an amicus brief filed by the Litigation Center of the American Medical Association and State Medical Societies, the Illinois State Medical Society, and other organizations in the case Daley v. Teruel and Ingalls Memorial Hospital, which involves protection of peer-review reports from litigation discovery.

The brief also warned that, if the First District Illinois Appellate Court upheld a trial court's order for Ingalls Memorial to turn over its patient safety reports, it would "send a message to Illinois hospitals that they should not voluntarily document their self-examination of an adverse situation for the purpose of improving health care."
The judges agreed. In its June 28 decision, the court ruled that—under the federal Patient Safety and Quality Improvement Act of 2005 (PSQIA)—the hospital's incident reports, which were submitted to a third-party patient safety organization (PSO) via a computer portal specifically dedicated for that purpose, were shielded from discovery.

PSOs were created by PSQIA to aggregate data from multiple sources and identify causes of adverse events, issue safety alerts, promote best practices and provide feedback that has helped to reduce adverse events and errors and improve medication safety.

Read more at AMA Wire.
Back to Top
Other News
New AMA website urges grassroots advocacy on prior authorization reform
The AMA recently launched FixPriorAuth.org, a new website dedicated to spurring grassroots advocacy for prior authorization reform. The website targets physician and patient audiences, with online experiences that detail prior authorization burdens from both perspectives. The physician and patient tracks end with a common "share your story" call to action, and the AMA will be leveraging the collected anecdotes in its prior authorization advocacy.

The website's story gallery offers a powerful overview of the patient and physician experiences gathered to date and will be continually updated with newly submitted examples of how prior authorization impacts both patient care and practice workloads. The website also includes a resources section that links to news stories and various AMA educational and advocacy tools on this issue. Follow the Physicians Grassroots Network's Facebook and Twitter pages to stay up to date on the campaign to #FixPriorAuth.
The campaign trail starts here
Open to AMA members, their spouses, medical students, residents and state medical association staff who want to become more involved in campaigning process, the 2018 AMPAC Campaign School will be taking place Dec. 6-9 at the AMA offices in Washington, D.C.

The Campaign School is designed to provide participants with the skills and strategic approach they need to run a successful political campaign. During the two-and-a-half day in-person portion of the program, under the direction of AMA political experts, participants will be broken into campaign staff teams to run a simulated congressional campaign using what they have learned during group sessions on strategy, vote targeting, social media, advertising and more. 

Faculty, materials and all meals during the meeting are covered by the AMA. Participants are responsible for the registration fee and hotel accommodations at the Hyatt Regency Washington on Capitol Hill. The deadline to register is Sept. 21. For more information or to apply visit: www.ampaconline.org/apply or contact  politicaleducation@ama-assn.org.
New podcast available: Understanding the QPP cost category
The sixth podcast produced in partnership with ReachMD on Medicare payments is now available. This week's episode is an interview with Koryn Rubin, assistant director of federal affairs at the AMA. Rubin discusses recent updates to cost category under CMS' QPP will impact physicians' Medicare payments.

Listen here.
Back to Top