Nov. 3, 2017
Issue Spotlight
Health insurance markets are highly concentrated, new report reveals
Consolidation has caused a lack of competition among commercial health plans that leads to higher premiums for consumers and lower payment for physician services.

The 16th edition of the AMA annual report, "Competition in Health Insurance: A Comprehensive Study of U.S. Markets," examined market concentration in all 50 states, the District of Columbia and 389 metropolitan statistical areas (MSAs) and found that in 43 percent of MSAs one insurer had at least a 50 percent share of the market.

"We find that the majority of U.S. commercial health insurance markets are highly concentrated," the report concludes. "Our findings should prompt federal and state antitrust authorities to vigorously examine the competitive effects of proposed mergers between health insurers."

The 2017 edition of the report presents 2016 data on commercial enrollment in fully and self-insured health maintenance organizations (HMO), preferred provider organizations (PPO), point-of-service (POS) plans, consumer-driven health plans (CDHP) and public health exchanges (EXCH). The report, available for purchase at the AMA Store, is one facet of the AMA's efforts to promote competition in health insurance markets. Learn more about the AMA's research in this area.

Mergers attracting more scrutiny

The AMA report recalls how the U.S. Department of Justice (DOJ) and multiple state attorneys general moved to block Anthem's attempt to acquire Cigna and Aetna's proposed acquisition of Humana in 2015. Both mergers were eventually abandoned.

"After years of largely unchallenged consolidation in the health insurance industry, a few recent attempts to consolidate have received closer scrutiny than in the past," the report notes.

"Previous versions of the AMA study played a key role in efforts to block the proposed mega-mergers by helping federal and state antitrust regulators identify markets where those mergers would cause anti-competitive harm," AMA President David O. Barbe, MD, MHA, said.

But, despite this new scrutiny, much of the nation's health insurance landscape remains highly concentrated.

According to the report:
69 percent of the combined HMO-PPO-POS-EXCH markets are highly concentrated.
94 percent of HMO markets are highly concentrated
86 percent of PPO markets are highly concentrated.
100 percent of POS markets are highly concentrated.
Read more at AMA Wire®.
Back to Top
National Update
House passes IPAB repeal legislation
On Nov. 2, the House of Representatives passed H.R. 849, the "Protecting Seniors' Access to Medicare Act of 2017," by a bipartisan vote of 307–111. This legislation, sponsored by Reps. Phil Roe, R-Tenn., and Raul Ruiz, D-Calif., would repeal the Independent Payment Advisory Board (IPAB). The $17.5 billion cost to repeal the IPAB was not offset with corresponding cuts in spending.

The IPAB is a panel that puts significant health care payment and policy decisions in the hands of unelected  people with far too little accountability, and could adversely affect access to health care for millions of Medicare patients. Similar to the now-repealed sustainable growth rate (SGR) formula, the IPAB would be another arbitrary system that relies solely on payment cuts to reduce Medicare spending. The AMA sent a letter to Congress strongly urging all members to support this legislation.

The AMA looks forward to working with Sens. John Cornyn, R-Texas,  and Ron Wyden, D-Ore., the sponsors of similar legislation in the Senate, and others to secure final passage of IPAB repeal legislation and preserve seniors' access to their physicians.
Opioids emergency declaration must be followed with smart action
President Donald Trump recently directed the Department of Health and Human Services to declare the opioid epidemic a public health emergency. With the move, aimed at tackling the epidemic tied to hundreds of daily overdose deaths across the nation, the president also ordered other federal agency and department leaders to use any appropriate emergency authority they have to address the problem.

The president specifically announced a plan "to overcome a restrictive 1970s-era rule that prevents states from providing care at certain treatment facilities with more than 16 beds for those suffering from drug addiction." He said several states had sought relief from this and other requirements and promised that "approvals to unlock treatment for people in need" would "come very fast, not like in the past." Waiving Medicaid's 16-bed federal limit to treat patients with a substance-use disorder was among the steps the AMA, in a September letter, recommended the president take in the context of an emergency declaration.

Read more at AMA Wire.
Energy and Commerce Committee examines status of opioid crisis
On Oct. 25, the House Energy and Commerce Committee held a hearing entitled, "Federal Efforts to Combat the Opioid Crisis: A Status Update on CARA Initiatives." Witnesses included administration officials from the Drug Enforcement Administration, Food and Drug Administration (FDA), Substance Abuse, Mental Health Services Administration, Centers for Disease Control and Prevention (CDC), and National Institutes of Health, each of whom discussed their respective agencies' action plan to achieve Comprehensive Addiction and Recovery Act (CARA) directives and address the epidemic.

The AMA submitted a statement for the record that calls for a national commitment to ensure that patients receive comprehensive, multimodal pain care and access to treatment for substance-use disorders. It urges Congress to ensure that the necessary resources are available to meet these goals. The statement notes the AMA's support for recommendations of the President's Commission on Combating Drug Addiction and the Opioid Crisis, such as easing regulatory burdens to access medication-assisted treatment (MAT) and enforcing existing substance abuse parity laws. Additionally, the statement highlighted actions that the AMA, partners on the AMA Opioid Task Force, and physicians across the nation have undertaken to combat the crisis. These include urging physicians to use prescription drug-monitoring programs, make judicious prescribing decisions, enhance their opioid education, and co-prescribe naloxone.
CMS releases information-blocking attestation guidance
The Centers for Medicare and Medicaid Services (CMS) recently released guidance on the information-blocking attestation requirement for the advancing care information (ACI) component in the Merit-based Incentive Payment System (MIPS). All physicians participating in ACI must show that they are meeting this requirement by attesting to three statements about how they implement and use certified EHR technology (CEHRT).

To earn a score in ACI, physicians have to act in good faith when implementing and using CEHRT to exchange electronic health information. While the AMA views this attestation requirement as overly burdensome, the AMA was successful in alleviating the need for physicians to provide documentation to CMS showing they have acted in good faith. Per this guidance, physicians must only attest to complying with these requirements.

Furthermore, the AMA was successful in seeking clarification that physicians will not be held responsible for outcomes they cannot reasonably influence or control. For instance, it will not be viewed as data blocking if a physician's EHR is down for maintenance or if data are unavailable due to an EHR malfunction. Physicians who are participating in the ACI component of MIPS are encouraged to review this guidance from CMS. It is also recommended that physicians alert their EHR vendors to these requirements as many of them directly relate to EHR performance, setup and function.
FDA releases new biosimilars educational materials for physicians
The FDA recently released new health-professional educational materials that are aimed at helping prescribers gain a better understanding of biosimilars. Biosimilars are FDA-approved products that have no clinically meaningful differences from FDA-approved brand biological products.

The FDA materials include:
An overview on biologics, biosimilars, and the approval pathways for each.
Information on biosimilars and interchangeability with their biological reference products.
Biosimilar product information.
Links to online educational courses, webinars and presentations.
The release of these materials was accompanied by a blog post from FDA Commissioner Scott Gottlieb, MD, outlining the importance of biosimilars in creating competition in the drug marketplace and offering more options for patients. Biosimilars are expected to play an increasingly important role in treatment of many conditions where drug prices have been the highest.

Biosimilars have the potential to reduce prices by creating price competition for expensive products that previously had no competitors. However, for the relatively new and complex products to achieve successful uptake and adoption in the field, it is important for prescribers to fully understand the products and options available in the market. Learn more at the FDA website.
Back to Top
State Update
AMA shares concerns on Massachusetts Medicaid waiver proposal
Last month, the Massachusetts Office of Health and Human Services submitted a Section 1115 Demonstration Waiver proposal to CMS to restructure the state's Medicaid program, known as MassHealth. These kinds of waivers allow state Medicaid programs to put aside certain federal Medicaid requirements in order to test and evaluate new delivery models and also receive federal matching funds. The federal government must approve the waiver before it can be implemented.

Among many proposed changes, Massachusetts is seeking to move nondisabled adults with incomes above the federal poverty level (FPL) out of MassHealth and into subsidized commercial plans through the state's marketplace. Under Medicaid expansion in the ACA, individuals up to 138 percent of FPL are eligible for Medicaid coverage. Massachusetts also requested authority to adopt a commercial-style closed formulary with minimum coverage of just one drug per therapeutic class, a limited specialty pharmacy network and an exclusion policy toward new drugs.

The AMA submitted comments on the proposal, expressing concern that some elements of the proposal may decrease access to affordable coverage and jeopardize the health and welfare of low-income patients.
CDC data show growing threat of fentanyl in driving nation's opioid epidemic
The Centers for Disease Control and Prevention (CDC) last week released a new report that found illicitly manufactured fentanyl is a key factor driving opioid overdose deaths. Key findings in the report, "Deaths Involving Fentanyl, Fentanyl Analogs, and U-47700—10 States, July–December 2016," included:
At least half of opioid overdose deaths in six of the seven participating states east of the Mississippi tested positive for fentanyl.
More than half the overdose deaths involving fentanyl and fentanyl analogs tested positive for confirmed or suspected heroin, cocaine or methamphetamine.
Nearly half of overdose deaths involving fentanyl and fentanyl analogs, however, did not test positive for other illicit opioids, suggesting that fentanyl and fentanyl analogs might be emerging as unique illicit products.
This new CDC data come on the heels of provisional drug-overdose death counts released from the CDC showing that fentanyl-related overdose has become the leading cause of opioid-related mortality, with deaths nearly doubling to more than 21,000 from March 2016 to March 2017.
Two new pain courses from American Academy of Pediatrics
The American Academy of Pediatrics released two new continuing medical education (CME) courses to help physicians better understand and treat acute and chronic pain management and appropriate use of opioids. The first course provides information about the types of chronic pain and approaches to treat chronic pain in pediatrics as well as Centers for Disease Control and Prevention (CDC) recommendations for opioid therapy in the chronic pain population.

The AAP also released, "Acute Pain Management: Changes and Challenges," which has among its goals to increase the number of pediatricians who understand how to assess and treat pain as well as how to identify patients at risk for misusing and abusing opioid medications. The course presents case studies to provide the opportunity to apply the pain screening and management techniques to patient and family case situations.

Additional resources from the AAP can be found on the AMA opioid microsite.
Back to Top
Judicial Update
"Arbitrary" action has doctor on hook for $205,000 in bonus pay
Although a Hawaii obstetrician-gynecologist in a medically underserved area spent more than 60 percent of his time providing patients with primary care services, state officials say he cannot collect higher Medicaid payments allowed under a 2010 federal law designed to encourage physicians to provide this care.

On top of that, the state told the Hilo physician, Frederick Nitta, MD, that he must pay back the $205,000 he has already been paid for care he provided Medicaid patients and billed for at the higher rate.

If Hawaii courts allow the state's "arbitrary and capricious" interpretation of the law's provision to remain intact, physicians will be forced to deny vital medical services or risk closing their practices, the Hawaii Medical Assn. and the Litigation Center of the American Medical Association and State Medical Societies said in a friend-of-the-court brief they filed in a lawsuit challenging the state's interpretation of the law.

"This does not bode well for Hawaii's people and their ability to access vital medical services, especially in light of the shortage of primary care physicians in Hawaii," the HMA and Litigation Center told the court in its amicus. Hawaii—with an aging physician population and high cost of living—was already short 900 physicians in 2016. That number has been rising, up 43 percent from 2012 when the state was short 622 doctors, the brief says.

Read more at AMA Wire.
Court ruling on expert testimony could open door to junk science
The New Jersey Supreme Court is expected to issue a ruling soon that may affect more than 2,000 cases before the state's courts. The court's decision could have an even more far-reaching impact and might eventually undermine medical research, patient-physician decision making and informed consent.

The issue is whether scientific testimony expressing refuted theories that have not been subjected to peer review and do not follow the traditional hierarchy of scientific evidence should be admissible in litigation involving plaintiffs who claim their inflammatory bowel disease (IBD) was caused by the drug isotretinoin, marketed as Accutane by Hoffmann-La Roche, formerly headquartered in Nutley, N.J.

The first lawsuit on this matter was filed in July 2003. A hearing on whether the plaintiffs' witnesses would be allowed to testify was held in February 2015, after which trial Judge Nelson C. Johnson barred their testimony. In May 2015, Johnson dismissed 2,076 related cases based on his ruling about the evidence.

This past July, a three-judge panel of the state appellate court reversed both the ruling barring the testimony and the dismissal of the cases. Hoffman-La Roche has requested the state Supreme Court to review this ruling.

The Litigation Center of the American Medical Association and State Medical Societies filed an amicus brief in support of Hoffmann-La Roche. The Medical Society of New Jersey, the American Academy of Dermatology and other medical organizations joined in the friend-of-the-court filing.

Read more at AMA Wire.
Back to Top
Other News
Physician data offer new insights into ACA's coverage impact
New physician-reported data are revealing how the Affordable Care Act (ACA) has affected doctors' practices in terms of patient mix by insurance status. More of their patients are covered and fewer lack insurance, with the improvement on this critical score seen most in the states that expanded Medicaid under the ACA.

The one-of-a-kind survey looks beyond the already well-established decline in the number of uninsured—down to 27 million from 45 million prior to the ACA's implementation—by reporting how the change has actually played out in physician experience at a wide range of medical practices. The analysis, taken from results of the AMA's Physician Practice Benchmark Surveys, provides the most up-to-date breakdown of coverage type—Medicare, Medicaid, commercial plans, uninsured and a smattering of "other" payers—seen at physician practices. It also gives a comparative view of before and after the 2014 implementation of key ACA provisions.

"The results regarding changes in patient mix between 2012 and 2016 are consistent with changes in the insurance coverage of the population. As a percentage of their patients, physicians saw more Medicaid and privately insured patients in 2016 than they did in 2012, and the average uninsured patient share declined," according to the survey report. "However, the changes for Medicaid and uninsured patients were only statistically significant in states that chose to expand their Medicaid programs under the ACA."

Read more at AMA Wire.
CMS extends preview period for Physician Compare
On Oct. 18, CMS opened the 30-day preview period for the 2016 performance information targeted to be publicly reported on Physician Compare starting in December 2017. The preview was scheduled to end Nov. 17,  8 p.m. EST. Due to a technical issue preventing the data from properly displaying in the preview portal, known as the Provider Quality Information Portal (PQIP), all data were not viewable for the first week of preview. This display issuehas now been resolved. Because of this technical issue, CMS is now extending the preview through Dec. 1, 8 p.m. EST to provide more time for clinicians and groups to preview their performance data.

Additionally, the Physician Compare team is conducting outreach to all clinicians and groups that have already accessed PQIP to preview their data to share the information above. For more information about preview and the measures available for preview, visit the Physician Compare Initiative page.

For assistance with accessing PQIP, or obtaining your EIDM user role, contact the QualityNet Help Desk at (866) 288-8912 or qnetsupport@hcqis.org. If you have any questions about Physician Compare, public reporting, or the preview period, email PhysicianCompare@Westat.com.
Campaign school attendees go to the mat for their candidates in simulated campaign
A tight race in a swing district was once again the backdrop for the annual AMPAC Campaign School Oct. 26–29 in Washington. Twenty-one participants from 17 states worked on the simulated congressional campaigns of either a Democrat or Republican. The participants included 14 physicians, three medical students, two state medical society staffers and one spouse.

Recognized as one of the top programs in the country, the campaign school is AMPAC's annual program for AMA member physicians, residents, students, spouses and state medical society staff who want to improve their political campaign skills. The core curriculum is centered on building skills in campaign strategy and message.

Participants were broken into campaign staff teams and applied what they learned in real-life exercises in strategy, vote targeting, social media, paid advertising and public speaking. Insider tactics were taught by experts from both sides of the political spectrum. These professionals are the experts advising campaigns at every level around the country. Information on the 2018 AMPAC Campaign School and Candidate Workshop will be coming soon.
Nov. 3 deadline for 2018 Nathan Davis Award nominations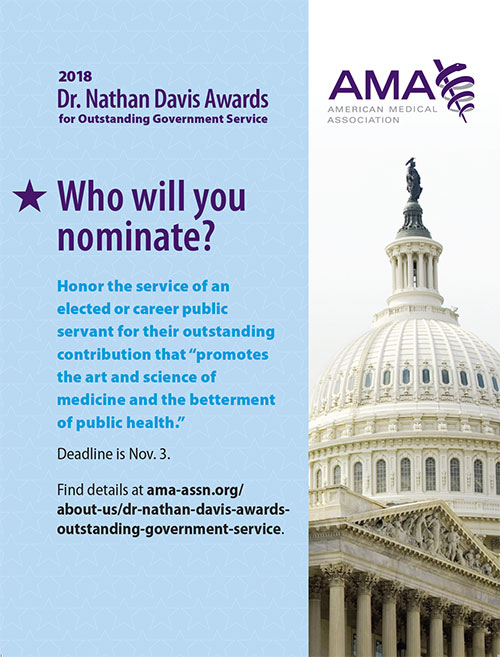 Concrete advice to help restore joy to medical practice
The newly released STEPS Forward™ practice-improvement module, "Creating the Organizational Foundation for Joy in Medicine™," offers leaders guidance for driving sustainable change. That means following the best practices needed to develop the infrastructure to support a culture of wellness, improve practice efficiencies and encourage personal resiliency.
Topic hubs on physician payment, advocacy debut
In its latest effort to give physicians convenient access to the wealth of essential tools, resources and content the AMA offers, two new topic hubs were launched this week on the Association's website. Each month will carry a different focus. "Navigating the Payment Process" this month offers practical advice for physicians and practices seeking to earn bonuses or avoid penalties under the Medicare Quality Payment Program. November's focus for the "Advocating for Patients and Physicians" topic hub furthers the AMA's advocacy work to help end the opioid epidemic.
Back to Top
Upcoming Events
Nov. 6–13:
Racial and ethnic disparities in access and care negatively affect health outcomes and result in significant financial consequences for both patients and the health care system. Join this AMA International Medical Graduates Community discussion, "Strategies to Increase Health Equity," to learn how you play a role in addressing inequitable treatment, improving access to clinical services and treatments. Participants and panelists will share ways to implement strategies at an institutional, clinical and individual level to achieve health equity.

Nov. 15:
A one-hour webinar, "Diabetes care begins with diabetes prevention," held from 1–2 p.m. EST, will review the evidence base for clinical approaches to diabetes prevention, and describe how physicians and care teams can implement a diabetes prevention initiative within their practice. Kate Kirley, MD, AMA Director of Chronic Disease Prevention, and Janet Williams, AMA Senior Program Manager, will be presenters. Register.

Nov. 15–22:
Join your peers and AMA staff during National Diabetes Awareness Month for a timely discussion about diabetes care and prevention. Several evidence-based interventions that help prevent diabetes, including the National Diabetes Prevention Program. The AMA, in partnership with the CDC and others, has developed tools and processes to assist today's busy practices with patient identification and referral to a lifestyle change program. Join the discussion at the AMA Running Your Practice Community to learn about these resources and share experiences about what you are doing to help manage and prevent diabetes.

Nov. 29:
Without an understanding of what is really driving poor quality or performance, it is difficult to improve. Root-cause analysis is a critical tool in the quality improvement tool box that allows professionals to understand what's at the heart of the problem, and then develop improvement ideas that can make a difference. How can you improve if you do not understand the challenge and the contributing factors?

In this one-hour webinar, "Quality Improvement Webinar—Root-cause analysis: Digging deep to improve," held from 1–2 p.m. EST, PCPI Director of Quality Improvement Stephen L. Davidow, MBA-HCM, CPHQ, APR, will cover three common forms of root-cause analysis, discuss the advantages of applying these methods to different circumstances and environments, and how root-cause analysis is used as the basis for creating and implementing ideas that lead to robust improvement. Register.

Jan. 4–6, 2018:
Registration is open for the AMA State Legislative Strategy Conference, which takes place at the Sanibel Harbour Marriott Resort and Spa near Fort Myers Beach in Florida. This year the AMA is offering a 20 percent discount if you register now for both the 2018 State Legislative Strategy Conference and the National Advocacy Conference. Register for both conferences and receive your discount.

Feb. 12–14, 2018:
Registration is open for the AMA National Advocacy Conference will be held in Washington, D.C. at the Grand Hyatt Washington. This year the AMA is offering a 20 percent discount if you register now for both the 2018 State Legislative Strategy Conference and the National Advocacy Conference. Register for both conferences and receive your discount.
Back to Top