Oct. 19, 2017
Issue Spotlight
Patients pay price for ending cost-sharing reduction payments
Federal cost-sharing reductions (CSR) payments, which helped lower health insurance deductibles and co-payments for millions of low-income Americans obtaining coverage in the Affordable Care Act (ACA) marketplace, will be discontinued this month, the Department of Health and Human Services (HHS) announced Oct. 12.

The move followed the White House's statement that referred to CSRs as "unlawful payments" and a "bailout of insurance companies" that were being funded without a Congressional appropriation.
AMA President David O. Barbe, MD, MHA, said the AMA "is deeply discouraged" by the president's decision because it "creates more uncertainty" in the individual insurance marketplace and threatens "access to meaningful health insurance coverage for millions of Americans" just as an abbreviated open-enrollment period is about to begin.

"Republicans and Democrats alike have expressed concern about the affordability of health care coverage under the Affordable Care Act, and bipartisan efforts have been underway in Congress to provide the specific authorization and funding for CSR payments to address the legal issues involved," Dr. Barbe (@DBarbe_MD) said. "Our patients will ultimately pay the price. We urge Congress to accelerate its efforts to reinstate these payments before further damage is done."

It is estimated that at least 6 million people had their costs of care lowered by a CSR, at an annual cost to the federal government of around $7 billion.

The AMA joined a coalition of organizations representing family physicians, hospitals, health insurers and employers in urging Congressional leaders to "take action now to fund" CSR benefits. The joint letter notes the Congressional Budget Office's determination that ending the funding that supports CSR benefits will:
Drive up premiums, increasing average premiums for benchmark silver plans—the most popular plans on the exchanges—by 20 percent in 2018, and by 25 percent in 2020.
Deny choices for consumers and greatly increase the risk that some places will have no coverage options at all.
Increase the federal budget deficit by $194 billion over the next 10 years.
Bipartisan efforts in the Senate, led by Health, Education, Labor and Pensions Committee Chair Lamar Alexander, R-Tenn., and Ranking Member Patty Murray, D-Wash., have produced an agreement to restore the CSRs. The legislative pathway for Congressional approval, however, remains uncertain.

Read more at AMA Wire®.
Back to Top
National Update
Congress continues CHIP negotiations
Discussions are continuing in Congress over how to pay for the reauthorization of the Children's Health Insurance Program (CHIP) and other expired health care programs. On Oct. 4, the House Committee on Energy and Commerce reported two bills, the Helping Ensure Access for Little Ones, Toddlers, and Hopeful Youth by Keeping Insurance Delivery Stable (HEALTHY KIDS) Act (H.R. 3921) and the Community Health And Medical Professionals Improve Our Nation (CHAMPION) Act (H.R. 3922). Taken together, the bills would reauthorize CHIP for five years and extend for two years funding for community health centers, the National Health Service Corps, Teaching Health Center Graduate Medical Education and other programs.

While all these programs enjoy broad, bipartisan support, there remain disagreements over how the cost will be offset. The CHIP bill, H.R. 3921, included provisions related to Medicaid third-party liability, the treatment of Medicaid beneficiaries whose income is affected by lottery winnings, and further income relating of Medicare Part B and D premiums.

H.R. 3922 includes provisions to effectively shorten the grace period for non-payment of premiums under the ACA from 90 days to 30 days, unless a state chooses a different period, and to eliminate $6.35 billion from the ACA's Prevention and Public Health Fund over 10 years.

Continued disagreement over how to finance the bills add uncertainty to the timing of a House floor vote, although the consensus view is that CHIP will be reauthorized before the end of the year. In the meantime, the administration has made special funding available to some states that are facing an immediate funding shortfall.
Executive order issued on association health plans, other issues
On Oct. 11, President Donald Trump signed an executive order that directs three departments to take the following actions:
The Department of Labor is to consider expanding access to association health plans (AHPs) to allow employers to join with similar businesses anywhere in the nation to jointly offer group health care coverage to their employees.
The Departments of Treasury, Labor, and Health and Human Services were asked to consider proposing regulations that would expand access to short-term limited duration insurance plans. These tend to be minimal benefit plans that do not meet ACA standards but may be purchased by individuals seeking short-term protection.
The Departments of Treasury, Labor, and Health and Human Services will consider allowing funds in employer-sponsored health reimbursement arrangement accounts to support consumer-driven health care plans.
Until regulations are drafted and issued, the potential benefits and shortcomings of these proposals cannot be predicted. In particular, the potential for self-funded AHPs to evade state regulations through the Employee Retirement Income Security Act of 1974 (ERISA) is of serious concern. When the proposed regulations are issued in compliance with the executive order, the AMA will review them and submit comments.
AMA seeks meeting with attorney general on opioid epidemic
In response to comments he recently made in West Virginia and Pennsylvania, the AMA has written to U.S. Attorney General Jeff Sessions seeking a meeting to discuss physicians' efforts to end the epidemic of opioid overdose deaths. The letter underscores the AMA's support for efforts to identify and prosecute those who engage in criminal activity, but expresses concern about reports of physicians who are no longer willing to treat patients with chronic pain due to fear of prosecution.

The letter also notes the significant reductions in prescriptions for opioid analgesics that have occurred in every state, along with sizable increases in use of state prescription drug-monitoring programs. The letter asks to discuss how the AMA can work with the Justice Department and others to improve access to non-opioid pain relief as well as treatment for substance-use disorders.
Telehealth rule exempts VA-employed providers from multistate licensure requirements
On Sept. 29, the Department of Veterans Affairs (VA) issued a proposed rule that gives employed providers more flexibility to deliver telemedicine. VA-employed physicians are only required to have a single valid license in order to practice anywhere in the United States, as long they are as on federal property. The proposed rule would expand the one-licensure requirement to telehealth by exempting VA-employed physicians from multistate licensure requirements.

Importantly, the proposed rule explicitly states that the multistate licensure exception applies only to VA-employed providers and would not be expanded to contracted physicians or providers who are not directly controlled and supervised by the VA and would not necessarily have the same training, staff support, shared access to a beneficiary's electronic health record and infrastructure capabilities. The AMA issued a statement supporting the VA's proposal. Comments are due at the end of the 30-day comment period, Nov. 1.
The virtual group election period is now open for MIPS in 2018
As advocated by the AMA, the Centers for Medicare & Medicaid Services (CMS) announced in the 2018 Quality Payment Program (QPP) proposed rule that solo practitioners and groups can choose to participate in the Merit-based Incentive Payment System (MIPS) as a virtual group for the 2018 performance period. The intent of virtual groups is to allow small groups to come together and pool their resources for greater success under MIPS. To form a virtual group, solo practitioners and groups would need to engage in an election process. For the 2018 performance year, the election period runs to Dec. 1, 2017.

CMS has proposed that a virtual group must be a combination of two or more Taxpayer Identification Numbers (TINs) made up of:
A solo practitioner who is eligible to participate in MIPS and bills under a TIN with no other National Provider Identifiers (NPIs) billing under the TIN, OR
A group with 10 or fewer eligible clinicians (at least one of whom must be eligible for MIPS) that joins with at least one other solo practitioner or group for a performance period of a year.
To form a virtual group, CMS has proposed a two-stage virtual group election process:
Stage 1 (optional): Solo practitioners and groups with 10 or fewer eligible clinicians may contact their designated Technical Assistance representative or the QPP Service Center to determine if they are eligible to join or form a virtual group.
Stage 2: For groups that choose not to participate in Stage 1 of the election process, CMS will determine if they are eligible in Stage 2. During Stage 2, the virtual group must name an official representative who will submit their election to CMS via email to MIPS_VirtualGroups@cms.hhs.gov by Dec. 1, 2017.
The election would include:
A written formal agreement between each of the virtual group members; and
Information about the TIN and NPI associated with the virtual group representative's contact information.
For more information about joining or forming virtual groups, see the Virtual Groups Toolkit. For questions on the virtual group election process contact the CMS Quality Payment Program at QPP@cms.hhs.gov or (866) 288-8292 (TTY: 877-715-6222).
Hardship exception applications available for the QPP's ACI category
Physicians may submit a QPP Hardship Exception Application for the advancing care information (ACI) performance category to CMS for one of the following specified reasons:
Insufficient internet connectivity.
Extreme and uncontrollable circumstances.
Lack of control over the availability of certified EHR technology (CEHRT).
The hardship exception for "extreme and uncontrollable circumstances" includes difficulties with an electronic health records (EHR) vendor and, of note to physicians who have been affected by hurricanes, an exception for physicians who have experienced a natural disaster in which their CEHRT was damaged or destroyed. The hardship does not include an exception for physicians who do not have CEHRT. Physicians are able to apply for hardships at least through the end of 2017. CMS has more information.

CMS' approval of a hardship exception application results in the 25 percent weighting of ACI to the quality performance category. However, physicians do not need to report on ACI in 2017; the MIPS "Pick Your Pace" test option allows physicians to report on one quality measure for one patient to avoid a penalty.
AMA outlines next steps for health reform
Earlier this year, the AMA put forward its vision for health system reform consisting of a number of key objectives reflecting AMA policy. Building off the objectives contained in AMA's vision for health reform, the AMA has developed a policy document containing recommendations that outline next steps for health reform.

Congress, the administration and the states can use these policy recommendations to achieve AMA's longstanding coverage objectives, including: taking steps in covering all Americans; maintaining key insurance market reforms; stabilizing and strengthening the individual market; improving health insurance affordability; and protecting Medicaid and CHIP. The AMA also believes that next steps for health reform should: reduce regulatory burdens; provide greater cost transparency; incorporate common-sense medical liability reforms; and continue advancement of delivery reforms and new physician-led payment reform models.
Back to Top
State Update
California enacts "partial fill" legislation
California Gov. Jerry Brown has signed AB 1048 into law with the strong support of the California Medical Association and the AMA. The bill was based on AMA model legislation and sponsored by emergency physician and Assemblyman Juaquin Arambula, MD.

Provisions which become effective July 1, 2018, authorize a pharmacist to dispense a Schedule II controlled substance as a partial fill if requested by the patient or the prescriber. The bill would require the pharmacy to retain the original prescription, with a notation of how much of the prescription has been filled, the date and amount of each partial fill, and the initials of the pharmacist dispensing each partial fill, until the prescription has been fully dispensed.

The bill authorizes a pharmacist to charge a professional dispensing fee to cover the actual supply and labor costs associated with dispensing each partial fill associated with the original prescription. A separate provision that goes into effect Jan. 1, 2019, requires health insurers to prorate a patient's cost sharing for a partial fill.
Back to Top
Other News
AMA leads new initiative to unleash a new era of better, more effective patient care
Health data available to physicians and health systems is too often not enough to provide a complete picture of each patient. The AMA is leading a collaborative effort across health and technology stakeholders to address this challenge.

"We spend more than $3 trillion a year on health care in America and generate more health data than ever before. Yet some of the most meaningful data—data to unlock potential improvements in patient outcomes—is fragmented, inaccessible or incomplete," said AMA Executive Vice President and CEO James L. Madara, MD, in a statement.

The AMA's Integrated Health Model Initiative (IHMI) aims to support a continuous learning environment to enable interoperable technology solutions and care models that evolve with real-world use and feedback. IHMI uses the best available science to incorporate essential data elements around function, state and patient goals. It features a digital platform for:
Collaborative communities around costly and burdensome areas.
A physician-led validation process to review clinical applicability.
A data model for semantic interoperability.
Participation in IHMI is open to all health care and technology stakeholders with early collaborators including IBM, Cerner, Intermountain Healthcare, American Heart Association, the American Medical Informatics Association and more.

Be part of health care transformation. Join the IHMI initiative today.

Read an article in Forbes on the AMA IHMI initiative, and read more at AMA Wire.
New QPP resources
AMA recently released two QPP resources to help physicians navigate the 2017 performance year for the QPP. The Data Mapping FAQ provides guidance and recommendations for data strategies for physicians and practice managers. The Hospital-Employed FAQ provides strategic guidance to hospital-employed physicians about QPP.
Now accepting nominations for the 2018 Nathan Davis Awards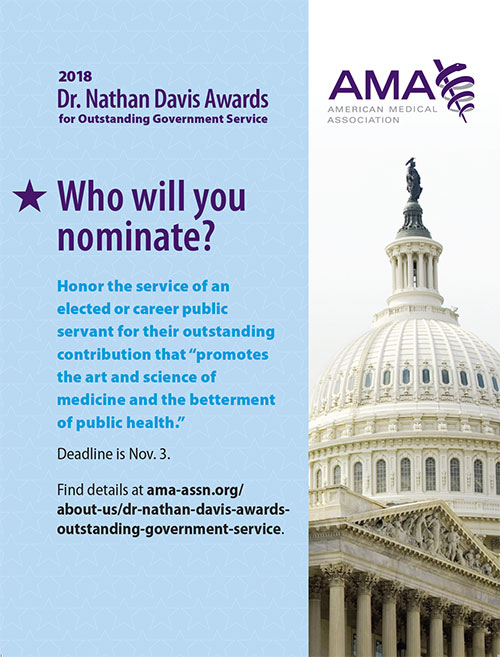 Back to Top
Upcoming Events
Through Oct. 23:
Join the National Advocacy Week discussion forum in the AMA Medical Student Community through Oct. 23. This year's National Advocacy Week will focus on reversing the opioid epidemic. Ask questions about how to get involved, where to start, and how you can help make a difference in the opioid crisis. Test your messaging, gain access to resources and receive daily posts and actions.

Through Oct. 27:
Join your peers, AMA staff and other experts in a timely discussion on how to create the organizational foundation for achieving joy in medicine in your practice, which includes high levels of work-life satisfaction, low levels of burnout and feeling professionally fulfilled.

About 80 percent of professional burnout is attributable to organizational factors such as high workloads, workflow inefficiencies, EHR implementation hurdles and lack of work-life balance. It is critical for health care system leaders to focus on improving the satisfaction of patients, as well as actively engage with their physicians and other care team members to create a positive clinician experience.

System leaders should take strides toward building a healthy system that supports a culture of wellness, improved practice efficiency and the physical and psychosocial health of the workforce. Join the discussion now, with thought leaders from the AMA and elsewhere, on how to create an organizational foundation for joy in medicine.

Nov. 15:
84 million American adults have prediabetes but only 10 percent of them know of their condition. This is an opportunity for health systems to initiate clinical practice change and prevent diabetes in their populations.

This webinar, "Diabetes care begins with diabetes prevention," held from 1–2 p.m. EST, will review the evidence base for clinical approaches to diabetes prevention, and describe how physicians and care teams can implement a diabetes prevention initiative within their practice. Kate Kirley, MD, AMA Director of Chronic Disease Prevention, and Janet Williams, AMA Senior Program Manager, will be presenters. Register.

Nov. 29:
Without an understanding of what is really driving poor quality or performance, it is difficult to improve. Root-cause analysis is a critical tool in the quality improvement tool box that allows professionals to understand what's at the heart of the problem, and then develop improvement ideas that can make a difference. How can you improve if you do not understand the challenge and the contributing factors?

In this one-hour webinar, "Quality Improvement Webinar—Root-cause analysis: Digging deep to improve," held from 1–2 p.m. EST, PCPI Director of Quality Improvement Stephen L. Davidow, MBA-HCM, CPHQ, APR, will cover three common forms of root-cause analysis, discuss the advantages of applying these methods to different circumstances and environments, and how root-cause analysis is used as the basis for creating and implementing ideas that lead to robust improvement. Register.

Jan. 4–6, 2018:
The AMA State Legislative Strategy Conference takes place at the Sanibel Harbour Marriott Resort and Spa near Fort Myers Beach in Florida. Email events@ama-assn.org for details.

Feb. 12–14, 2018:
The AMA National Advocacy Conference will be held in Washington, D.C. at the Grand Hyatt Washington. Email events@ama-assn.org for details.
Back to Top