Oct. 5, 2017
Issue Spotlight
Physicians protected from health plan credit card fees
The Centers for Medicare and Medicaid Services (CMS) has weighed in with definitive guidance saying that health plans cannot require physician practices or other health care organizations to accept payments made using so-called virtual credit cards that are often accompanied by exorbitant service fees.

In this and other respects, persistence has paid off on AMA advocacy to clarify the Health Insurance Portability and Accountability Act (HIPAA) standard payer-to-provider payment method for electronic funds transfer (EFT).

Ever since the Automated Clearing House (ACH) EFT standard went in effect in 2014, the AMA has advocated that CMS issue guidance spelling out physician rights regarding insurance company electronic payments. The effort proved to be successful as CMS recently posted the requested clarification of its EFT operating rules and standards on its HIPAA Administrative Simplification frequently asked questions webpage.

Section 1104 of the Affordable Care Act expanded efforts to standardize health care business practices, EFTs and electronic remittance advice (ERA). The CMS ERA and EFT rule was published in 2012 and took effect in 2014. The standards apply to all insurers, not just Medicare and Medicaid.

But not all private insurers followed the letter or spirit of the regulations. Some insisted on making payments with so-called virtual credit cards (VCCs), a 16-digit number emailed, faxed or mailed to a provider in order to make a one-time payment.

For the past three years, the AMA has been alerting physicians to their rights to refuse payments via VCCs and advocating against the coercive tactics used by payers and their vendors to force physicians' acceptance of VCC payments.

Read more at AMA Wire®.
Back to Top
National Update
CMS releases PQRS and VM reports
Physicians who want to contest potential payment penalties associated with the 2018 Physician Quality Reporting System (PQRS) and/or the Value Modifier (VM) have until Dec. 1, 2017, to request an informal review of their data. The penalties in question stem from policies in effect prior to enactment of the Medicare Access and CHIP Reauthorization Act (MACRA). However, CMS has proposed some revisions intended to lessen the impact of prior policies and has based its calculation of related payment adjustments on these more lenient proposals.

Revisions in the prior VM and PQRS policies were laid out in the 2018 Medicare Physician Fee Schedule proposed rule issued last summer, and came about as the result of advocacy from the AMA and other medical organizations. They will reduce the number of PQRS and VM penalties as well as the severity of VM penalties that would otherwise have occurred in 2018 based on performance in 2016.

If the proposals are finalized, a 2 percent PQRS penalty and a VM penalty could be avoided by having reported six measures in 2016, rather than complying with the previous reporting requirements of nine measures that crossed at least three domains and included one cross-cutting measure. The proposal would also halve VM penalties and bonuses, with penalties falling from a maximum of 4 percent to 2 percent for groups of 10 or more and from a maximum of 2 percent to 1 percent for smaller practices. In the unexpected event that these more lenient policies are overturned in the final Fee Schedule rule, penalties will be recalculated based on the prior policies.

Physicians can determine whether they will be subject to PQRS and/or VM adjustments on their 2018 Medicare fee-for-service claims by examining their 2016 PQRS feedback reports for PQRS adjustments and their 2016 Quality and Resource Use Reports (QRURs) for VM adjustments. They will also receive letters stating whether they will or will not receive a 2 percent PQRS penalty in 2018. CMS has no plans to send a separate letter about the VM. Therefore, the AMA highly encourages practices to download and review their QRURs and PQRS feedback reports to determine whether they are subject to potential PQRS and/or VM payment adjustments and ensure that such adjustments are based on the reduced requirements and penalties before filing for an Informal Review with CMS.

Those who have questions, even if they are uncertain about penalty status, are urged to submit a request for an informal review. CMS has said that it cannot guarantee that filing for an informal review in either PQRS or VM will automatically trigger an informal review in the other. Therefore, the safest course is to file requests for review of both PQRS and VM data.

Filing an informal review and/or accessing PQRS reports and QRURs requires an Enterprise Identify Management Account (EIDM) with the appropriate role. Consequently, it will also be necessary to determine whether someone within the practice has such an account and to set one up if it does not already exist.

CMS offers information on how to obtain a QRUR and request a PQRS Informal Review.

If you have not already done so, 2016 PQRS feedback reports can be accessed on the CMS Enterprise Portal using an Enterprise Identity Management (EIDM) account. See PQRS Analysis and Payment webpage for more information.

For additional questions regarding the informal review process, contact the QualityNet Help Desk at 866-288-8912 (TTY 877-715-6222) or Qnetsupport@hcqis.org. The help desk takes calls Monday–Friday, 7 a.m.–7 p.m. CDT. To avoid security violations, do not include personal identifying information, such as Social Security Number or TIN, in email inquiries to the QualityNet Help Desk.

For information on how to file a VM Informal Review, see the 2018 Value Modifier Informal Review Request Quick Reference Guide.

To review your QRUR, see the 2016 QRUR and 2018 Value Modifier webpage. CMS is also hosting a call to discuss these reports Oct. 19, 1:30 p.m. EDT. Register.

For additional questions regarding EIDM, contact the QualityNet Help Desk at qnetsupport@hcqis.org or 866-288-8912 (TTY 877-715- 6222); For QRURs or the Value Modifier, contact the Physician Value Help Desk at pvhelpdesk@cms.hhs.gov or 888-734-6433 (select option 3).
AMA supports the DREAM Act
The AMA sent a letter on Sept. 25 to Sens. Lindsey Graham (R-N.C.) and Richard Durbin (D-Ill.) in support of their legislation, the "Development, Relief, and Education for Alien Minors (DREAM) Act of 2017" (S. 1615). This bill would provide an opportunity to earn lawful, permanent residence status for undocumented children and young adults who have been protected under the Deferred Action for Childhood Arrivals (DACA).

More specifically, the legislation would establish an eight-year conditional permanent residency status that can later be converted into a permanent residency status for individuals who meet educational requirements and prove that they have not committed a serious crime or pose a threat to national security and public safety. The DREAM Act has bipartisan support and has been referred to the Senate Judiciary Committee.

Read more at AMA Wire.
AMA urges president to make emergency declaration for nation's opioid epidemic
The AMA recently urged President Donald Trump to take three steps as part of an emergency declaration to reverse the nation's opioid epidemic. First, the AMA urged the president to waive Medicaid's 16-bed federal limit to treat patients with a substance use disorder. The AMA strongly supports the president's commission recommendation to "rapidly increase treatment capacity" and to "grant waiver approvals for all 50 states to quickly eliminate barriers to treatment resulting from the federal Institutes for Mental Diseases (IMD) exclusion within the Medicaid program."

Second, the AMA encouraged the president to suspend federal regulatory and other barriers to providing buprenorphine. The AMA supports eliminating the requirement for obtaining a special federal waiver to prescribe buprenorphine for the treatment of opioid use disorder. Even though the regulatory approach has eased somewhat over the past year, there still are considerable barriers in place. Removing the federal waiver requirement will give many more patients new access to treatment from physicians and other qualified health care professionals.

Third, the AMA urged that the president direct Attorney General Jeff Sessions to enforce existing substance use disorder parity laws. The AMA strongly agreed with the president's commission recommendation to "enforce the Mental Health Parity and Addiction Equity Act." This can be done at both the state and federal levels, but America's patients need additional help to encourage health insurance companies and pharmacy benefit managers to end the type of prior authorization, step therapy, and fail-first protocols that  serve as barriers to medication-assisted treatment and multimodal pain care.
Congress begins work on CHIP reauthorization and health care extenders
On Oct. 4, the Senate Finance Committee and the House Energy and Commerce Committees marked up their respective versions of legislation to reauthorize the Children's Health Insurance Program (CHIP). The Finance Committee passed a reauthorization bill, the "Keeping Kids' Insurance Dependable and Secure (KIDS) Act" (S. 1827), which was introduced by Committee Chairman Orrin Hatch, R-Utah, and Ranking Member Ron Wyden, D-Ore.

This bill would reauthorize CHIP for five years through fiscal year 2022 and return CHIP funding to traditional matching levels in 2021. The Energy and Commerce draft legislation, the "Helping Ensure Access for Little Ones, Toddlers, and Hopeful Youth by Keeping Insurance Delivery Stable (HEALTHY KIDS) Act of 2017" phases out the higher ACA match rate over the same time period as the Senate bill.

The Energy and Commerce Committee also considered legislation on Oct. 4 (commonly known as "Health Care Extenders") that would extend funding for community health centers, the Special Diabetes Programs, the National Health Service Corps, and Teaching Health Center Graduate Medical Education. It is expected that the House and Senate will act to extend authorization and funding for these and other health care programs before the end of the year.

Separately, the House and Senate approved short-term reauthorization legislation for the Federal Aviation Administration (FAA) (H.R. 3823) last week that included a three-month extension of funding for the Teaching Health Center Graduate Medical Education Program, which would receive $15 million over the next three months, and for the Special Diabetes Program for Indians, which would receive $37.5 million over that period.
Senate shelves Graham-Cassidy measure; bipartisan discussions on market stability go on
Last week, Senate Republican leadership elected to not vote on the Graham-Cassidy health reform legislation, which would have repealed portions of the Affordable Care Act (ACA) and replaced it with a system of state-based grants and significant Medicaid program changes. Three Republican senators publicly opposed the proposal, depriving it of the requisite votes for passage...

Following this decision, Senate Health, Education, Labor and Pensions (HELP) Committee Chairman Lamar Alexander, R-Tenn., and Ranking Member Patty Murray, D-Wash., reignited their bipartisan discussions to stabilize the individual market. Negotiations are centered on continuing the cost-sharing reduction (CSR) payments through 2019, providing additional state flexibility under section 1332 waivers and a possible expansion of "copper plans" for catastrophic coverage. It is possible that a bipartisan agreement will be unveiled this week.
CHRONIC Care Act passes the Senate
On Sept. 26, the "Creating High-Quality Results and Outcomes Necessary to Improve Chronic (CHRONIC) Care Act of 2017 (S. 807)," passed the Senate by voice vote. This AMA-supported legislation sponsored by Senate Finance Committee Chairman Hatch and Ranking Member Wyden would provide a clear pathway in the Medicare program toward new delivery models that are patient-centered and would improve health outcomes and value for patients with chronic conditions. 

The CHRONIC Care Act would remove barriers to care coordination and enhance beneficiary flexibilities to be a part of an accountable care organization (ACO). Specifically, this legislation includes several provisions advocated for by the AMA, such as an extension and expansion of the Independence at Home (IAH) Demonstration Program, telehealth coverage for certain ACOs and Medicare Advantage (MA) plans, and for patients who are suffering from acute stroke. The bill also includes important patient access protections to ensure that telehealth would not be used for network adequacy determinations for MA plans. S. 807 awaits action in the House of Representatives.
Point-of-care tests slated for cuts on Jan. 1
On Sept. 23, CMS released proposed payment rates for clinical laboratory testing services paid on the Clinical Laboratory Fee Schedule (CLFS) for calendar year 2018. The proposed rates, the first released under a new, market-based payment system for clinical laboratory tests, show widespread cuts to reimbursement for clinical testing services, including point-of-care testing performed in physician office-based laboratories. While a significant number of tests paid on the CLFS are slated for cuts, to reduce disruption to the laboratory market these cuts will be capped at 10 percent per year over the next three years.

The AMA has been working closely with a number of physician specialty organizations, laboratory organizations, test manufacturers and other stakeholders to ensure continued access to point-of-care testing services in physician offices. Despite numerous efforts from the AMA, physician specialty and state medical societies to highlight the potential impact on patients if access to point of care testing services is lost due to reductions in reimbursement, CMS appears primed to move ahead with the new reduced rates on Jan. 1, 2018. The AMA will continue to work closely with stakeholders, CMS and Congress to mitigate the potential impacts on physician office-based laboratories. More information on the proposed rates is available on the CMS website. The agency is accepting public comment on the proposed rates until Oct. 23.
Physician organizations urge USP to maintain physician in-office compounding
On Sept. 27, a number of physician specialty organizations joined an AMA-led letter to the United States Pharmacopoeia (USP) urging the organization to preserve the ability of physicians to prepare sterile drug products in their offices for administration to patients. USP is in the process of revising its standards for sterile (Chapter 797) and non-sterile (Chapter 795) compounding. Initial proposed revisions of Chapter 797 would remove previous exemptions for many activities in physician offices and would subject physician practices to the full requirements of Chapter 797 if they engage in any type of mixing, combining, or altering of a sterile drug product in their office.

The AMA is working closely with other physician organizations to ensure that exemptions for low-risk physician activities are maintained. While USP standards are not enforceable on their own, they are widely adopted by state boards of pharmacy and therefore represent the law in many states. USP is expecting to release a second draft revision for public comment sometime in 2018, with the goal of the chapters becoming effective on Dec. 1, 2019. Until revised chapters 797 and 795 are finalized, the 2008 versions remain in effect for those states that have adopted them.

Separately, USP has announced that it will be delaying implementation of Chapter 800, which includes standards for the compounding of hazardous drugs. This chapter potentially affects several specialties, but is particularly of note to those in the oncology community who engage in preparation of chemotherapy products in their practices. USP has stated that the content of the Chapter, which was finalized in 2016, will not change, but that the implementation timeline is being adjusted to fall in line with implementation of revised Chapter 797. Both chapters are slated to take effect Dec. 1, 2019.
Back to Top
State Update
California Gov. Brown urged to sign partial fill legislation
The AMA joined the California Medical Association in urging California Gov. Jerry Brown to sign Assembly Bill 1048. The legislation, based in part on an AMA model bill, can be "an important part of California's efforts to reverse opioid-related harms … [by helping] reduce and remove unused or unwanted opioid analgesics and other Schedule II controlled substances from the supply chain," wrote AMA CEO James L. Madara, MD.

In addition to helping reduce the supply of Schedule II controlled substances that can be misused and diverted, partial fill legislation can help empower physicians and other health professionals to have meaningful discussions with patients about the expected duration of pain, and the risks and benefits of prescription opioids. It also would authorize patients to be able to request a lesser amount of a Schedule II controlled substance, which can help ensure that unwanted medications cannot be diverted.

Contact Daniel Blaney-Koen if your state would like to introduce this legislation. Please contact the CMA's Alecia Sanchez to learn more about AB 1048.
New resources on treating substance-use disorder, using opioids in neurosurgery
Effectively addressing the nation's opioid epidemic "will require strategies guided by science, not ideology," writes Sarah Wakeman, MD, in the September 2017 AMA Journal of Ethics®. In advocating for increased treatment for patients with a substance-use disorder while in prison, Dr. Wakeman's article, "Why It's Inappropriate Not to Treat Incarcerated Patients with Opioid Agonist Therapy," presents the clinical evidence base supporting opioid agonist therapy, as well as the objections and ethical and legal considerations.

A new webinar from the American Association of Neurological Surgeons provides attendees with information to help understand the perioperative management of neuropathic and nociceptive pain in neurosurgical patients, including in patients who are chronic opioid users. Recent opioid legislation and the implications of these new laws on opioid prescribing in neurosurgical practice also was provided in the webinar, "The Use of Opioids in Neurosurgical Practice: How to be Safe, Effective, and Compliant with New Prescribing Laws."

Both resources have been added to the AMA End the Epidemic opioid microsite.
Registration open for webinar on use of opioids in neurosurgical practice
Register for "The Use of Opioids in Neurosurgical Practice: How to be Safe, Effective and Compliant with New Prescribing Laws," a webinar taking place Oct. 23, at 7 p.m. EDT. In this 50-minute webinar, attendees will learn more about the perioperative management of neuropathic and nociceptive pain in neurosurgical patients, including in patients who are chronic opioid users.

Recent opioid legislation and the implications of these new laws on opioid prescribing in neurosurgical practice will also be reviewed. This webinar is hosted by the American Association of Neurological Surgeons and the Congress of Neurological Surgeons, both members of the AMA Opioid Task Force. The registration fee is $69 for AANS/CNS members and $119 for nonmembers. There will be 10 minutes for questions and answers after the session. The webinar is led by Christopher J. Winfree, MD; Steven M. Falowski, MD; Ellen L. Air, MD, PhD; and Jason M. Schwalb, MD.
Back to Top
Judicial Update
Fate of noneconomic damage cap in hands of top state court
The Wisconsin cap on noneconomic damages is one component of a three-part strategy that is credited with stabilizing the state's medical liability environment, but it's been subject to constant attack and revision. The state Supreme Court is weighing whether to accept a case that will likely determine the $750,000 cap's legal fate.

The cap has been nonexistent since a three-judge state appellate court panel ruled July 5 that it was unconstitutional. The Wisconsin Supreme Court is deciding whether it will review the case. If it decides not to, the appellate ruling stands. If a review goes forward, a ruling must be delivered by the end of next June.

Wisconsin's comprehensive medical liability system includes three central elements:
A requirement for most physicians to carry $1 million in liability coverage per occurrence and $3 million in aggregate.
The Wisconsin Injured Patients and Families Compensation Fund, which is financed via assessments (based on actuarial risk) charged to physicians, clinics, hospitals and other participants and covers all damages above the primary insurance limits.
A $750,000 cap on noneconomic damages.
"That cap allows the fund to provide a level of coverage that is unparalleled in any other state," said John Rather, Wisconsin Medical Society (WMS) general counsel. It also allows Wisconsin physicians to pay lower premiums than their peers in neighboring states.

(On top of an assessment fee of between $606 and $1,091 for the patient fund, the Doctors Co. charged Milwaukee County ob-gyns $34,667 for liability premiums in 2016, according to the 2016 Medical Liability Monitor survey. The same carrier charged $127,748 to ob-gyns in Cook County, Illinois, and $91,072 to those in Wayne County, Michigan.)

"The cap is critical to attracting physicians to the state and retaining them," Rather said. "It affects the cost of health care, a physician's willingness to engage in complex care. It affects physician decision-making. And it affects the patient-physician relationship."

Read more at AMA Wire.
Back to Top
Other News
Watch for letter on transition to new Medicare numbers and cards
CMS, through the Medicare Administrative Contractors (MACs), recently mailed letters to all Medicare fee-for-service providers about its work to assign new numbers (known as Medicare Beneficiary Identifiers or MBIs) and issue new Medicare cards to all program enrollees beginning in April 2018.

Carefully review the letter and accompanying fact sheet and find out how to prepare to accept the new number beginning in April 2018, and how to look up your patients' new Medicare number through your MAC's secure web portal. Your letter will contain specific information for your MAC.
Coming soon: Cybersecurity workshops for small and mid-sized practices
Cyber-attacks such as ransomware are increasingly targeting the health care industry. Clinics, physician offices, and other small providers need to establish risk management programs to work toward avoiding a cyber-related breach or an event that would disrupt their practice and expose the confidential information of their patients.

The AMA and HITRUST have partnered to provide small- and mid-sized practices with trusted information and strategies to effectively address these important issues. These new workshops will cover essential cybersecurity topics including:

Performing risk assessments, which are essential to the Health Insurance Portability and Accountability Act (HIPAA) and the Advancing Care Information (ACI) component of MACRA.
Fundamentals of good cyber hygiene.
Implementing cost-effective and manageable cybersecurity solutions within a practice.
Lessons learned and experiences from physician practices.
These workshops will be held across the country in conjunction with the recently announced HITRUST Community Extension Program, with the first event occurring in Dallas on October 9. Find out about upcoming dates and locations. Learn more about cybersecurity and access checklists to help improve your cybersecurity practices on the AMA website.
AMA's STEPS Forward modules listed in ONC's Health IT Playbook
The Office of the National Coordinator for Health Information Technology (ONC) is updating its Health IT Playbook to now include a number of the AMA's STEPS Forward modules. ONC's Playbook is a collection of best practices and lessons learned that can help physicians make more informed choices on the purchase, use and implementation of health IT in their practice. Each Playbook topic area helps describe the "what and why" of using health IT, while the AMA's STEPS Forward modules help answer the "how."

These modules are part of an interactive practice-transformation series offering innovative strategies to help physicians and their staff manage an evolving health care environment. Additionally, using one or more STEPS Forward modules in your practice can provide Improvement Activity (IA) credit under the CMS Quality Payment Program (QPP). Follow these hyperlinks for more information on the newly updated Health IT Playbook and AMA's STEPS Forward modules.
AMA Alternative Payment Model workshop convened in Chicago
On Oct. 4, nearly 200 physicians and others participated in the second AMA APM Workshop. Participants heard from AMA President-elect Barbara McAneny, MD, about her experience with Medicare's Oncology Care Model, as well as Larry Kosinski, MD, the founder of Project Sonar, an APM for managing patients with Crohn's Disease that was the first APM recommended by the federal Physician-focused Payment Model Technical Advisory Committee.

Other participants in panels convened throughout the day included:
Alex Lickerman, MD, of Chicago's ImagineMD, a direct primary care practice.
Jennifer Wiler, MD, a Colorado emergency physician who successfully implemented a "Bridges to Care" model to provide continuity of care for emergency department patients.
Adam Weinstein, MD, an expert in Medicare payment for End Stage Renal Disease patients.
Carol Greenlee, MD, a leader in the development of the "medical neighborhood" model.
Alan Lazaroff, MD, a geriatrician and pioneer in the evolution of accountable care organizations.
Several physician leaders who are working to develop physician-focused APMs for management of rheumatoid arthritis, diabetes and palliative care patients.
Participants and panelists discussed key challenges facing physicians who are involved in existing APMs and identified optimal directions for future work developing APMs.
United Healthcare delays implementation of revision to consultation services payment policy
In its October Network Bulletin, United Healthcare (UHC) announced a delay in implementation of a change to its consultation services payment policy. Previously, UHC indicated that beginning in October 2017, it would no longer issue payments for consultation services reported on claims with CPT codes 99241–99245 and 99251–99255 and would instead pay for these services based on the appropriate evaluation and management procedure code.

UHC's delay follows significant Federation of Medicine concerns regarding the potential impact of this policy change on access to care, as well as the lack of sufficient time for physician education and preparation. The network bulletin does not indicate the length of the delay but states that additional information will be provided in future UHC communications.
Now Accepting Nominations for the 2018 Nathan Davis Awards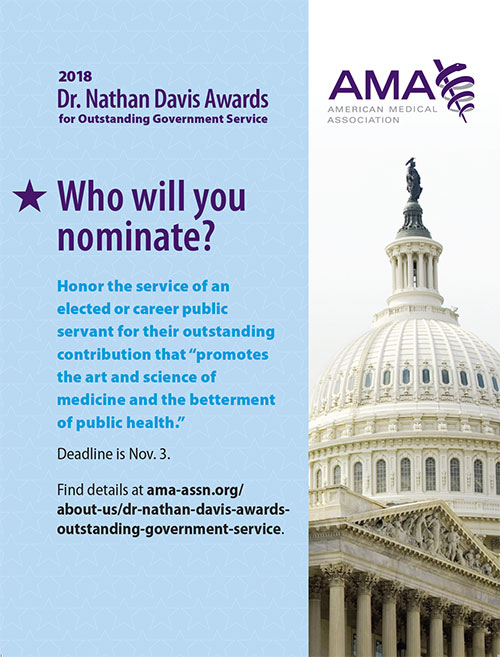 Back to Top
Upcoming Events
Oct. 9–23:
Join the National Advocacy Week discussion forum in the AMA Medical Student Community. This year's National Advocacy Week will focus on reversing the opioid epidemic. Ask questions about how to get involved, where to start, and how you can help make a difference in the opioid crisis. Test your messaging, gain access to resources and receive daily posts and actions.

Oct. 18:
With many feeling overwhelmed by the complexity of the Quality Payment Program (QPP), physicians struggle to answer one key question: "Where do I start?" Register to attend a webinar Oct. 18, 1–2 p.m. EDT to learn how to use the AMA's MIPS Action Plan to create or validate strategies for MIPS implementation in 2017. Chris Botts, AMA Care Delivery and Payment Manager, will be the presenter of the webinar, "Thriving under MIPS—Where to start?"

Nov. 29:
Without an understanding of what is really driving poor quality or performance, it is difficult to improve. Root-cause analysis is a critical tool in the quality improvement tool box that allows professionals to understand what's at the heart of the problem, and then develop improvement ideas that can make a difference. How can you improve if you do not understand the challenge and the contributing factors?

In this one-hour webinar, "Quality Improvement Webinar—Root-cause analysis: Digging deep to improve," held from 1–2 p.m. EDT, PCPI Director of Quality Improvement Stephen L. Davidow, MBA-HCM, CPHQ, APR, will cover three common forms of root-cause analysis, discuss the advantages of applying these methods to different circumstances and environments, and how root-cause analysis is used as the basis for creating and implementing ideas that lead to robust improvement. Register.

Jan. 4–6, 2018:
The AMA State Legislative Strategy Conference takes place at the Sanibel Harbour Marriott Resort and Spa near Fort Myers Beach in Florida. Email events@ama-assn.org for details.

Feb. 12–14, 2018:
The AMA National Advocacy Conference will be held in Washington, D.C. at the Grand Hyatt Washington. Email events@ama-assn.org for details.
Back to Top