Sept. 21, 2017
Issue Spotlight
Dashboard tracks CMS moves toward regulatory relief
The Centers for Medicare and Medicaid Services (CMS) included several ideas for easing physician administrative burdens in its proposals for the second year of the Medicare Quality Payment Program (QPP) and the 2018 Medicare Physician Fee Schedule, but there is still more that can be done to provide meaningful regulatory relief.

The AMA is tracking these measures in a 2017 regulatory relief dashboard. The tool details where the AMA suggestions and CMS proposed rules are in agreement as well as the AMA's "top asks" for regulation flexibility and burden reduction. It also cites the list of 21 prior-authorization and utilization-management reform principles that the AMA and more than 100 other organizations have endorsed.

"We believe reducing the administrative burden for physicians will reduce cost, improve quality, and create a more accessible health care system for patients," wrote AMA CEO and Executive Vice President James L. Madara, MD, in a Sept. 11 letter to CMS Administrator Seema Verma regarding the 2018 Medicare Physician Fee Schedule proposed rule.

"Regulatory wins" stemming from the fee schedule proposed rule listed on the dashboard include the delay in implementing the requirement that physicians consult appropriate use criteria (AUC) before ordering advanced diagnostic images, along with retroactive modification of legacy reporting programs such as Meaningful Use (MU) and the Physician Quality Reporting System (PQRS) to reduce penalties physicians may face in 2018 under the QPP's Merit-based Incentive Payment System (MIPS).

Regulatory wins originating from the QPP proposed rule include proposals to increase the low-volume threshold exempting practices with few Medicare beneficiaries from the MIPS program and postponing a mandate for physicians to upgrade to 2015 edition certified electronic health records (EHRs).

A number of victories were also secured with respect to EHRs. For example, a process is being established for physicians to register complaints with an EHR product directly to the federal government for action, and EHRs must now include enhanced interoperability technology and support for apps.

The dashboard's top asks for QPP regulatory relief include: simplifying MIPS scoring methodology, allowing specialty practices to qualify as APM medical homes and creating new exemptions and safe harbors from anti-kickback statutes to facilitate coordinated care.

Read more at AMA Wire®.
Back to Top
National Update
AMA opposes Graham-Cassidy repeal proposal
The AMA sent a letter to Senate leadership on Sept. 19 expressing opposition to the Graham-Cassidy-Heller-Johnson Amendment to H.R. 1628, better known as the "American Health Care Act of 2017," which passed the House back in early May. The bill runs contrary to health reform principles put forth by the AMA early in the debate, and would result in millions of Americans losing their health insurance coverage, while destabilizing health insurance markets and decreasing access to affordable coverage and care. The AMA remains concerned that this proposal would convert the Medicaid program into a system that limits federal support for needy patients through a predetermined formula based on per-capita caps, and that this block-grant program to states would be inadequately funded.

The Senate Parliamentarian has ruled that the 2017 budget reconciliation instructions expire on Sept. 30, 2017, meaning the Senate must act by that date in order to take advantage of rules that would allow the proposal to pass with only a majority (which could include Vice President Mike Pence's tie-breaking vote). The current Graham-Cassidy effort remains partisan with zero Senate Democrats supporting it, so attaining 50 votes is still in question. The AMA urges Congress to pursue short-term measures that would stabilize the individual health insurance market by funding cost-sharing reduction payments, and to seek longer-term bipartisan solutions that would increase the number of Americans with quality, affordable health insurance.

Visit PatientsBeforePolitics.org to urge your Senators to oppose this bill.

Read more at AMA Wire.
Physician community expresses concern over future of point-of-care testing
New payment policies for clinical laboratory testing services could result in the loss of access to point-of-care testing. That was the message the AMA, along with 13 physician specialty societies and 45 state medical associations, delivered in a Sept. 8 letter to CMS Administrator Seema Verma. A new market-based payment system for clinical laboratory tests paid under the Clinical Laboratory Fee Schedule (CLFS) is slated to go into effect Jan. 1, 2018. The AMA expects significant cuts to reimbursement for point-of-care testing services offered in physician offices under the new system. There is widespread concern across the physician community that reductions in reimbursement will result in a loss of access to these critical testing services.

The physician and laboratory community will get its first look at the potential impact of the new system when CMS releases its proposed CLFS rates for calendar year 2018 sometime in September. More information regarding the new CLFS payment system is available on the CMS website.
Back to Top
State Update
Illinois becomes 9th Compact state to serve as state of principal licensure
Physicians may now select Illinois as a "State of Principal Licensure" as part of the Interstate Medical Licensure Compact. Physicians licensed in Illinois can file a request through the Compact's website to have their education, training and background reviewed by the state of Illinois to determine Compact eligibility. If a physician meets the requirements, a "Letter of Qualification" will be issued. The Letter may then be presented (via the Compact Commission) to other Compact states to request issuance of an "expedited" physician license for the applying physician.

Illinois has been issuing expedited licenses to physicians from other states for several months, but with the passage of recent legislation, physicians already licensed in Illinois will be able to fully take part in the Compact and receive licenses in other Compact states.

Alabama, Arizona, Idaho, Iowa, Kansas, Montana, Nebraska, West Virginia, Wisconsin and Wyoming also qualify as Compact States of Principal Licensure. Remaining Compact states are working to clarify that their respective state medical boards have the authority to conduct criminal background checks.

The AMA strongly supports the Compact and stands ready to assist any state medical association in pursuing Compact-enabling legislation. Contact Kristin Schleiter of the AMA to learn more.
Back to Top
Judicial Update
Lawsuit fights "existential threat" to medical staff independence
While "L.A. Law" and other TV courtroom dramas often focused on the rich and glamorous, a lawsuit originating in a rural dairy community in California's Central Valley has captured the attention of the state's legal and medical professionals and—given the state's outsized influence—the case's impact could be felt far and wide.

"Every once in a while, you get a really important case that's a flashpoint," said Long Do, California Medical Association (CMA) legal counsel and director of litigation. "This case serves as an existential threat to independent hospital medical staffs."

The suits stems from actions taken Jan. 26, 2016, when the Tulare Regional Medical Center (TRMC) board of directors voted to terminate the hospital's medical staff organization and effectively remove the hospital's elected medical staff officers, install a slate of appointed officers, and approve new medical staff bylaws and rules drafted without staff input.

Except for the newly appointed officers, the rest of the staff was then terminated, stripped of their rights as active members and then granted "provisional" status as part of the new medical staff which they had not applied or consented to membership with, according to a post-trial brief filed by the TRMC Medical Staff.

Read more at AMA Wire.
Back to Top
Other News
Alternative payment models for behavioral health
The Centers for Medicare & Medicaid Innovation recently convened a summit in Baltimore to discuss development of innovative payment models for behavioral health conditions. Serious gaps in coverage by state Medicaid programs for medication-assisted treatment and the many barriers to delivering comprehensive care for patients were described by a panel on substance-use disorders.

Panelists emphasized the need for alternative payment models (APMs) to encourage physician engagement with these challenging patients and to provide support for long-term recovery, including peer recovery services.

A panel addressing APMs for patients with mental health and co-occurring conditions called for greater use of quantifiable and standardized outcome measures. They also called for expanded use of care-transition payments to cover situations other than transitions following hospitalization—such as transitions from prison.  APMs that were successfully implemented to promote collaborative care for patients with dementia were also described.
Now Accepting Nominations for the 2018 Nathan Davis Awards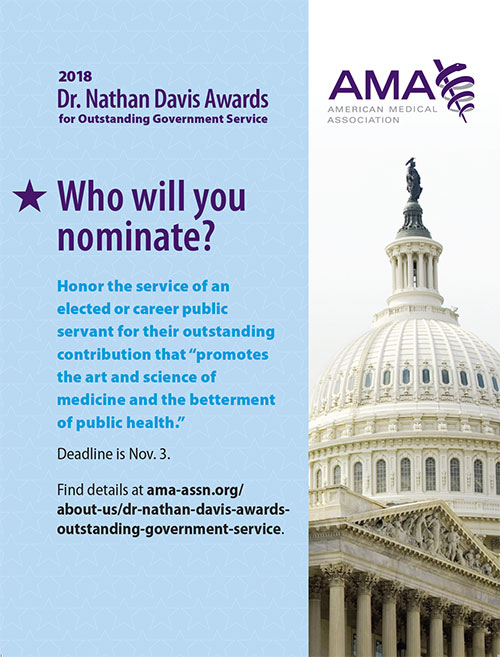 Back to Top
Upcoming Events
Oct. 18:
With many feeling overwhelmed by the complexity of Medicare's Quality Payment Program (QPP), physicians struggle to answer one key question: "Where do I start?" Register to attend a webinar from 1-2 p.m. EDT to learn how to use the AMA's MIPS Action Plan to create and/or validate your strategies for implementation of the QPP's Merit-based Incentive Payment System in 2017. Chris Botts, AMA Care Delivery and Payment Manager, will be the presenter of the webinar, "Thriving under MIPS—Where to start?"

Nov. 29:
Without an understanding of what is really driving poor quality or performance, it is difficult to improve. Root-cause analysis is a critical tool in the quality-improvement tool box that allows professionals to understand what's at the heart of the problem, and then develop improvement ideas that can make a difference. How can you improve if you do not understand the challenge and the contributing factors?

In this one-hour program, "Quality Improvement Webinar—Root-cause analysis: Digging deep to improve," held from 1-2 p.m. EDT, Physician Consortium for Performance Improvement Director of Quality Improvement Stephen L. Davidow will cover three common forms of root-cause analysis. He will discuss the advantages of applying these methods to different circumstances and environments, and how root-cause analysis is used as the basis for creating and implementing ideas that lead to robust improvement. Register.

Jan. 4–6, 2018:
The AMA State Legislative Strategy Conference takes place at the Sanibel Harbour Marriott Resort and Spa near Fort Myers Beach in Florida. Email events@ama-assn.org for details.

Feb. 12–14, 2018:
The AMA National Advocacy Conference will be held in Washington, D.C. at the Grand Hyatt Washington. Email events@ama-assn.org for details.
Back to Top